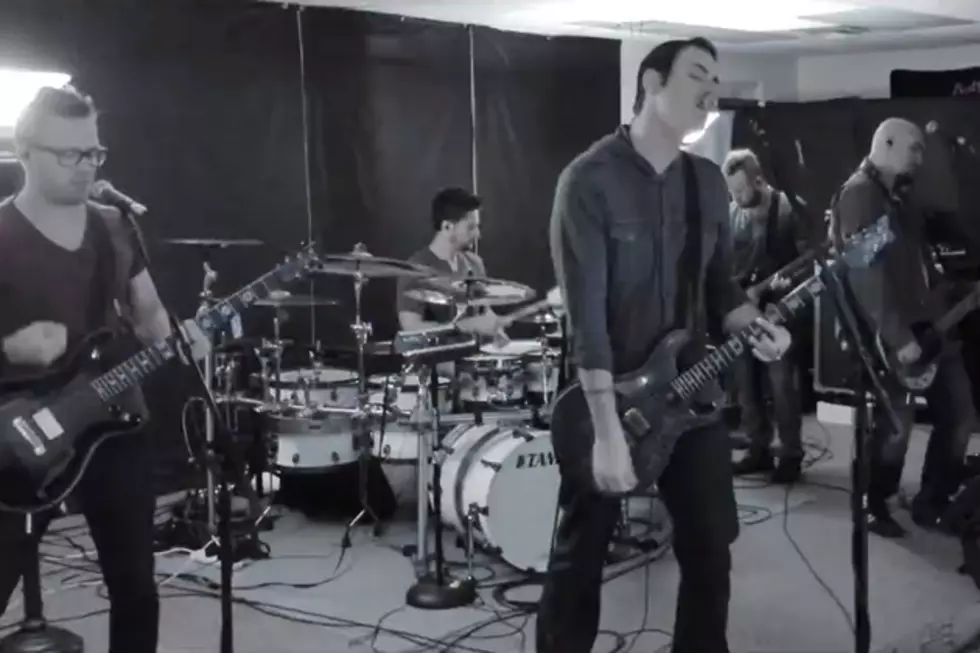 Breaking Benjamin Release New Song 'Angels Fall'
Facebook: Breaking Benjamin
It's been a few years since we've heard new Breaking Benjamin music, but now that the cork is out of the bottle, they're in a sharing mood. We recently got the new single "Failure" that's been shooting up the rock radio charts and now there's another new track to check out -- "Angels Fall."
The track has a more moody vibe in the verses until the power of Ben Burnley's voice adds a sense of urgency during the chorus, delivering a message about not giving up and not giving in to obstacles that may stand in your way. Take a listen to the song above and let us know your thoughts in the comments section below. The track will be made available instantly to those who pre-order the Dark Before Dawn album via iTunes.
As stated, "Angels Fall' comes on the heels of the rising single "Failure." In a recent Facebook posting, Burnley offered a little more context on the themes of overcoming obstacles. He stated, "Before Breaking Benjamin I had been in and out of so many failed bands, and with each one of those failures I have become a better musician, a better songwriter and have made so many amazing friends along the way. My failures have prepared me for my successes. Life is full of failures but it teaches us exactly what not to do, and learning what not to do is no different than learning precisely what to do to succeed."
Part of the reason we haven't heard from the band in a couple of years is that there was a legal battle over the rights to the name. Burnley emerged victorious and has revived the band with new players.
He recently told Full Metal Jackie that the restart has allowed for a leaner, meaner Breaking Benjamin that is truly on top of its game. "I wanted to make it — everything Breaking Benjamin has always been plus four," said Burnley. "And now it finally is because everybody's capable of doing what needs to be done to bring the music to where it needs to be. And now that we can play everything in real time and all of the instruments are, everything you see in a Breaking Benjamin show, everything you hear is being played by somebody — it's not on a track, not listening to a tape. Every single bit of it is being performed by a human being in the band. So it's really cool just to be able to say that."
If you like what you hear, Breaking Benjamin's Dark Before Dawn album is available to pre-order at Amazon and iTunes. The album is set to drop on June 23 and the band will be playing plenty of shows in the lead up to the disc. See their dates at this location.
30 Most Anticipated Rock + Metal Albums of 2015