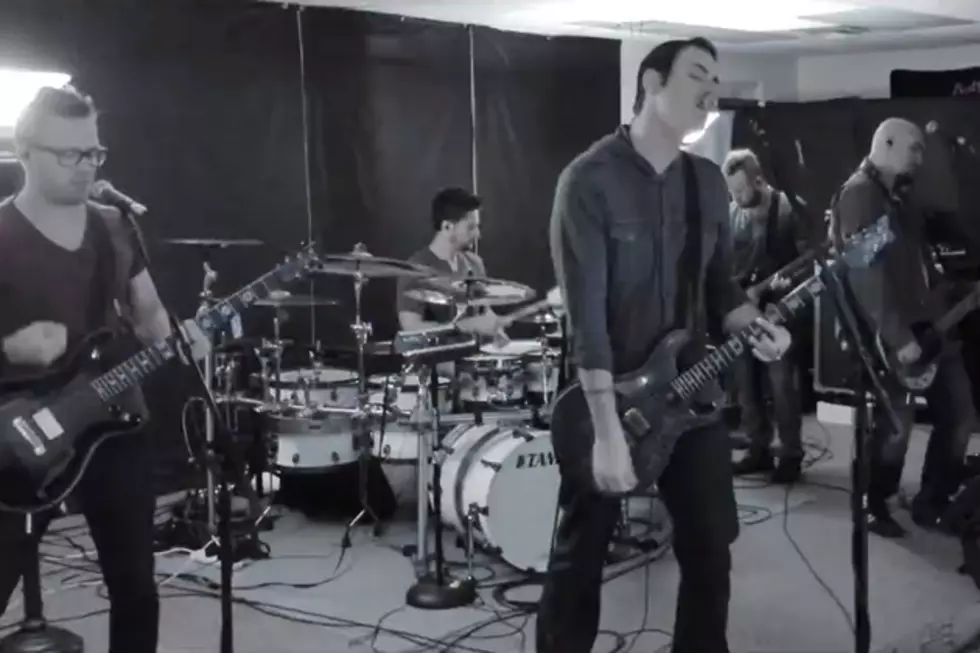 Breaking Benjamin Reveal Imminent Return With New Lineup
Facebook: Breaking Benjamin
After various legal matters and health issues, Breaking Benjamin are set to return, albeit with a different look. The band just revealed they're back in action with a new video they posted on their Facebook page.
The trailer begins with close-ups on the individual instruments showing no faces as somewhat muted voices play over the moodily building track. Eventually all five of the members of Breaking Benjamin are showed in a room playing. But aside from frontman Benjamin Burnley, the lineup is new.
The video also features the caption "Coming Soon" and lists the social networking info for each of the members. The lineup now features Burnley with former Picture Me Broken drummer Shaun Foist, ex-Forever Ouevre bassist and backing vocalist Aaron Bruch, former RED guitarist Jasen Rauch and ex-Adelitas Way guitarist and backing vocalist Keith Wallen. Check out the clip below:
It's been a long road to get to this place for Burnley, as the group took an indefinite hiatus in 2010 while the frontman was dealing with an illness. Not long after, the band's label released a greatest hits album that generated some conflicts amongst the group's members. The label released a remixed version of 'Blow Me Away' with a special guest vocalist on the track. It was later revealed that bassist Mark Klepaski and guitarist Aaron Fink signed off on the remix and the album without his consent and a legal battle ensued as the members went to court over who had the rights to the name.
In April 2013, it was revealed that Burnley emerged victorious in the case, and that the conflict had been resolved with the singer planning to move forward with his career under the Breaking Benjamin name. By November of 2013, Burnley returned to the stage, playing a few intimate acoustic performances.
With such massive rock hits as 'So Cold,' 'Sooner or Later,' 'The Diary of Jane,' 'Breath' and 'I Will Not Bow,' Breaking Benjamin had been one of the standout rock bands of the 2000s. But for the most part, all had been quiet for the past few years until the new announcement revealing the Breaking Benjamin lineup. Stay tuned for new music.