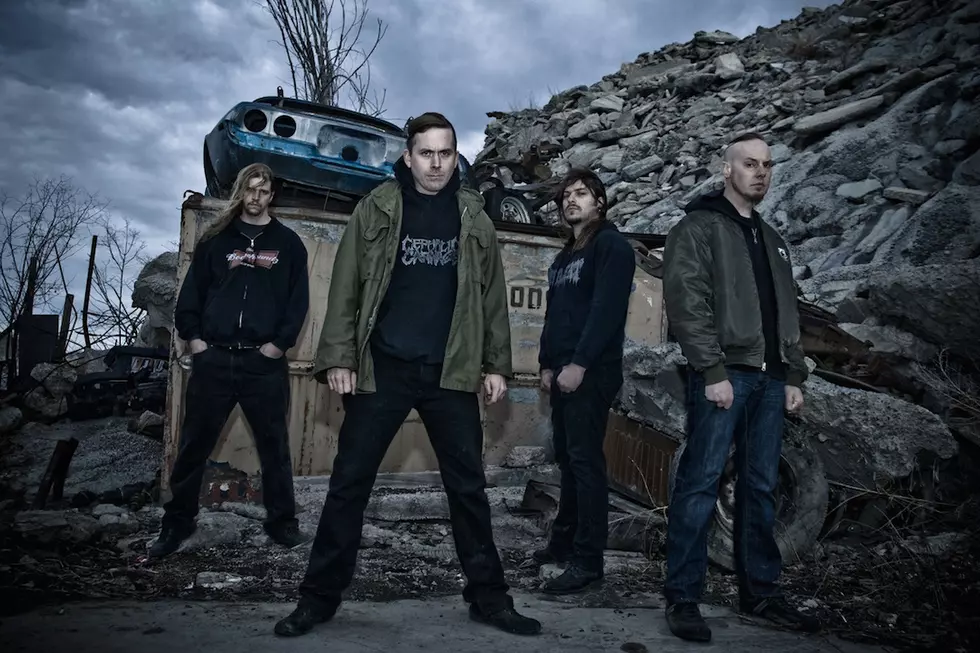 Cattle Decapitation Book Fall 2017 North American Tour With Revocation + More
Metal Blade
How's this for one stacked lineup? Deathgrind stalwarts Cattle Decapitation are still riding the buzz behind 2015's The Anthropocene Extinction and have just announced a massive headlining tour this fall, dubbed "The North American Extinction Tour Part II: Inhuman Beings," rounded out by brutes Revocation, Full of Hell and Artificial Brain.
The run will kick off in Los Angeles on Oct. 11 with Thanatology taking Full of Hell's slot on the first three dates. The trek will blanket the United States and Canada, bringing a heaping dose of brutality to nearly half of the States and seven stops above the border. After trekking to the East Coast, the tour will loop back around, finishing off in Las Vegas on Nov. 20. See the full list of stops below.
It's a hard-hitting bill with Revocation's tech-thrash / death metal hybrid able to bend in a few different sonic directions based on the tour package they're a part of and they'll undoubtedly unearth some of their heaviest material for this go around with new cuts coming from 2016's Great Is Our Sin.
Meanwhile, Full of Hell will be touting sonic abrasions off their newest record, Trumpeting Ecstasy, and Artificial Brain (featuring Revocation guitarist Dan Gargiulo) further explored cosmic realms on Infrared Horizon, their sophomore album which was released earlier this year.
'The North American Extinction Tour Part II: Inhuman Beings' Tour Poster
Cattle Decapitation, Revocation, Full of Hell, Artificial Brain  2017 Tour Dates
Oct. 10 - Los Angeles, Calif. @ Regent Theater * ^
Oct. 11 - San Diego, Calif. @ Brick By Brick * ^
Oct. 12 - Flagstaff, Ariz. @ Green Room * ^
Oct. 13 - Albuquerque, N.M. @ Launchpad
Oct. 14 - Denver, Colo. @ Larimer Lounge
Oct. 15 - Jerome, Idaho @ Diamondz Event Center
Oct. 16 - Portland, Ore. @ Bossanova
Oct. 17 - Seattle, Wash. @ Studio Seven
Oct. 18 - Vancouver, British Columbia @ Rickshaw Theatre
Oct. 20 - Edmonton, Alberta @ Starlite
Oct. 21 - Calgary, Alberta @ Dickens
Oct. 22 - Regina, Saskatchewan @ The Exchange
Oct. 23 - Winnipeg, Manitoba @ Park Theater
Oct. 24 - Minneapolis, Minn. @ Cabooze
Oct. 26 - Cleveland, Ohio @ Agroa Ballroom
Oct. 27 - Chicago, Ill. @ Reggies
Oct. 28 - Covington, Ky. @ Madison Live
Oct. 29 - Detroit, Mich. @ Token Lounge
Oct. 31 - Toronto, Ontario @ Opera House
Nov. 01 - Montreal, Quebec @ Les Foufounes Electriques
Nov. 02 - Syracuse, N.Y. @ Lost Horizon
Nov. 03 - Boston, Mass. @ Once Ballroom
Nov. 04 - Philadelphia, Penn. @ Voltage
Nov. 05 - Baltimore, Md. @ Soundstage
Nov. 06 - New York, N.Y. @ Highline Ballroom
Nov. 08 - Virginia Beach, Va. @ Shaka's
Nov. 09 - Atlanta, Ga. @ Masquerade
Nov. 10 - Orlando, Fla. @ The Haven
Nov. 11 - Tampa, Fla. @ Orpheum
Nov. 13 - New Orleans, La. @ Southport Music Hall
Nov. 14 - Houston, Texas @ White Oak Music Hall
Nov. 15 - Austin, Texas @ Come and Take It Live
Nov. 16 - Oklahoma City, Okla. @ 89th St Collective
Nov. 17 - San Antonio, Texas @ Rock Box
Nov. 18 - El Paso, Texas @ Tricky Falls
Nov. 19 - Phoenix, Ariz. @ Club Red
Nov. 20 - Las Vegas, Nev. @ Beauty Bar
* no Full Of Hell / ^ with Thanatology
See Cattle Decapitation in the Best Death Metal Album of Each Year Since 1985
See Cattle Decapitation + More Bands Who Were Banned by Disney