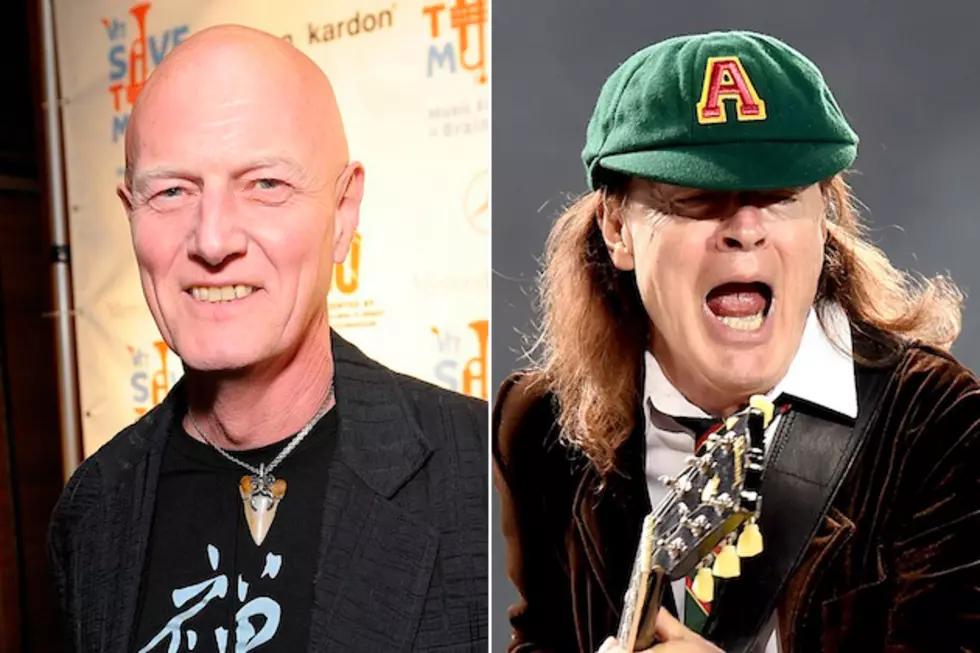 Chris Slade: Angus Young 'Definitely Not Thinking of Retiring' AC/DC
Charley Gallay / Kevin Winter, Getty Images (2)
Now that AC/DC have tapped Axl Rose as their frontman, fans have been speculating whether founder Angus Young will choose to retire the group following the scheduled tour dates or in the very near future. Drummer Chris Slade has offered insight into Young's mindset, revealing retirement is not on the horizon.
Slade has been championing the new lineup, proudly posting updates on his Facebook page regarding Axl Rose's position within the AC/DC. After uploading a series of photos from band's performance in France, the drummer took the time to respond to comments from fans. One fan reflected on a personal moment from AC/DC's history and then commended the group for soldiering on with Axl and praised the decision.
"Axl is doing a wonderful job," Slade began in response, "and the majority opinion now is that the band were right to finish the Rock or Bust tour with him. Fans have the opportunity to go to the shows or not, it is entirely their choice or indeed their loss." The full exchange can be seen below.
AC/DC have been mixing up their setlist since the addition of Rose, leaving one fan to ponder if Young is contemplating retirement and wants to play all of these different cuts before calling it a day. Slade rebutted this, firmly stating, "Angus is definitely NOT thinking of retiring Jacob."
Whether Rose will remain in AC/DC following the scheduled dates remains to be seen. The singer has stated, "I'm in if they want me in, and we'll sort it out, but right now that's getting ahead of ourselves with everything else that's on the table." The singer will return to Guns N' Roses after AC/DC's European run, resuming the "Not in this Lifetime" tour on June 23. A full list of GN'R dates can be found here.
See Where AC/DC's Albums Landed on the Top 70 Hard Rock + Metal Albums of the 1970s