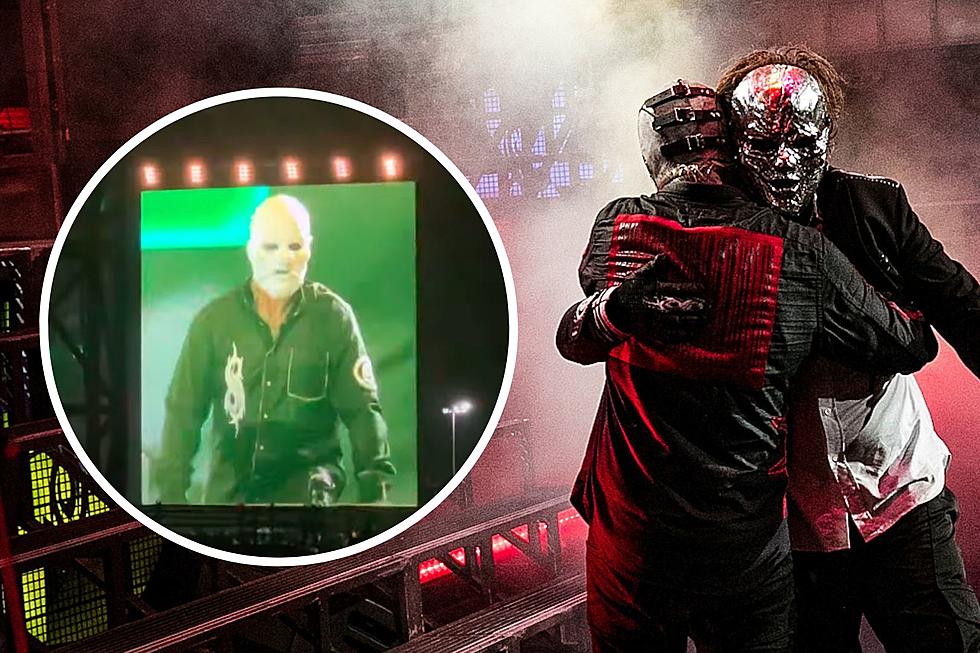 Clown Rejoins Slipknot at Download Festival After Missing Three Shows
Anthony Scanga / YouTubeL owenstone100
Percussionist Shawn "Clown" Crahan rejoined Slipknot at this year's Download Festival after missing three shows earlier this month in a planned absence as he cares for his wife who is experiencing health issues.
Slipknot had already performed seven shows this year and as they geared up for a busy summer run which includes several festival appearances, Clown issued a statement on June 7 indicating he will miss an undetermined amount of upcoming gigs to support his wife. "I'll be back on the road as soon as I can," he promised.
Amid this, the group also parted ways with longtime keyboardist Craig Jones in a statement that was taken down shortly after it was published, later revealing their new mystery member via a creepy photo that was shared on social media.
So, fans in attendance at Download Festival were met with a pleasant surprise as Clown returned to the stage for Slipknot's fifth headlining performance at the historic fest, which just celebrated its 20th anniversary.
"First things first, god damn it, we got him back — make some noise for the Clown," exclaims frontman Corey Taylor before the band rips into "Left Behind" for the first time since resuming touring this month.
"Secondly, obviously for his family, I want you all to to scream your fucking asses off so they can fucking hear them back in America," he demands of the crowd, prompting them to let their voices be heard with a, "One-two-three!"
READ MORE: Fans React to Slipknot's New 'Adderall' EP
Grateful for the opportunity to be playing at this year's fest, Taylor continues, "Now, this is our fifth time headlining fucking Download, dude. A lot of bands never even get to headline this thing once, so first of all, thank you. Thank you all so fucking much. Secondly, I don't know if you can tell, but my voice is a little fucked up. I've been fighting it for a week, so I may not sound... well, I always sound like shit, but I don't sound nearly as cool. But I promise you — I promise you — I am giving you every fucking thing I've got out there. So, since it's fucking Download, since it's with
Watch the video clip further down the page and see Slipknot's complete Download Festival setlist below as well.
It is not currently known if Clown will continue to tour with Slipknot or if he made a special one-off appearance at Download. Their next show is tonight (June 13), so we will find out soon.
Slipknot on Tour
Head to the Slipknot website to see all of the band's upcoming shows and get your tickets here.
Slipknot Setlist — Download Festival (June 11, 2023)
via setlist.fm
01. "The Blister Exists"
02. "The Dying Song (Time to Sing)"
03. "Liberate"
04. "Yen"
05. "Psychosocial"
06. "The Devil in I"
07. "The Heretic Anthem"
08. "Eyeless"
09. "Left Behind" (tour debut)
10. "Wait and Bleed"
11. "Unsainted"
12. "Snuff"
13. "Purity"
14. "People = Shit"
15. "Surfacing"
Encore:
16. "Duality"
17. "Custer"
18. "Spit It Out"
Corey Taylor Welcomes Clown Back at Download Festival
Slipknot, "Duality" (Live at Download Festival — June 11, 2023)
The 42 Songs Slipknot Have Never Played Live
These are the songs Slipknot have never performed live.
10 Bands That Weren't the Same After a Band Member Left
Minus one, and it's something different.