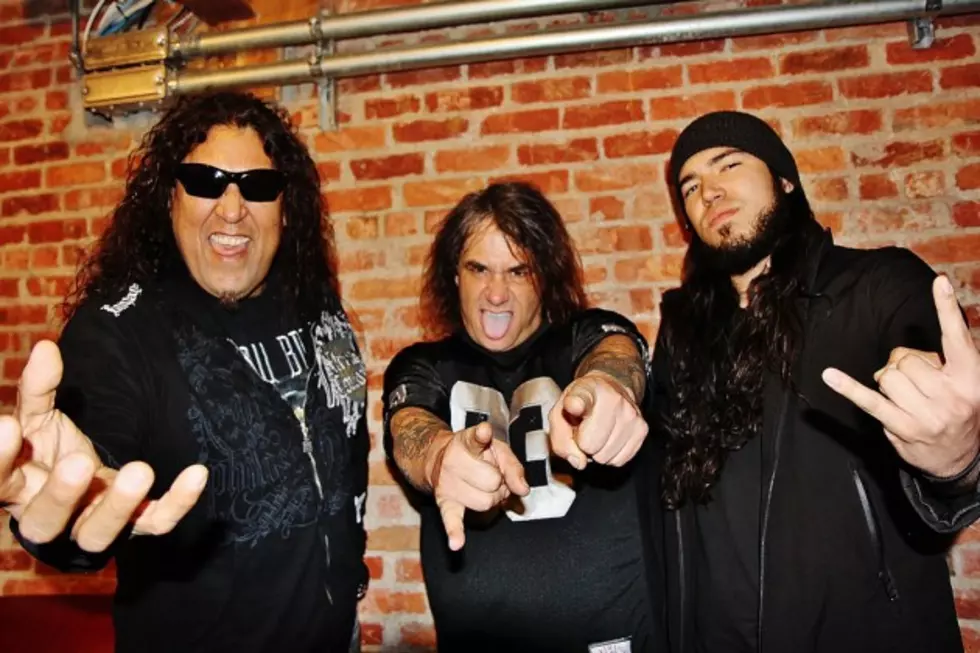 A Conversation With the Frontmen of Testament, Exodus and Shattered Sun
Liz Ramanand, Loudwire
Bay area thrashers and longtime friends Testament and Exodus toured earlier this year for one of the heaviest treks of 2015. Newcomers Shattered Sun had the honor of opening for the two legendary acts. Loudwire had the opportunity to sit down with all three frontmen -- Chuck Billy of Testament, Steve "Zetro" Souza of Exodus and Marcos Leal of Shattered Sun -- for an interview. Billy (whose Breaking Bands company manages Exodus and Shattered Sun) and Souza both discussed Zetro's return to Exodus, and the three frontmen also spoke about their music projects as well as upcoming touring ventures and much more. Check out our full interview below:
Chuck, how has Testament's new material coming along?
Chuck Billy: Slowly but surely ... We've got six or seven tracks in the demo but there's still a lot of work left to do. We're not in a rush; we haven't been in a rush since we've been with Nuclear Blast. The beauty about them is that they know when it's ready, we're ready and we'll go for it.
It's not the normal pressures of a label where it's, "We have to meet this date." At the end of the day I have to live with the record for the rest of my life. It's got to be right you have to be happy with it. We've got some stuff, a lot of it is on Eric [Peterson] he's one of the main writers. The pressure's on him [Laughs] but like last record he had a block and went to Europe. He came back and had it all skeleton-ed out. Me and Zetro, we still write lyrics together.
Steve "Zetro" Souza: We're all caught up! [Laughs]
Zetro, what does it mean for you coming back with Exodus and now performing new tracks from Blood In, Blood Out?
SS: Wow, I mean we're very fortunate to have 10 records out with my years with the band and it's been 30 years since Bonded By Blood was released. This latest album is just full of sheer brutality and aggression. Gary Holt did not hold back at all. This is my favorite album, I love every song. We're not stopping by any means.
What were some memorable moments for you during recording Blood In, Blood Out?
CB: He just got thrown into the fire, "Hey Zet you want to sing a couple tracks?" he came in and killed it.
SS: I'm like, "When do you want to start tracking? Really this soon?  I'll do it, I'm ready." I just kind of crammed like a college student every day.
CB: I think they knew too. When he came in to do that audition or whatever, he did the track in one take and he nailed it. When Gary heard it he was like, "Dude, that's Exodus." I know some of the guys were like, "We don't want to get a brand new singer, what do we do?" Me and Zet go way back and I sat with him and was brutally honest with a lot of stuff.
SS: Yeah, it was a four and a half hour meeting him and I had. It was like, "Here's what's on the table, here's what it takes. Where are you at mentally?" A few years ago I reached out to them but I don't think they were interested at that point and just a lot of mudslinging that went back and forth. It's great that at this point and this age we can sit down and go, "Whatever happened before today, we don't need to ever talk about again. Let's just move forward and crush this." I try my best and I give 1,000 percent because I want the band to be the best.
CB: They knew that and they see Zet and how much he wanted it. A couple of guys were like, "I refuse to be in a band with Zetro."
SS: They told me that, too. After the audition I heard that.
CB: When they heard the demo they went, "I wanted to hate it but I can't! It sounds great." [Laughs] Just to make it clear because people are going to read this and interpret it the way they want, me and management had nothing to do with Rob Dukes' situation with Exodus. We had nothing to do with that, whatever the guys had amongst them, it was amongst them.  We only came in afterwards like, "Do you want a new singer or someone that knows it?" Zet stepped up.
Marcos, Shattered Sun's new album is called Hope Within Hatred -- what does this album title mean to you?
Marcos Leal: Just having hope within humanity. We're around negativity 24/7, you turn on any channel and it's there. The message can be something easy to forget but it's one that we're trying to push behind the album.
It's going to be a sweaty summer for Shattered Sun, especially since you're gearing up for Mayhem Festival. What are you looking forward to most about this experience?
ML: F---ing Slayer and King Diamond every day! And seeing Hellyeah and everyone on the lineup. We're used to the heat, we're from South Texas so that doesn't scare us off. We're just excited to get out there and get to the fans. We're just going to keep building on it and supporting the album. It's like a dream come true.
CB: We're keeping them busy. We manage them, as well. A lot of good things are coming up. The challenge is going to be getting them to Europe.
What touring advice do you have for Marcos and the rest of Shattered Sun while they're out on the road?
SS: We give them advice all the time.
ML: Zet's been there since day one, these guys have all been f---ing icons to us. For Zet to pull me under his shoulder and talk and say, "Think about this, do this, check that out…," that's what we're here for -- to learn.
SS: It's only healthy for heavy metal for bands like Shattered Sun to be bigger and grow. It can't be the same. I'm 50. The new breed needs to come up and we're all about pulling them up.
CB: We've learned it. We've been fortunate to tour with bands like Iron Maiden and Black Sabbath and Judas Priest. I've learned something from every one of them and how they tour and how they treat the fans. Ronnie James Dio, I took everything I do in music based on how Ronnie would handle himself and the fans.
I told Marcos, just watch the way things are run and the way people do things, the procedures and you'll see how it all works. That's how you grow and make a stronger organization.
SS: We toured with Black Sabbath on their Dehumanizer record and probably on the fifth Exodus record for me and here I am, I felt like a brand new kid learning the ropes. Ronnie would stay every night and he would sign everything you had and take every last picture with everyone and I learned a lot by seeing the way he treated fans. I thought I knew what I was doing and then I saw how he did it.
CB: He just paid attention to his fans. That's why I try after every show to make it out and hang with fans and sign whatever they want.
Zetro, you're going to be on this year's Motorhead's Motorboat Cruise with Exodus. What are you looking forward to most about this experience?
SS: Seeing every band every night because I love every band that' on there, everybody from Fireball Ministry to Kyng, I love them! Hatebreed is on there, Anthrax, Slayer and Lemmy on the boat? C'mon!
Chuck, you're no stranger to this cruise. Testament was on it last year. Any advice for Zetro?
CB: Aw, it's a piece of cake. Metal fans are so respectful of your space. You can go on the ship and walk around and nobody bum rushes you or some drunken guy won't leave you alone – it's not like that. As an artist and as a fan, it's a great thing. The whole thing is one big meet and greet.
What does the rest of 2015 have in store for Shattered Sun, Exodus and Testament?
SS: We're holding hands with Testament still, some South American shows and Europe.
ML: Well there's Mayhem Festival and we have a couple more tours booked this year. We're pretty much booked until 2016 so we're excited.
With all of this touring what is one non-electronic item you must have on tour with you and why?
CB: I have to say my cozy warm little slippers. [Laughs] When you're walking around on a dirty bus, a beer stained floor, that for me is a must.
ML: I'm going to have to say a neck pillow. We're not touring in a bus; we're in a van so most of your sleeping is don't in the van. A neck pillow works wonders. [Laughs]
SS: So I'm going to be the bad boy? My pipe and my weed, I got to have it. [Laughs]