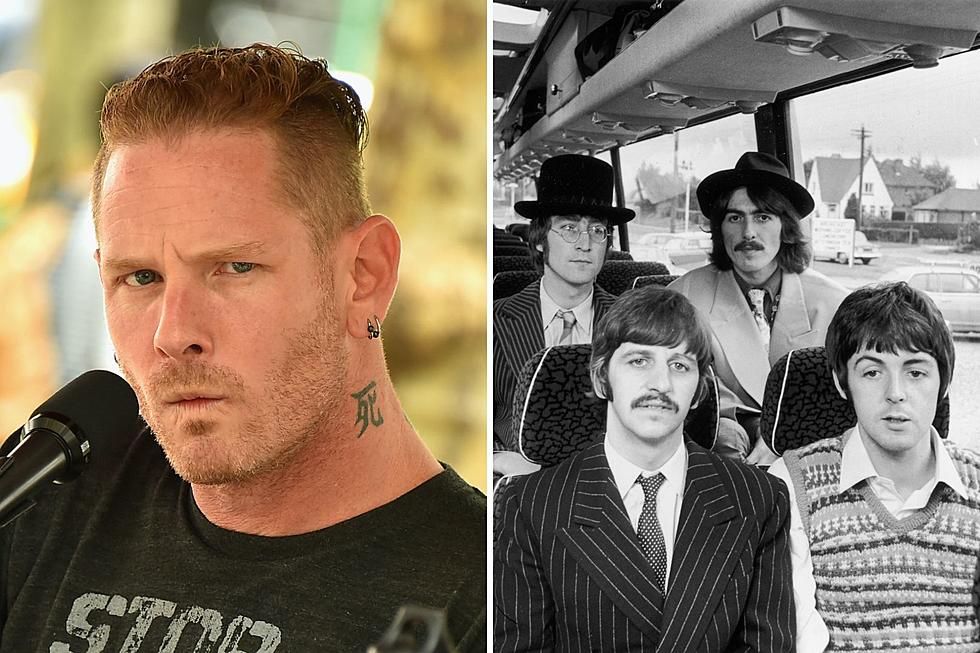 Corey Taylor on the Beatles Song He Thinks Is a 'Piece of Sh-t'
Theo Wargo, Potter/Express, Getty Images
No joke, Corey Taylor seriously hates The Beatles' song "All You Need Is Love."
Indeed, the Slipknot lead singer has now called the Beatles tune a piece of shit twice while out promoting his upcoming second solo album, CMF2, which is scheduled to arrive in September.
Taylor first mentioned his hatred for what he called the "hippie garbage" track during a chat with the Zach Sang Show earlier this month. In the interview, he explained why CMF2's "All I Want Is Hate" was written in response to the Beatles cut.
Watch the video near the bottom of this post.
READ MORE: Paul McCartney Offers Clarification on AI-Assisted 'New' Beatles Song
Now, Taylor has reiterated his disdain for the 1967 non-album Beatles track. In a new video segment where Taylor reacts to "shit talk" sent in by his fans, one listener mentioned his Beatles dig from the Zach Sang Show and pressed back on it.
The fan in question, Bryce B., argued his take that The Beatles' "All You Need Is Love" is the best Beatles song. Of course, Taylor wasn't having it.
Corey Taylor on Zach Sang - Aug. 8, 2023
"No, it's not," Taylor responds to Bryce, taking a toying yet menacing tone. "It's a piece of shit."
What Did Taylor First Say About It?
On Zach Sang Aug. 8, Taylor explained, "['All I Need Is Hate'] is satirical. It's actually a reaction to one of my least favorite songs on the planet, which was written by one of the greatest bands of all time. I don't know how big of a Beatles fan you are — first of all, they are one of the best bands that ever lived, and what they accomplished in that short amount of time will never be replicated." (via Far Out)
He continued, "However, 'All You Need Is Love' is one of the biggest pieces of shit that I've ever heard in my life. And every time I hear it, I feel like I'm getting shot at. Put it that way — it's that bad."
Taylor added, "That song 'All I Want Is Hate' is actually a retort to that. So if you listen to my song, it's a pseudo-reflection of that song."
Want more rock and metal news delivered? Get Loudwire's newsletter and Loudwire's app.
Corey Taylor Reads the Best Sh*t Talk Texts From Fans - Aug. 29, 2023
The Beatles, "All You Need Is Love"
10 Ridiculous Metal Covers of Classic Songs
Here are 10 ridiculous metal cover versions of classic songs. In the list below, you can read about the original tune first, with each song entry followed by the info about its corresponding ridiculous metal cover. Are you ready? (Click on the listen links to hear any version.)