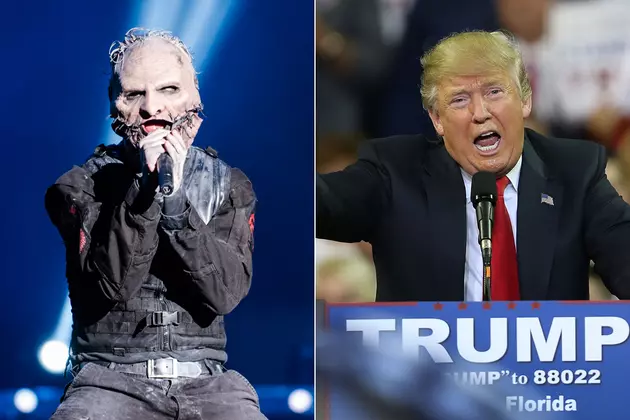 Corey Taylor: Donald Trump's Divisive Message Is 'Anti-Slipknot'
Raphael Dias / Joe Raedle, Getty Images
Slipknot and Stone Sour frontman Corey Taylor has dug his heels into political ground as the U.S. presidential election draws near. An outspoken advocate against Republican nominee Donald Trump, Taylor has suggested the business mogul's message is polar to that of Slipknot.
Speaking with Spin, the singer discussed his social media activity and why he keeps politics out of his music. Acknowledging he has musician friends who are Trump supporters, he said, "I just choose not to talk about it [with them]." Going on, Taylor added that Trump supporters base their stance "upon faulty research" and that arguing with them is fruitless because "when you know that someone is basing their reasoning on bad research, or bad poll-taking, or other resources that skew right and drum up their own numbers, there is no way that you will win an argument."
In June, Taylor had an exchange with Gawker after the site ran an article showing a video of an alleged white supremacist at a Trump rally, stating, in part, "You're looking at the face of resurgent mainstream white hatred in the United States — it listens to Slipknot..." The claim was wholly unfounded and amended with an editor's note at the bottom of the article. The frontman was then positioned with the idea that associated metal with this scene is out of touch considering the ethnically diverse community of musicians.
The Slipknot singer responded, "I think heavy metal and hard rock were the bastion of freedom for misfits and kids who were made to feel [like they're] outside of 'normal' society. So not only did you have kids of different ethnicities, but you had kids like me who grew up dirt-poor. Metal spoke for me because it wasn't until I was much older that I felt that I had a voice."
Continuing, he said, "The metal fans that come to our shows are some of the most open-minded, encouraging, embracing, protective, and progressive fans I have ever seen." Hitting on the differences between his band and the Republican stance, Taylor stated, "Trump's message is so anti-Slipknot it's not even funny, because we have always tried to get people to stand together, and everything he does is so divisive. Trying to get people to equate Muslims with terrorists is just trying to control and manipulate one more group of people. His stances on Muslims and Latinos and his absolute silence on Black Lives Matter prove that he is unprepared to bring people together. He is prepared to tear them apart so he can control them."
Slipknot are currently on a co-headlining run with Marilyn Manson, despite Taylor undergoing unplanned spinal surgery, delaying the tour for a little over two weeks. The frontman has been performing in a neck brace and has dialed back his intensity, careful not to jump and headbang or he would risk further injury. A full list of remaining tour stops can be found at our 2016 Guide to Rock + Metal Tours.
See Corey Taylor + More Rockers With Donald Trump Hair
10 Unforgettable Corey Taylor Slipknot Moments