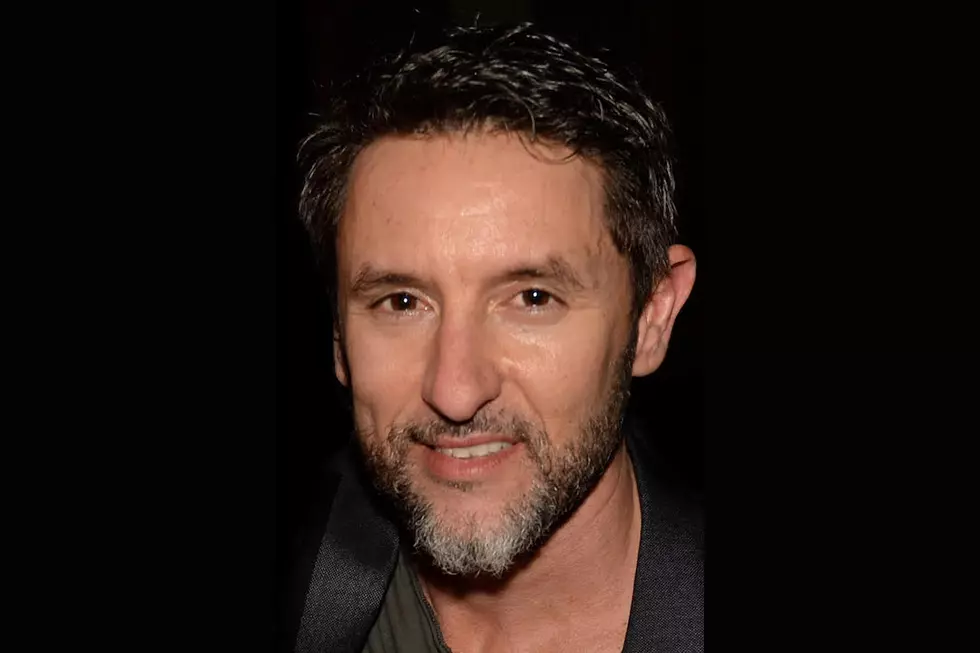 How Danny Wimmer Hopes to Grow Rock Through Diversity + Expansion of Festivals
Courtesy of Danny Wimmer Presents
We had a chance to speak with Wimmer about his emergence in the music industry, the development of the key festivals in his company's portfolio and how they're helping to grow the rock genre. Wimmer also spoke about which acts he feels might be the next generation festival headliners. Check out our chat with Danny Wimmer below.
What got you started on your path to booking festivals?
Well, it's really in my DNA. I had a father who was living the dream. He was a musician. At my earliest age, being a toddler, I'd been at his gigs, his band practices and I fell in love with the music business. I don't know anything different than this. One of the greatest things I learned, unfortunately and fortunately, I experienced from the inside of a musician trying to make it, the struggle, what it takes and the dedication.
It's funny how life works. I wanted to be in the music business. I didn't want to become a musician. My dad kind of kept me from that. He always wanted me to follow a different path. But when I was 18, I went to shows early. I loved watching the production side of it. I loved sitting and watching people set up the show. I loved going backstage. I'd do whatever I could. I used to pass out flyers for people. I did everything I could to get in the business, and fortunately, that door opened when I got really close to a guy named Ed Wilson who owned the Milk Bar. I got really close with him and ultimately became his partner and put a liquor license in this place. It was a really cool punk rock, rock bar. It was kind of like my "in."
Now here we are. We're a top 30 promoter in the world right now, and I'm very proud of what we've accomplished in the last 12 years. Our mission is to bridge the gap from yesterday's rock 'n' roll to tomorrow's rock and roll. There's not a lot of us, and we're very proud of being a part of this rock community and being part of growing it and we're seeing the signs.
We're seeing 10 to 15 percent [growth], year after year, on our festivals, and we're seeing signs that people might be ignoring. I don't change pop culture, I'm committed to this genre. We're always out to be populous-focused and we weren't going to be all over the place. We wanna create all of these multi-genre festivals, super-focused on rock and really being a part of that community to really help it grow again and get back on track.
DWP is more than just rock festivals, though that is your main base.
Yes, we're seeing just tremendous growth in all of our festivals, where there are different stories happening in other genres right now, so now we're in a place where we have a very healthy rock portfolio. We're creating the Bourbon and Beyond, which I'm very passionate about Americana, and we're launching our first country festival in Hometown Rising in Louisville. It's allowing us now to diversify our portfolio. I'm a huge music fan and I'm a rock guy at heart, but I have a lot of passion.
It's been just an incredible ride these last 12 years, and we feel like we're so ready for the future, wherever the tides turn. I think DWP is going to be in a great place to make those changes, but also, I think rock is having this surge. I can't tell you about one band that's gonna change it all—that Nirvana—but there's something brewing, there was always something brewing before Nirvana. One band wasn't causing that, and we all go, 'Oh, Nirvana,' but there was something brewing, and right now I feel like something's happening.
I don't know if it's because of politics, but it's creating angst. It's creating that energy that spawns and inspires rock 'n' roll. But something's brewing right now and as you see us grow, the company, our rock festivals grow. You see us go a little left, you see right, and that's about really helping the genre grow. We want people to have an open mind. I think it's healthy to listen to other genres, and I think it helps the rock bands listen to other genres. It'll help them grow, as well.
You mention Jacksonville being your home base. How proud are you to see Welcome to Rockville grow to be one of the stronger festivals in your stable? What was your initial vision for Welcome to Rockville?
Well, listen, Jacksonville, my parents, my wife's parents, they still live in Jacksonville. Jacksonville used to be a pass-through city, and there wasn't a lot of venues. We started at year one, we get 10,000 people, and now it's selling out in 30. We're on pace to do 35-40 this year, so you know I'm very happy that we've seen that grow year after year.
It's great to get to go home, see my family. It's great to help that city grow and know it's being looked at a lot differently. They just built an amphitheater in Jacksonville and we're looking at building a venue there. I have a lot of hometown pride, my family's proud of what Welcome to Rockville has become, and what Jacksonville represents in our portfolio is that it's a great beach town, and that's what we're really telling people. 'Hey, come spend a few extra days, visit the beaches.' Orlando's not too far away, there are other great cities outside of Jacksonville. The thing is about being a beach community and also being a downtown environment along the river. So it's just a different vibe.
I wanted to ask about Epicenter. When you're putting together a festival a lot of times you have to deal with whatever venue is there, but Epicenter has a specially built new venue. What does that mean in terms of what you can do?
We went to Rockingham because of the opportunity, what we could do during the night and not having a curfew. The things that Bonnaroo gets to do late at night, none of the DWP shows gets to have that type of activity, nighttime activity. The night super jams, I just love and respect what they do, being able to go till two, three in the morning, and allow us to bring a different experience there. Now we have a full-on, immersive camping experience where it surrounds the festival grounds, and we're building late night parties. We're gonna be able to invest more in the nighttime activities where when you have a curfew at 11, you really can't invest in having the pay off that you want.
So, this festival is gonna be very unique. This will be our first one that's really truly a festival that's built around camping. It's just gonna be a different feel. If you want that camping experience, this is the one out of all of these DWP shows that you should come to. We want this thing to have a different flavor. That's why we moved out of Charlotte.
We're trying to just create. We're hoping that each festival we produce is different from the next. Jacksonville was a beach community. Epicenter is a camping festival. Sonic Temple has the downtown infrastructure. It's surrounded by 20 major cities. It's an easy drive, and then Chicago Open Air is different than it's been programmed the last two times. Being the same weekend as Sonic [Temple], it's really about creating an environment around the headliners with the direct supports. You get maybe longer sets than you would get at a traditional festival. It's about being in a band environment. I spent a lot of time reading surveys and reading comments, and that festival is really about super-serving the headliners and putting fans in those headliners' environments.
Chicago is one of those bucket list cities that if you live outside the United States, it's a direct flight from every major city in the world to Chicago. What I love about Chicago is that you can go see the city you've heard about and always wanted to go to ... and go see Tool and System of a Down. I mean, it's the first time those bands have ever played together. So, I'm very happy with what we were able to curate there.
This is the first year of Sonic Temple. Starting this up from scratch, what did you envision for this first year?
When people talk about rock festivals, look at what people are doing overseas. I spent a lot of time going to festivals overseas, and the market is changing every day. The consumer's wanting different things, and they are looking for different headliners at the top. Typically in the past we'd have one major headliner, and then they kind of curled off. This was about an epic weekend that had epic headliners at the top and bulk. We're also out to bring more art installations and different artists and painters in. We're just really trying to change the experience.
Sonic Temple is about having the sonics in the stadium, having some infrastructure. It's a little easier than being out in a field for 12 hours. You have real bathrooms, you have great parking infrastructure. You're three miles from downtown. That city, Columbus has 20 major cities within a five-hour drive. It's also just such a healthy rock station market that has built an incredible rock community. We're able to do things now that we created this new festival that we can compete on the level that the European festivals are and with Epicenter, that's also one of the biggest lineups we've ever put together.
That's what the market wants. They want big headliners. They want the bulk. They want different amenities, they want just a different experience than they've gotten in the past, and we're responding to it.
We've also got Scarlxrd and HO99O9, plus Reignwolf, who are a phenomenal acts that I'm just falling in love with, and we're adding a lot of different flavor in there. I think it's gonna allow us to grow and I think it's gonna help people's tastes grow as well. As curators that's kind of our job; to help the genre grow.
Your festivals have been key for a lot of these bands. You've seen acts come up through the ranks and now they're getting to the points of being headliners after starting their career on your festivals. Are there bands out there that you see as maybe the potential next era headliners?
Looking back six, seven, eight or nine years now but we felt like we elevated Slipknot when we asked them to headline Rock on the Range. That was their first headlining show. What I feel like that did, is that we helped elevate them even though they were ready. Maybe we were a little hesitant. Were they ready to headline this festival? They weren't headlining a lot yet. This band was ready to explode, and it was just the perfect timing that we felt like it was their time and it was and we felt we needed to do it.
We felt like, in talking to their manager, it was a perfect storm of us putting them in the headlining slot and then just literally every major festival outside of America saw these guys also as a headliner. I'm not here trying to take the credit. They were a headlining act but we had to find a band that was ready to go. Another band, Avenged Sevenfold, you saw early on they were ready to be elevated when we were looking at headliners.
We've watched a band like Five Finger Death Punch grow from being on the side stage to moving up slot by slot. They're primed to be a major headliner in every major hard rock festival in the country. There's bands, new bands, not that the Bring Me the Horizon is a new band but it's a band we have our eye on that we're hoping is the same way we worked with Avenged and Slipknot. That's a band that you might see us move to that slot. If we invest in these bands and we're putting the right bands in the right slots, we can help them grow and help them bring their audience.
We're really hoping that they can go to the next level in a way that Linkin Park did. I think that band is following their path. It's someone we can really invest with. They've got great managers whom are very strategic. They care about what bands perform with them. There's another act, A Day to Remember, that we're really hoping that we can help them elevate. There are acts like The Fever 333, there's a band called Greta Van Fleet and our buyer here and my partner in Gary Spivak he walked in with this record, and we were obviously huge Zeppelin fans. He walked that record in here and his team, their label Jason Flom, who is a good friend of mine, he played us that record, he was behind it. Mark Geiger the head of William Morris was calling us and the whole team. We knew something was happening when you're getting calls from Jason Flom, and the label and the heads of agencies about this band.
We took a shot on them, put them on the bill in the first year — two years ago we paid them $500. Now they're getting $300,000 offers. It's great to watch this band grow from opening up a stage to being on their way to becoming a headliner.
You've become a king of spring with these festivals. Do you ever see a point where you might compete to keep bands in the States in early summer or is European festival season such a bear that you just leave that be?
I have so much respect for a lot of festivals that are over there, and I'm friends with most of the promoters. I feel like that May, that is our focus. That's our window where we're not competing. There's no reason to create unnecessary competition if you don't have to. We have taken the stance of April and May is the U.S. window. June and July is the Europe window, and then it comes back in the fall. We'll do stuff in June and July, but you know, in June in Europe you have Wacken, Download, Hellfest, Rock am Ring, Rock Im Park. That's five or six festivals like what we're doing in the spring.
I'm not really out to disrupt that for bands. I know it's an important part for most bands on the roll out when they're launching a record. It's important for bands to keep themselves over there, and in markets so that they aren't constantly overplaying in America. We kind of have our understanding. We're all using our windows correctly. If a band is going to get five or six festival offers, it won't make sense for us to disrupt it. We need to be strategic. We're not trying to create unnecessary competition. A lot of those guys are my friends. I don't want to be competing with them.
We love Aftershock out here on the West Coast, but I know most of your festivals are eastern or midwestern-centric. Do you see branching out more?
We are going to add a day to Aftershock so that will become three days next year. We're just trying to be strategic. Our focus is always to bring entertainment to where it's not. We would love to do more in California. The next chapter of DWP is we're going to be buying tours. We're going to be producing tours. I think that's going to be a big part of our growth as a company. We're going to be looking to do stadium shows like what we did with Rammstein two years ago.
I bought Rammstein and then I put Korn and Stone Sour under it. I put it in T-Mobile, and that was a unique experience. We see those three bands in that market. We went to Las Vegas because we felt that Rammstein doesn't play a lot here and what a great destination market. So we're very strategic on where we placed that package. Then we worked with Tool and Live Nation, we put it out in San Bernardino and we booked Primus and Crystal Method on it and we put Clutch on it. So we created this day in the park with Tool. It was a unique setting. You could only see these five bands at this show.
I see us doing more immersive experiences with artists, doing boutique shows. We're working with Clutch on producing a Clutch beer fest. I could see us doing a lot of that kind of stuff. We're looking at a couple of festivals to maybe buy that already have their marketplace. They already have their market identified. I could see us looking at some acquisitions.
Our thanks to Danny Wimmer for the chat. The Danny Wimmer Presents festival season kicks off May 3-5 with Welcome to Rockville in Jacksonville, Fla. Epicenter follows the weekend of May 10-12 in Rockingham, N.C. Sonic Temple takes over Columbus, Ohio May 17-19 and Chicago Open Air rocks the Windy City May 18-19. In addition, fans can look forward to the Danny Wimmer Presents festivals Louder Than Life (Sept. 27-29) and Afterschock (Oct. 11-13) coming this fall. See the lineups for all of the Wimmer events below.