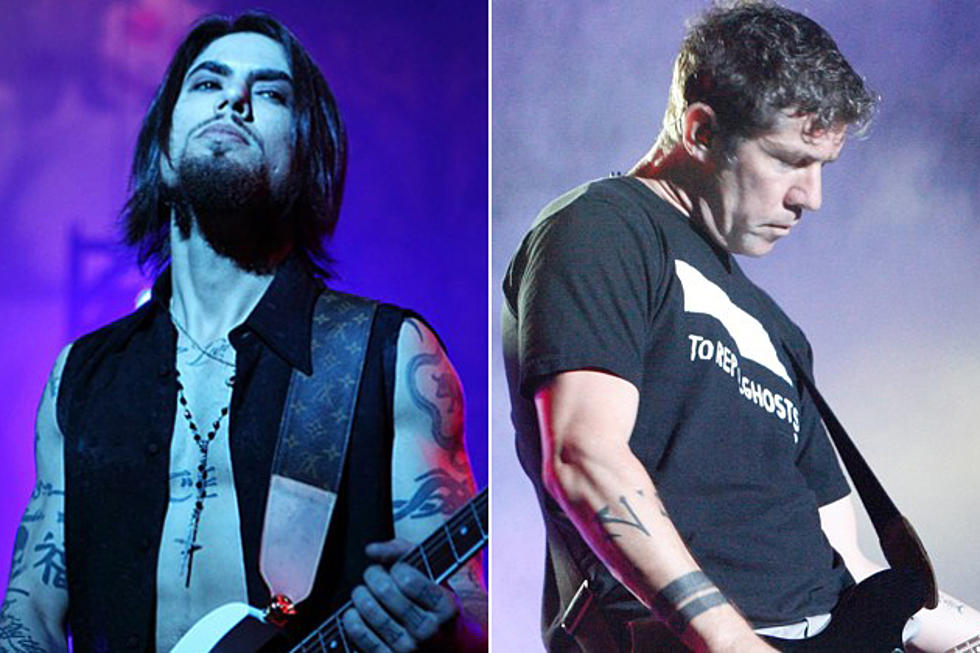 Dave Navarro Rips Former Jane's Addiction Bassist Eric Avery After His Nine Inch Nails Exit
Mary Ouellette, SheWillShootYou.com / Cory Schwartz, Getty Images
Bassist Eric Avery recently exited Nine Inch Nails after being named one of the band's new members earlier this year and the news caught the eye of Avery's onetime bandmate in Jane's Addiction -- guitarist Dave Navarro. During his online radio show 'Dark Matter,' the axeman used the platform to rail against Avery's recent move and past actions.
In the radio segment [via Grunge Report], Navarro ranted, "I'm looking forward to the 12-hour YouTube session of him dishing the dirt on why. 'Once again I am mesmerized by my inability to follow through with anything.'"
Opening up further, he explained, "This guy has constantly talked s--- about me, Stephen [Perkins] and Perry [Farrell], and quit our band twice to quote unquote, pursue all of these really intense solo creative artistic output. All these different mediums that he's going to, get into or whatever, where is it? Where's all the s--- that he's doing? I don't know. I wouldn't be so vocal about it if he didn't do a feature length film talking s--- about all three of us."
Adding to his rant, Navarro stated, "He quits Jane's. He got thrown out of Garbage, he got rehired by Garbage, he's in Nails, now he's out of Nails. I mean, what the f--- is the problem here? You know what I mean? Me, Perk and Perry have managed to put everything aside for 30 years."
He concluded, "The guy's entitled to do whatever the f--- he wants to do, and it's fine, but keep your f---ing mouth shut. I don't really care. You can quite every band in the world … Here's the thing. I'm talking mad s---. The reason why is he opened the door. He opened the door with the feature length film, he goes to people that I know and work with in the music business to talk s--- about me and Stephen. He talks to people who work at musical equipment manufacturers, like that s---'s not going to get back to us? Come on. It's just p---y s---, whatever."
Cooling off a bit, Navarro concluded, "I don't wish him any harm. I have a lot of fond memories with him. But if you're going to f---ing open your mouth about the inner workings and dynamics of something that has been very, very good to you for a lot of years, and then not follow through on anything else, you've got it coming."
Listen to Dave Navarro's Rant Against Eric Avery on 'Dark Matters'