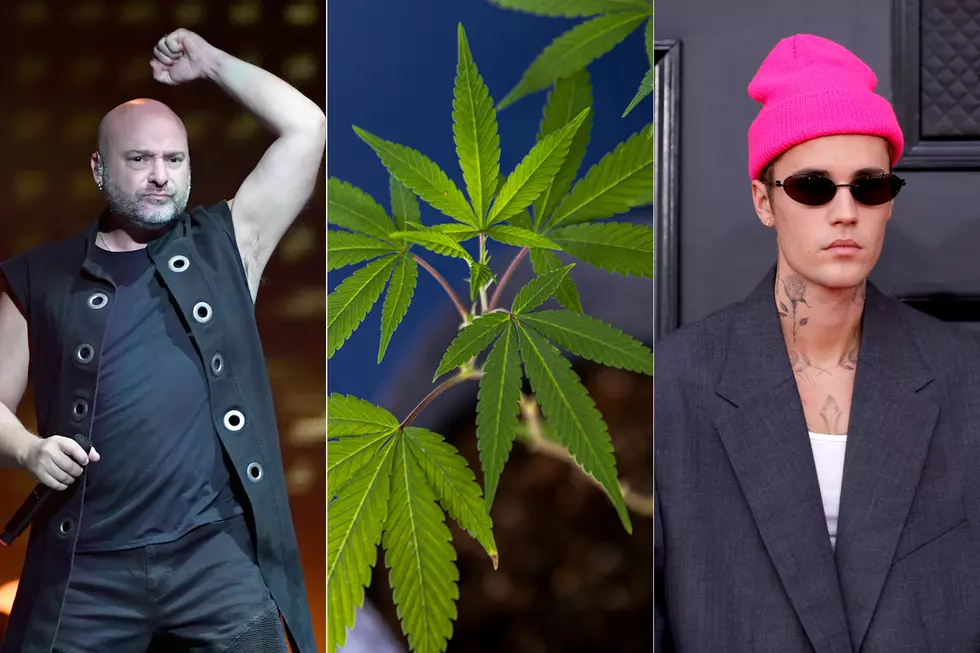 David Draiman Wants to Smoke Weed With Justin Bieber – 'I Challenge You to a Smoke-Off'
Ethan Miller / Lauren DeCicca / Frazer Harrison, Getty Images
The phrase goes "When in Rome, do as the Romans do." and Disturbed frontman David Draiman is applying that philosophy on his trip to Amsterdam, a city notable for its legal stance on weed. In fact, the singer upon learning that fellow musician Justin Bieber was in the area, put out a challenge to the Biebs for a "smoke off."
Draiman has been open about his partaking in marijuana over the years, with the Disturbed song "Fire It Up" being an ode to the sweet leaf. In a 2015 interview, Draiman estimated that 95 percent of his songs were written while he was high.
Those who've been following Draiman's social media of late have seen the musician clearly enjoying himself on what he initially suggested was an "emergency trip to Amsterdam." In recent days, the Disturbed vocalist has been sharing posts with "high" puns and photos suggesting that he's enjoying some high times while partaking in cannabis culture. Then, on Wednesday (Jan. 11), Draiman put out the "smoke out" challenge to Bieber.
"Hey @justinbieber, I hear you're in #amsterdam! So am I! I challenge you to a smoke off!!!," stated the Disturbed vocalist.
While Bieber did not respond directly on social media, many of Draiman's Twitter followers enjoyed the idea of pondering how that meeting might go, as seen in the reactions below.
The Bieber "smoke out" challenge was not the singer's first posting on the trip. Draiman has been sharing other photos and entries from his adventures that started earlier this week via Twitter. See some of the postings below.
20 Most Metal Marijuana Strains