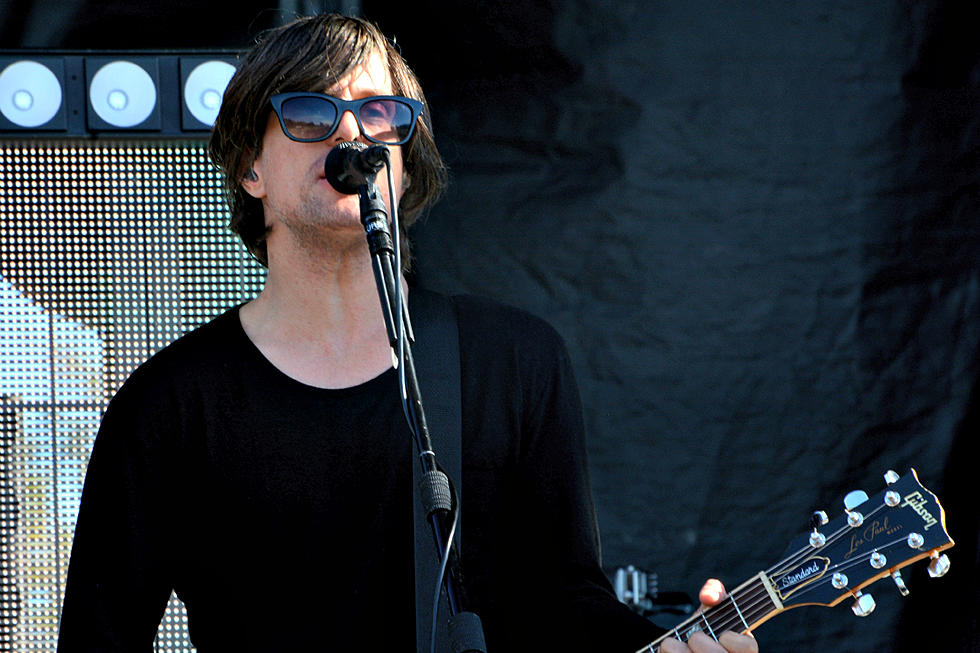 Failure Frontman Raises Allegations Against Ex-Pledge Music Chief, CEO Denies Claims [Update]
James Stafford, Loudwire
The financial collapse of Pledge Music has left many acts in a bad spot. Money pledged by fans to help acts record new music has been taken by the company and will likely not be fully refunded.
Earlier this year, a judge ordered that the company be liquidated, and just last month Variety obtained a statement from a bank appointed receiver that stated there would unlikely be any further payment to creditors in the case. Now, one of the acts burned by Pledge Music's collapse has levied some allegations against the company's former CEO that tie to his current employer.
Failure frontman Ken Andrews has posted a lengthy missive about former CEO Dominic Pandiscia in which he talks about how the businessman resurfaced with a job at Primary Wave after resigning from Pledge Music and alleging that all the clients under the Primary Wave umbrella that had used Pledge Music campaigns had their money refunded.
Pandiscia has since responded, denying Andrews accusations and claiming that he is exploring legal action for libel and slander.
My name is Ken Andrews and I've been in the music business for 28 years. I've produced or mixed over 100 albums for artists like Beck, NIN, Paramore, Jimmy Eat World, and many more. My own band, Failure, launched a pre-order album campaign through Pledge Music in 2015 for a new album we made called The Heart is a Monster. We sold over $200k in pre-orders in the first 2 weeks. It was a successful campaign for the band, and a well above average campaign for Pledge as well. Pledge took their cut, 20%, paid us our cut, and everyone walked away satisfied. Upon completing a second new album in 2018, my band decided to go back to Pledge for the same pre-order service we had used them for in 2015. Like most bands, my band has struggled through plenty of disappointing experiences over the years, but nothing could prepare us for what came next.
The agreement you make with Pledge Music is that they give you your piece of the pie, 80%, after YOU have fulfilled the orders you received through pledge's website. Their service was always slightly suspicious to me as I couldn't see how they could justify 20% for essentially setting up a credit card payment system and having a website that simply created a page for you using images the artist supplies. They do no external marketing, except promoting themselves. But whatever, there is no one in our band that is an expert in this kind of website programming, so we were fine with paying someone else to handle the financial transaction part of our preorder campaign. It worked fine last time.
The campaign was launched, and while the excitement for this album was clearly less than our previous "first album in 20 years" album, we still did quite a bit of business. Currently we are owed $75k from Pledge Music.
But then in the summer of 2018 we started to hear rumors that other bands weren't getting paid like normal. When we called our contact at Pledge, they confirmed the rumors, but said it would be worked out and that we would eventually get our money. They told us that pledge had some temporary cash flow issues that were being ironed out. I hate to say this, but as soon as I heard that excuse, I was pretty sure our money was gone. That money was supposed to be walled off and inaccessible for use in any of Pledge's company expenditure's. That was money our three band members had been counting on for the year plus of work we put into writing and recording that album, including significant studio expenses. Other artists are owed way more than we are, some as much as $250k. It is now estimated that pledge owes artists $10 million USD.
As time went on it became clearer and clearer that Pledge had spent artist's monies, and they were in serious trouble. Then in October 2018, the CEO of Pledge Music, Dominic Pandiscia resigned. He was hired in April 2016. I have a source who worked inside Pledge Music until the very end. Pandiscia's time as CEO aligns exactly with my understanding of when the company decided to break with its own long-standing rule of keeping money owed artists separate from operating expenses, and investment costs of growing the company.
So here's what we have. In 2015 a company fully functioning and in the black, providing a backend payment service to bands who don't want to deal with that aspect of selling their music. A company making a decent profit by providing a simple service to DIY music artists who, for the most part, have chosen to operate outside the traditional record label industry. Pledge Music was not a record label. Artists did not sign their masters over to Pledge. They were a payment processing company, working on behalf of self-releasing artists, that's it. Unfortunately, that level of success was not enough for Pledge and its new CEO, Dominic Pandiscia. They wanted more, a lot more. Which is why they began an aggressive investment campaign. This would not have been a problem except that Pandiscia thought it was a fine idea to go ahead and spend my band's money to grow his company. No where in Pledge's terms of service agreement does it say that your money is going to be used to grow a company you have no vested interest in. And no where does it say that your money is subject to be stolen. Because that is in fact what Pandiscia has done here. Pandiscia stole my band's money to benefit the company he was CEO of.
Now you might be asking yourself, well its been a year now since the collapse of pledge music. What has happened? I'm here to tell you nothing has happened. No one has been charged with any crime, and the $10 million dollars that pledge music still owes artists is gone and will never be paid. Pandiscia and other Pledge Music executives have walked away scott free.
But that's not the end of the story. What did Pandiscia do after he resigned from pledge? He didn't leave the music business. Far from it. He called up his friend Larry Mestel, the founder and head of the massive LA based music company, known as Primary Wave, and asked him for a job. Primary Wave does music publishing, marketing, label services, you name it, they have a department for it. Now why would Larry Mestel want to hire someone who literally just bankrupted the music company he was CEO of? It's really quite simple. Let me explain.
Primary Wave also have an extensive artist management roster including Brandy, CeeLo Green, Melissa Etheridge, Fantasia, Cypress Hill, Chris Robinson (of the Black Crows), etc. Several of these artists, including Mellisa Etheridge, actually had large pre-order campaigns running with pledge when the shit hit the proverbial fan in 2018. Well, guess what happened with every artist on Primary Wave and their respective pledge campaigns? They all got their money. That's right. If you were an artist on Primary Wave and had a pledge campaign running when Pandiscia was CEO, despite every other artist on pledge not getting their money, you got yours.
How do I know this? Pandiscia is not listed anywhere on Primary Wave's website even though every other executive there has their own page identifying their title and a brief bio. I know this because I have a source inside Primary Wave. They told me Pandiscia has an office there, which surprised them and most other people who work there, as they were all well aware of the Pledge Music scandal. It seemed kind of incredible to me and I wanted some form of proof. So I began looking closer at the other employees of Primary Wave. Almost all of them, upon being hired, have received numerous mentions and welcomes into the Primary Wave fold on the various social media feeds Primary Wave controls, and, importantly, they all have a little bio about them, right next to their Primary Wave email addresses, for all to see on the Primary Wave public facing website. Then I noticed that all the Primary Wave executive email addresses followed the same kind of typical corporate format we are used to seeing. LMestel@PrimaryWave.com. First name initial, last name, @company. I extrapolated what Pandiscia's email address would be, DPandiscia@Primarywave.com and sent him an email. Five minutes later I got a phone call from my band's manager at the time. "Dominic Pandiscia just called me and is freaking about why Ken Andrews is emailing him." Dominic Pandiscia knows exactly who I am, who my band is, and probably how much money we are owed. Our manager told Pandiscia that "Ken is trying to figure out where his band's money is." Pandiscia then hung up. I then emailed Larry Mestel directly, asking him why he hired Pandiscia, and why he doesn't have a bio and email address listed on the PW website like every other executive at PW has. No reply.
We all know the stories of how corrupt and shady music business executive are, but the pledge music story takes it to a new level. Pandiscia should be in jail right now, and yet, he is sitting at a desk at a prominent music company. How can this be? It can be because no one is saying anything. No one is willing to speak truth to power here. I spent a couple weeks earlier this year trying to organize a group of artists who were all ripped off by pledge for 50k or more. I had zero problems finding 10 artists who met this requirement, but what I was saddened to learn is just how few of them were willing to stand up and say something on the record. The two main reasons cited by these artists were, fear of retribution, and fear of being labeled as a victim. I get that, you don't get into music because you want to deal with this kind of corrupt business crap. You want to make music. But here's the problem with that position. If we don't hold these people accountable they will not only continue to victimize us, but they will be emboldened to take even more from us than they already have. Remember, Pandiscia didn't go into hiding, he went right back into the business. One of the arguments I heard from other victims of Pandiscia/Pledge was, "Look I just want to forget about this and move on with my life. We aren't going to get our money back, so I just want to forget about this and move on."
This September, my band Failure was approached by a music licensing company called Bank Robber Music. They represent a lot of rock bands like my band Failure. We began to negotiate a deal for Bank Robber to represent certain works from our catalogue for use in TV and Film. I've done a lot of deals as both an artist and producer/mixer, as I've been in the music business for a long time. When I finally saw a draft of the actual agreement I was supposed to sign, my jaw dropped when I saw that Bank Robber was in some sort of business partnership with guess who, Primary Wave. The agreement was setup so that my band would technically be signing to both Bank Robber and Primary Wave. I immediately called our contact at Bank Robber and told them the whole story of Pledge and Primary Wave. This person was shocked and quite frankly didn't know what to do at first. But thankfully, the next day Bank Robber had a new version of the agreement drafted, without Primary Wave's involvement. We signed the agreement.
My point here is that the music business is very small, and getting smaller. If you think you won't run into any of these criminals from Pledge Music in the rest of your music career, you are wrong. I ran smack into Pandiscia just 9 months after he resigned from Pledge.
That's why I'm writing this open letter to music artists and the music business in general. If you are comfortable with having someone like Dominic Pandiscia continuing to work in your industry, someone who presided over the disappearing of 10 million dollars of artist money, not to mention defrauding the countless music fans who lost money to Pledge Music, then I wish you good luck. But if you think the music business can be better than this, that we can operate within the bounds of basic decency, and the law, then I'm asking you, stand up. Say something. Do something. Because unless we fight to hold these people accountable, we will deservedly be labeled as their victims, whether we like it, or not.
-Ken Andrews
Update: According to Variety, Pandiscia has denied the allegations and revealed that he is exploring legal action. The music exec, who is working as a consultant for Gaither Music, a gospel and Christian label that partnered with Primary Wave earlier this year, issued a statement to Variety that reads: "The allegations made against me by Ken Andrews are patently untrue and fabricated. It is irresponsible for any publication to print such inflammatory rhetoric without fact-checking or providing opportunity for comment. Had they done so, it would have cleared up the errors and falsehoods. This leaves me no choice but to explore options for legal action for libel and slander."
Andrews also spoke with Variety after Pandiscia's statement, offering, "If the statements I made are all patently false, as Mr. Pandiscia claims, then why didn't Mr. Pandiscia take the opportunity last night to actually clear up the errors and falsehoods' directly to the journalist he spoke to? Thousands of Pledge victims, both artists and customers, are all sitting here patiently waiting for a straight talk explanation of what happened."
Andrews, who says his band is owed $75,000 by Pledge, lists several artists represented by Primary Wave, including Brandy, CeeLo Green, Melissa Etheridge, Fantasia, Cypress Hill and Chris Robinson of the Black Crowes, but only names Etheridge as one who was paid. Andrews did not present evidence of this claim; PledgeMusic's website, which listed its past campaigns, has gone offline.
See Failure in the 20 Best Rock Albums of 2015