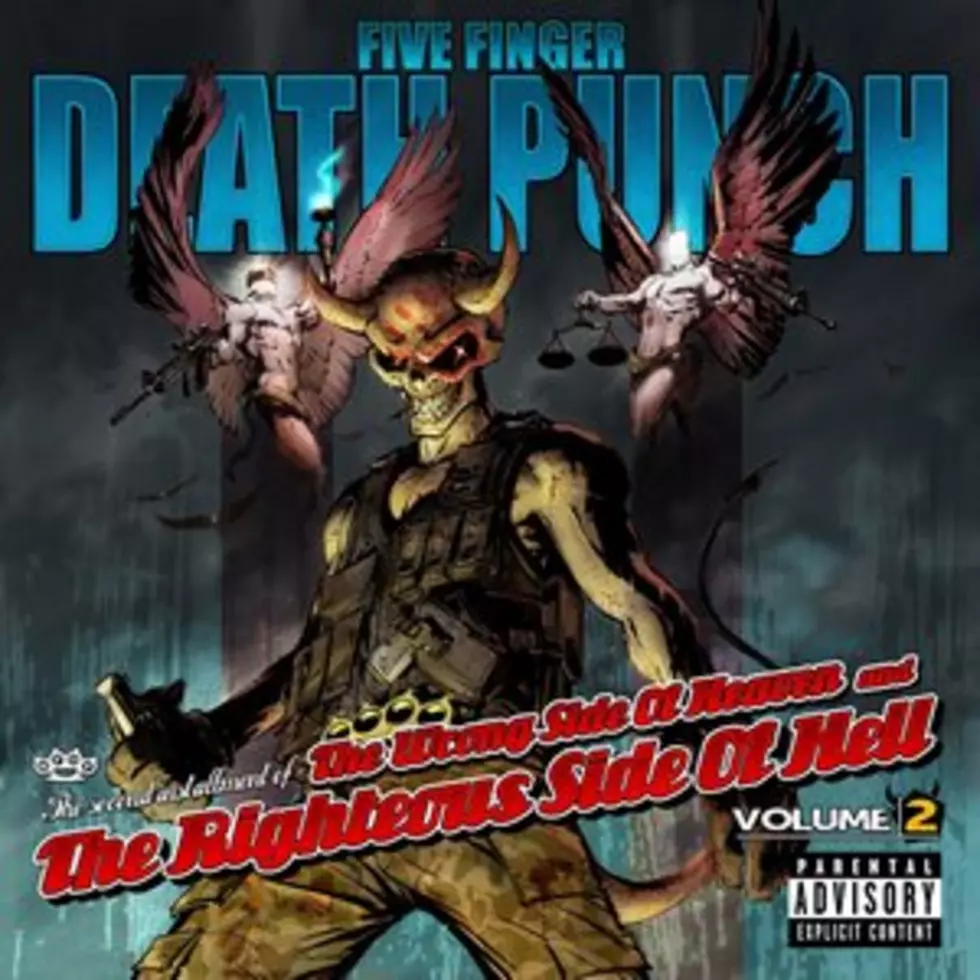 Five Finger Death Punch, 'The Wrong Side of Heaven and the Righteous Side of Hell, Volume 2′ – Album Review
Prospect Park Records
The songs on 'The Wrong Side Of Heaven and the Righteous Side of Hell, Volume 2' were written during the same sessions as 'Volume 1,' so there's a common musical thread running between them. After writing so many songs, the band decided instead of leaving half of them on the cutting room floor, they would release two albums.
Four months in between albums is still a tight time frame, especially when you consider the single factor. 'Lift Me Up' (featuring Judas Priest's Rob Halford) from 'Volume 1' topped the rock singles chart recently, and the follow-up single 'Battle Born' is from 'Volume 2.' It will be interesting to see if they go back and release any more singles from 'Volume 1,' because there are several potential hits on that album.
Pretty much every song Five Finger Death Punch write has the potential to be a single. Their songs are heavy and melodic, tailor-made for rock radio. In addition to 'Battle Born,' songs like the in your face"Here To Die,' the power ballad 'Cold' and the emotional 'My Heart Lied' all would make great singles.
One difference in the two albums is that 'Volume 1' has a lot of guest appearances from artists like Jamey Jasta, Maria Brink and the aforementioned Metal God, Rob Halford. 'Volume 2' is more straightforward in that regard, which actually makes it a bit more cohesive.
5FDP like cover songs, with one of their biggest hits being 'Bad Company.' On 'Volume 1' they covered LL Cool J's 'Mama Said Knock You Out,' which is a bit of a novelty.
'Volume 2's' cover is 'House of the Rising Sun.' It's an old folk song whose origins date back hundreds of years, although the most well-known version was done by The Animals in 1964. 5FDP give it their own lyrical twist, changing New Orleans to 'Sin City.' A folky beginning and Ivan Moody's deep baritone evolve into a straight-ahead rocker with plenty of guitar solos.
The deluxe edition of 'Volume 2' includes a second disc. It's a 15 song live show that features songs from throughout their career, such as 'Under and Over It,' 'Far From Home' and 'The Bleeding.'
The bottom line is that if you liked 'The Wrong Side of Heaven and the Righteous Side of Hell, Volume 1,' you'll like 'The Wrong Side of Heaven and the Righteous Side of Hell, Volume 2.' They are like two peas in a pod, or more accurately in Five Finger Death Punch's case, a left hook and a right cross.