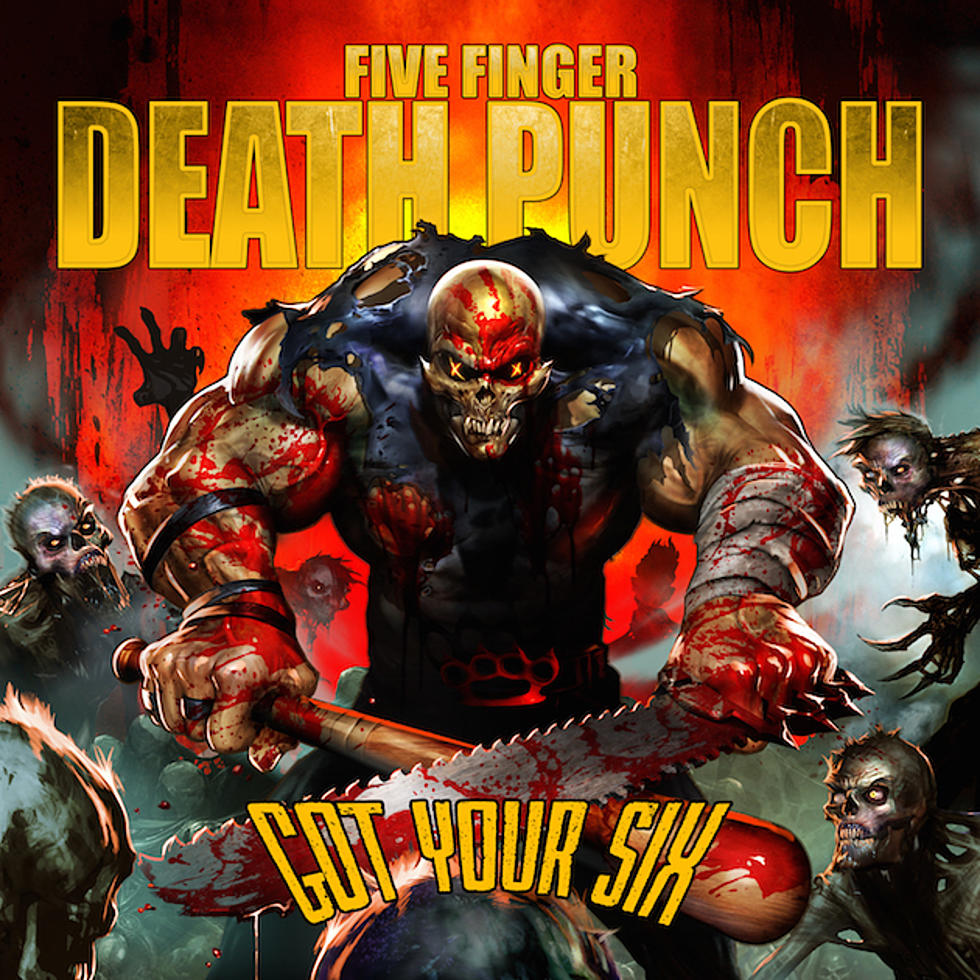 Five Finger Death Punch Reveal Track Listing + Bundle Options for 'Got Your Six'
Prospect Park Records
Five Finger Death Punch unveiled the new song "Jekyll and Hyde" from their upcoming album Got Your Six yesterday, and now have revealed the disc's track listing that you can check out below. The standard edition of the album that will released Aug. 28 includes 11 songs, with three extra tracks on the deluxe edition.
Got Your Six is available for pre-order at Amazon and iTunes. Pre-order bundles that include merchandise such as t-shirts, posters, hoodies and bottle openers in addition to the music are available at this location. Those who pre-order will get an instant download of "Jekyll and Hyde."
Speaking of the album and its first single, frontman Ivan Moody says, "If someone asked me to sum up who and what Five Finger Death Punch is, I would tell them everything they need to know is on this new record. Hands down, Got Your Six is our best one yet…"
Moody continues, "As for the first single, everybody is Jekyll and Hyde. There are multiple personalities to every human being, and no matter how civilized and sophisticated you think you are, if you dare to look at yourself very, very closely, you'll see…  somewhere deep down… there is a demon inside. Your circumstances may not have provoked it yet but trust me, it's there…"
Guitarist Zoltan Bathory talks about the process of making "Jekyll and Hyde" as follows: "The verses are actual unaltered voicemails from Ivan. We have an ever-growing collection of these 4:00am messages Ivan usually bombards us with, and Jason had this idea to copy them to a hard drive, then literally wrote the song around them… what you hear is the actual voicemail."
Five Finger Death Punch, Got Your Six Track Listing:
1. "Got Your Six"
2. "Jekyll and Hyde"
3. "Wash It All Away"
4. "Ain't My Last Dance"
5. "My Nemesis"
6. "No Sudden Movement"
7. "Question Everything"
8. "Hell To Pay"
9. "Digging My Own Grave"
10. "Meet My Maker"
11. "Boots and Blood"
Deluxe Edition Bonus Tracks:
"You're Not My Kind"
"This Is Not My War"
"I Apologize"
Five Finger Death Punch's Jeremy Spencer Plays 'Wikipedia: Fact or Fiction?'