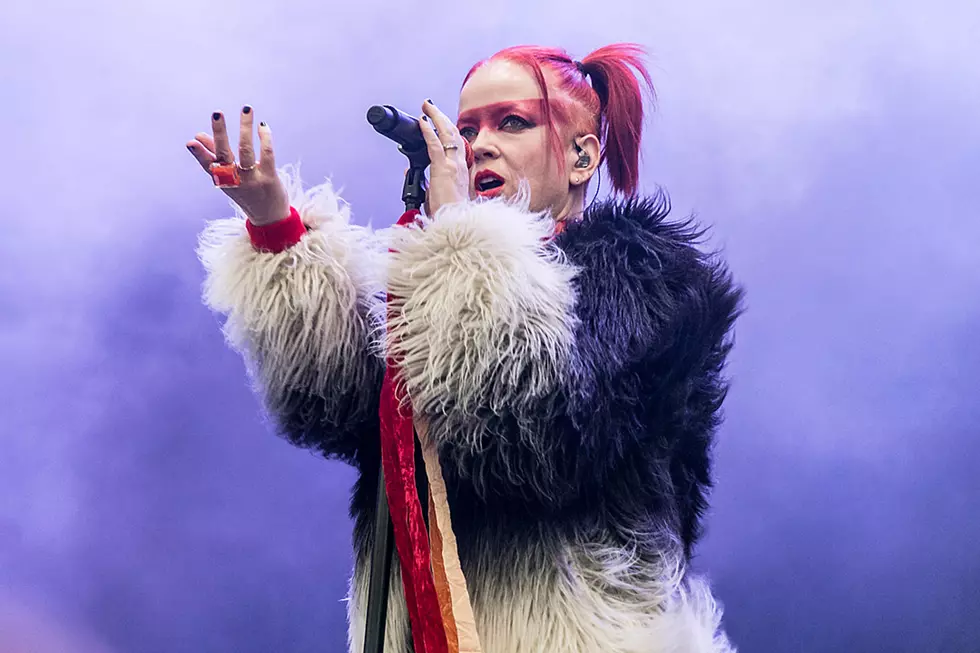 Garbage Remind Us Why Bands Shouldn't Get Hung Up on Festival Lineup Position
Kathy Flynn, WickedGoddessPhotography.com
Headlining a festival is probably on the list of notable milestones for many a rock band, a joyous moment to celebrate how far you've come, but it can also be a bit daunting when you see who else is on the bill and find yourself playing above some of your idols. That's what happened with Garbage, who in 1998 were one of the hottest bands going and found themselves headlining England's Reading Festival on a day that also included New Order. And it wasn't the first time this feeling happened either.
In a posting reflecting on the events of that day 25 years ago, singer Shirley Manson recalled, "25 years ago. I spent the entire day feeling mortified that we were headlining above New Order. It was the same summer that we landed higher on bills above Bob Dylan, Nick Cave and Patti Smith. Every time we wanted to grovel with embarrassment at the feet of our heroes."
But, as Manson would come to learn, too much stock maybe shouldn't be placed on lineup positions, as bookers are often more interested in what's the biggest draw at the time rather than the relevance of a band's entire career.
"We were young and inexperienced," she explains. "We had not yet learned that the music business does not treat its veterans with gentle hands."
"In due time, enjoying the great privilege of getting to stick around, we found ourselves in similar positions on festival bills as weathered by our heroes before us," she reveals. "We came to learn it is the natural order of things. Bill positions have little bearing on anything other than the simple continuum of life."
The singer concludes, "We are grateful to still be here. Playing and surfing and soaring through time whilst being healed by the people. You the people - we thank you for allowing us a seat at the table for over 25 years. We are forever in your debt."
Where Were Garbage In 1998?
After breaking on the music scene with 1995's self-titled debut smash, Garbage avoided the sophomore slump with their outstanding follow-up, Version 2.0, featuring the Top 10 Alternative Airplay singles "Push It" and "I Think I'm Paranoid." The album yielded six singles in total, peaked at No. 13 on the Billboard 200 Album Chart and has since been certified platinum in the U.S.
READ MORE: Top 90 Hard Rock + Metal Albums of the '90s
Where Can You See Garbage Now?
Having spent the summer with Noel Gallagher's High Flying Birds on tour in continued support of their No Gods No Masters album, the group is winding down their current touring with only four South American dates on the books for September. Get ticketing details here.
10 Times Rock and Metal Tour Lineups Didn't Make Any Sense