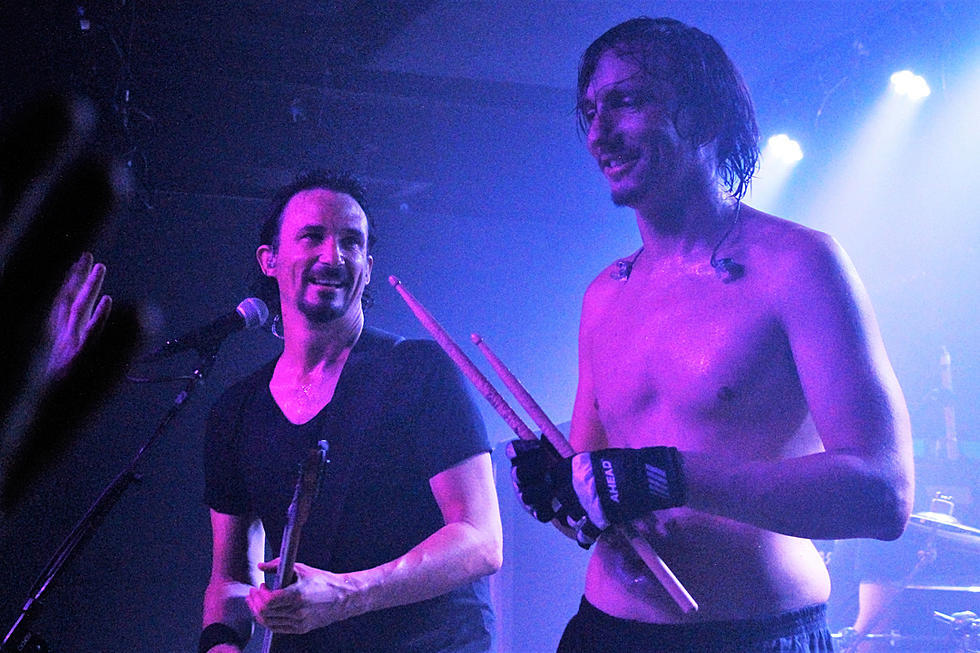 Gojira Heat Up Saint Vitus Bar in Brooklyn, N.Y., With 'Magma' Tracks + More
Liz Ramanand, Loudwire
About 100 fans packed into Saint Vitus Bar in Brooklyn for a very intimate show featuring French metal band Gojira. They have unleashed a brand new album, Magma, and performed infectious tunes both old and new.
While the air-conditioned Saint Vitus provided relief from the 90 degree heat outside at the beginning of the evening, the venue turned into a sauna within the first song of the set, "Toxic Garbage Island," which was fitting because things only got more sweaty and smelly as the night progressed.
New addictive tracks that filled the room included "Stranded" and "Silvera," and although they did not perform "Pray" (a personal favorite off of Magma), they did unleash "Only Pain," which completely obliterates when it comes to life during a show. Fans also headbanged and moshed to older favorites "The Heaviest Matter of the Universe," "Backbone," "Flying Whales," "Oroborus," "L'Enfant Sauvage" and much more. Highlights also included the performance of "Wisdom Comes," a song for die-hard fans that is seldom played live, as well as "Terra Inc." off of The Link Alive album.
Silence fell over the crowd as they were in awe of drummer Mario Duplantier during his solo. A heartbreaking moment of the night was frontman Joe Duplantier speaking to the audience about Bastille Day and also about the tragic attack in Nice, France, which for most of us was the first time in the evening that we heard about the calamity. It was bittersweet because it was also the birthday of bassist Jean-Michel Labadie.
The night came to a very sweat-filled close as they played the lead track off of Magma, "The Shooting Star," and ended it with "Explosia," well known to New Yorkers since the video was shot at another intimate gig at The Studio at Webster Hall a couple of years ago. To top it all off, Mario Duplantier stage-dived into the crowd and we all sang "Happy Birthday" to Jean-Michel Labadie. New York City will always be home to Gojira and fans will show up anywhere they play, no matter the size of the venue. Speaking of which, the band will be bringing their crushing show to Terminal 5 in NYC. Go here for a full list of tour dates.
Watch Gojira's Music Video for New Single "Low Lands"