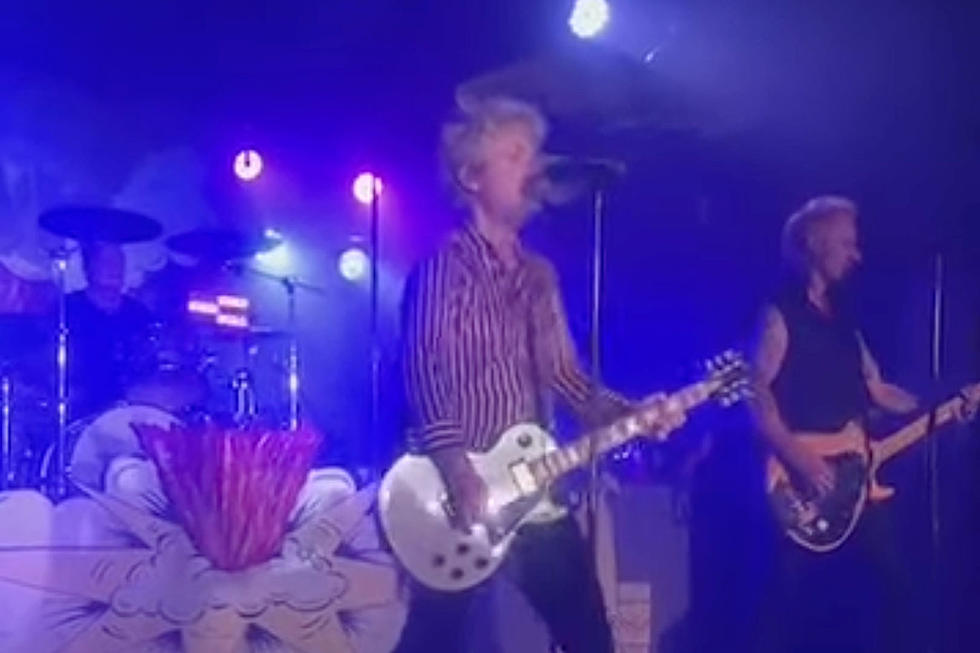 Green Day Reveal 2024 Stadium Tour Bands, Debut New Song, Play 'Dookie' in Full at Surprise Show
YouTube: Green Day Unreleased
Oh what a night for Green Day fans! The band, in advance of their When We Were Young festival appearance this weekend, played a surprise show at the Fremont Country Club in Las Vegas Thursday (Oct. 19), complete with the debut of a new song, the full Dookie album played in its entirety along with other concert rarities and the revelation that they'll be staging a massive stadium tour in 2024.
Stadiums are something Green Day are quite familiar with at this point, having shared stages with Fall Out Boy and Weezer just a few years back. But for the 2024 run, Billie Joe Armstrong revealed to the crowd at their "secret show," "I have a big announcement. It's really big. Get your cameras ready," then touting that Smashing Pumpkins, Rancid and the Linda Lindas would be joining them. Dates and ticketing information for the run were not revealed afterward, but there's another major reveal for Green Day coming soon and it's possible the tour details will come with that.
We're speaking of a brand new song, one titled "The American Dream Is Killing Me," which the band debuted for fans during their performance. It came as the first song played after the conclusion of running through the Dookie album for those in attendance. While it is a Friday, a day when many new releases arrive, Green Day's website is teasing that "The American Dream Is Killing Me," in its studio form, will be released on Oct. 24. So stay tuned, but catch fan-shot footage of the live debut below.
Green Day Debut "The American Dream Is Killing Me" in Las Vegas
As for Dookie, well there's a big anniversary coming for the band's breakout 1994 offering. After stirring up some buzz off their initial releases, Green Day signed to a major label and released Dookie in February 1994, with this coming year marking the album's 30th anniversary.
"It's not quite the anniversary," Armstrong explained as the band played the album to the crowd. "The record came out in February 1994, so in October of 1993 we were just scared shitless."
READ MORE: Where 20 Rock + Metal Band Names Came From
While Green Day frontloaded their night with Dookie and their new song, they provided a mix of hits and pulled out some songs that hadn't been performed in quite some time for the fans in attendance. "Last Night on Earth" hadn't been performed with the full band since 2009. "Warning" went back even further to 2001. The group also revived "Oh Love," "Nuclear Family" and the set closing "Homecoming" for the first time in ages, while giving the Father of All... deeper cut "Graffitia" its live debut. Check out the full setlist along with some fan-shot video from the show below.
Green Day Oct. 19, 2023 Fremont Country Club Las Vegas, Nevada Setlist (per Setlist.fm)
1. "Burnout"
2. "Having a Blast"
3. "Chump"
4. "Longview"
5. "Welcome to Paradise"
6. "Pulling Teeth"
7. "Basket Case"
8. "She"
9. "Sassafras Roots"
10. "When I Come Around"
11. "Coming Clean"
12. "Emenius Sleepus"
13. "In the End"
14. "F.O.D."
15. "All By Myself"
16. "The American Dream Is Killing Me" (live debut)
17. "Geek Stink Breath"
18. "One of My Lies"
19. "Oh Love" (first performance since 2013)
20. "Stuart and the Ave."
21. "Disppearing Boy"
22. "Graffitia" (live debut)
23. "Letterbomb"
24. "Last Night on Earth" (first performance since 2017, first full band performance since 2009)
25. "Father of All..."
26. "Nuclear Family" (first performance since 2017)
27. "Warning" (first performance since 2001)
28. "Revolution Radio"
29. "Homecoming" (first performance since 2010)
Green Day, "Graffitia" (Live Debut in Las Vegas)