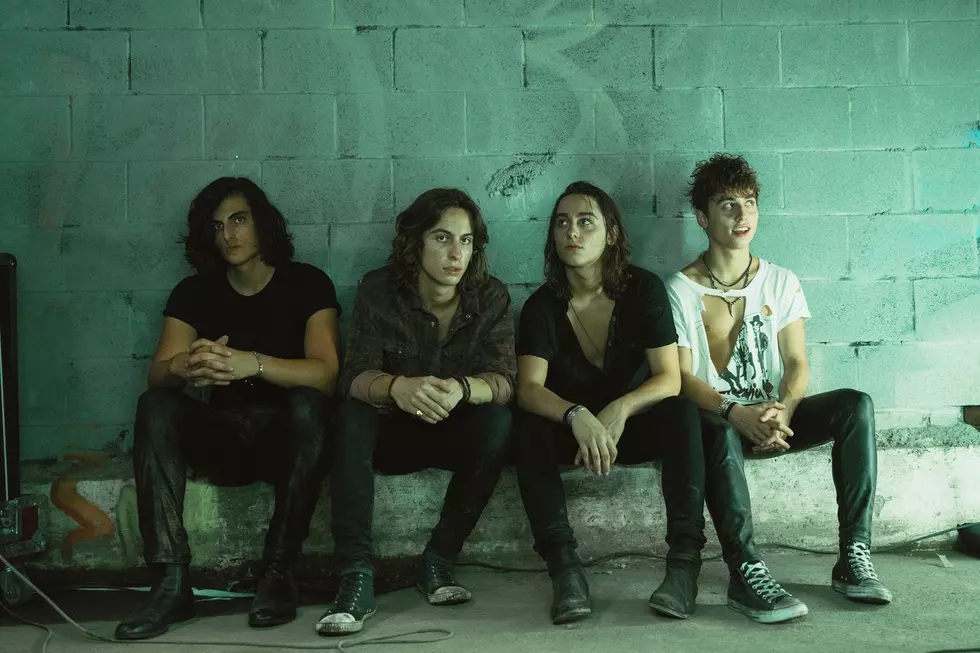 Greta Van Fleet's Jake Kiszka on Next Album: 'We're Relatively Close to Finishing'
Ford Fairchild
The Venn diagram of bands who are playing mainstream festivals (Coachella, Hangout) and the more rock based ones (Rock on the Range, Carolina Rebellion) has a pretty small overlap, but that overlap is where Greta Van Fleet are living in 2018. An unashamed, unironic rock band with classic blues roots, the band — brothers Josh Kiszka (vocals), Jake Kiszka (guitar), Sam Kiszka (bass) and Danny Wagner (drums) — love Led Zeppelin and Bad Company, regardless of how out-of-step as that makes them appear in the current music landscape.
That also puts a bit of pressure on them for their upcoming debut full length LP (they released two EPs last year, Black Smoke Rising and From the Fires). They're one of the few bands in their position: a new rock 'n' roll band with big commercial expectations for an upcoming.
Jake Kiszka spoke with Loudwire from the studio where the band is currently working on their album. "There may be some pressure because we're the only ones making this style of music," he said. "We just hope we can inspire our generation to abandon all these rules that are unnecessary: that music has to be pop-oriented to be accepted or popular. We're just creating music that's truthful and that comes from somewhere pure."
He notes that they have more material than they know what to do with. "In the beginning of February we started working intensely on the album, going back and forth between Detroit and Nashville. We have an archive of songs that we've written over the years, maybe thirty. We've been writing a lot as we've been recording this album. It seems like it continues to get re-evaluated, as far as what material we're going to put on [the record], but we decided to record all of it, just to document this period we're currently in."
He's cagey on any details about the album, but says, "I think we're relatively close to finishing. It's going to be finished sooner than we thought. Things are moving quickly for us."
And given the amount of songs that they currently have, fans should expect to see lots of extra material from the band, beyond the album.
"There's tons of stuff. And a lot of the material we're writing doesn't necessarily speak to the album, so those songs may not make the cut. So yeah, we'll have b-sides and all that." He also notes that they're working on some new covers as well (and is also cagey on that subject: he won't say what they are).
While they don't have a release date yet, he says that they'll definitely play some new songs on the road; they kick off a string of European dates March 20 in the Netherlands, and they return to the U.S. starting with Coachella on April 13. But whether they're playing with pop or rock acts, they never quite fit in. "It's not uncommon for us to be the odd men out. A lot of contemporary rock music is very heavy, it's scream-oriented, and it's fueled by anger, and there's definitely a place for that emotion in music."
He continues, "We were doing festivals last summer. Our music focuses on love and peace and unity. People would bring flowers and [Hawaiian] leis to our performances.  And then we'd go to the area where the artists eat lunch, and you've got all of these big metal dudes there, and we'd walk through with flowers in our hair!"
Those positive vibes, while out of step with contemporary rock and metal, might just be what America needs during this deeply divided era. At least one of their 2017 songs seems to speak directly to this moment in American history, where young people are confronting politicians head-on.
"You tend to not have much voice when you're younger. That's what a lot of 'Black Smoke Rising' is about. It's saying that you do have a voice, you should have your own opinions and your own thoughts. Don't just sit around and say nothing."
And while he's doesn't jump too far into any current political debates, he adds, "It's great that people are standing up and saying something."
Greta Van Fleet will be on tour in the U.S. in April and May; check out all of their tour dates here.
See Greta Van Fleet in the 10 Greatest Rock Songs of 2017
Best Hard Rock Album of Each Year Since 1970