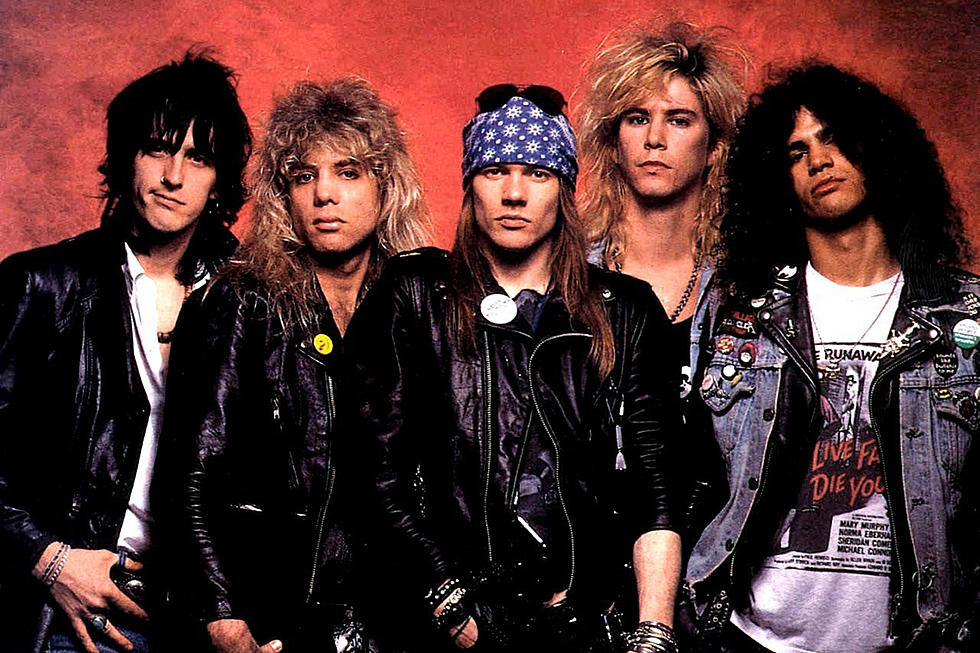 Guns N' Roses Update Website With Classic Logo; Mysterious GN'R Teaser Plays at Movie Theaters
Geffen Records
Update: Ultimate Classic Rock is reporting that a mysterious Guns N' Roses teaser is now playing in movie theaters prior to showings of 'Star Wars: The Force Awakens.' The teaser shows clips of a crowd in black and white while "Welcome to the Jungle" plays. Check it out above and see our original story below.
The Guns N' Roses reunion rumors just had gasoline dumped over the fire when an update to the band's website was made to display the classic 'bullet' style logo on the homepage. The emblem is synonymous with the band's classic lineup and furthers the speculation that the original members will come together in 2016.
Of course, the design doesn't hold any significant weight until an official announcement is made, letting imaginations run wild with possibilities. Rumors are high that Guns N' Roses will be headlining the Coachella festival in 2016, with an announcement coming Jan. 5. Singer Axl Rose could also be throwing the gas on the fire himself and lighting the Internet ablaze with more talk of his band. At this point, any announcement indicating the lineup will not be reuniting would be met with a worldwide, resounding sigh.
One month later, Slash revealed he and Axl were on friendly terms again, ending a bitter and scornful relationship that lasted nearly the past two decades. The two had been hostile towards one another, dashing any hopes at a reunion in years prior, but this breakthrough married with the fresh vacancy in the guitar slots has the world holding out for what will perhaps be the biggest comeback in rock history.
See Where Guns N' Roses, Appetite for Destruction Ranks Among the Top 50 Hard Rock + Metal Debut Albums
Slash on Axl Rose's Best Qualities