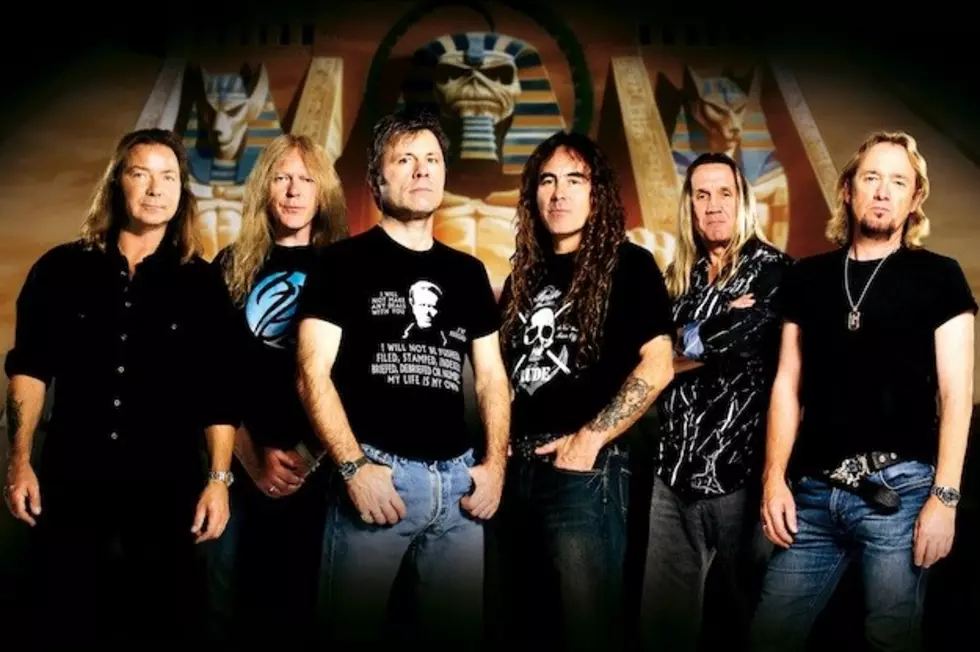 Hear a Blistering Teaser From Iron Maiden's 'The Book of Souls' Album
EMI
There's little doubt that some of metal's top guitarists reside within the ranks of Iron Maiden, but if you need a little reminder, just take a listen to a new teaser for the band's upcoming The Book of Souls album.
A new 27-second clip has just surfaced as a promotional tool for the upcoming disc and it's full of guitar goodness from the band. Meanwhile, the striking album cover, reminders of the Sept. 4 release date and pre-order information provide the visuals for the clip, featured above. And speaking of that pre-order info, head here to see the variety of format options for the upcoming disc.
The band recorded The Book of Souls in Paris is late 2015 with producer Kevin "Caveman" Shirley behind the boards. As has been well documented, frontman Bruce Dickinson was treated for cancerous tumors, which delayed the release of the album. But with the rocker now given the "all-clear," the band is moving forward with the disc.
Bassist Steve Harris stated, "We approached this album in a different way to how we've recorded previously. A lot of the songs were actually written while we were there in the studio and we rehearsed and recorded them straight away while they were still fresh, and I think that immediacy really shows in the songs, they have almost a live feel to them, I think. I'm very proud of The Book of Souls, we all are, and we can't wait for our fans to hear it, and especially to take it out on the road next year!"
Dickinson added, "We're really excited about The Book of Souls and had a fantastic time creating it. We started working on the album in late summer 2014 and recorded it at Guillame Tell Studios in Paris, where we'd done the Brave New World album back in 2000 so the studio holds special memories for all of us. We were delighted to discover the same magical vibe is still alive and very much kicking there! So we immediately felt at home and the ideas just started flowing. By the time we'd finished we all agreed that each track was such an integral part of the whole body of work that if it needed to be a double album, then double its going to be!"
The 11-track disc is the band's first-ever double studio album and features one of the longest songs the band has ever recorded. Look for The Book of Souls arriving on Sept. 4.
10 Greatest Iron Maiden Onstage Eddies
100 Metal Facts You May Not Know [Click Through]