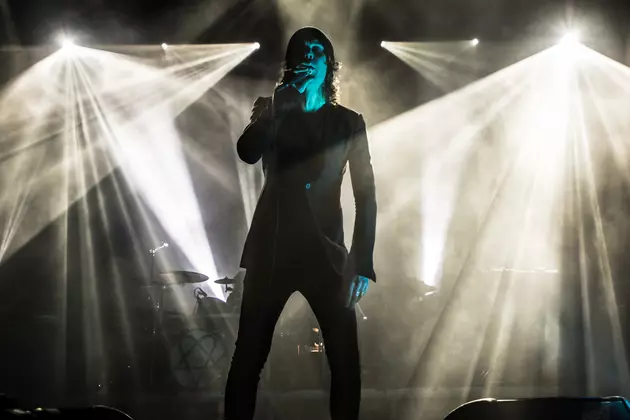 HIM Kiss North America Goodbye With Stunning New York City Gig
Johnny Perilla, Loudwire
Last night (Nov. 17) was the funeral of HIM in North America. At New York City's iconic Hammerstein Ballroom, fans braved a line more than an avenue long to see HIM's final bow, which manifested as a 21-song set of fan favorites spanning the band's entire career.
Industrial act 3Teeth opened the proceedings before CKY helped transport fans back to the Jackass and Viva La Bam days, when millions were first introduced to HIM. Having CKY on this tour was a celebration in itself, giving fans of early 2000s MTV a dream bill from their teenage years.
Like the Empire State Building last night, Hammerstein's stage was coated in purple light as fans waited for HIM to arrive. The place was packed with the true HIM faithful, with women screaming in their heartagram shirts and guys attempting to pull off their best Ville Valo look. As the lights dimmed, the distinct high pitched screams of a HIM crowd welcomed the Finnish five-piece onstage as they busted out "Buried Alive by Love."
A farewell setlist couldn't have been more perfectly crafted, with "Heartache Every Moment," "Your Sweet Six Six Six," "The Kiss of Dawn" and "The Sacrament" fleshing out the night's opening tracks. Ville Valo's voice sounded perfect the entire night, as rock's favorite gothic crooner explored his incredible range with ease.
The celebration was brought to an unexpected halt during "The Funeral of Hearts," with Valo breaking up a fight in the crowd. "Calm the fuck down," the singer said mid-verse. "Please, it's the last time in New York City, man." After the fighting didn't die down on its own, Valo stopped the song entirely. "This is not TV, please." The annoyed vocalist even mocked the brawlers a bit before getting back to work, "Who won? You won? Oh, wow."
HIM kicked the energy back up with their encore, starting with a cover of Billy Idol's "Rebel Yell." The finality of HIM's goodbye gig really hit home during their last song, "When Love and Death Embrace." The mournful cut was a perfect note to go out on, leaving fans joyous but with tears in their eyes.
Saying goodbye to HIM marks the end of a group of true originals, who were perhaps under-appreciated by the rock and metal collective after Bam Margera stopped getting reality shows on MTV. The Finnish band were one of rock's true phenomenons in the 2000s, bridging the divide between doom metal and bubblegum pop. HIM singlehandedly introduced a legion of boy band-loving teeny boppers to the dark side of music, where many undoubtedly remained to discover a world of incredible rock and metal.
Ville Valo's magnificent voice is a gift to the somewhat wilting world of music played on real instruments, and we'll always be thankful for the 26 years Valo and his bandmates enriched our lives. RIP HIM. Check out our exclusive photos from the show in the gallery below.
HIM, CKY + 3Teeth Photo Gallery
10 Unforgettable HIM Moments