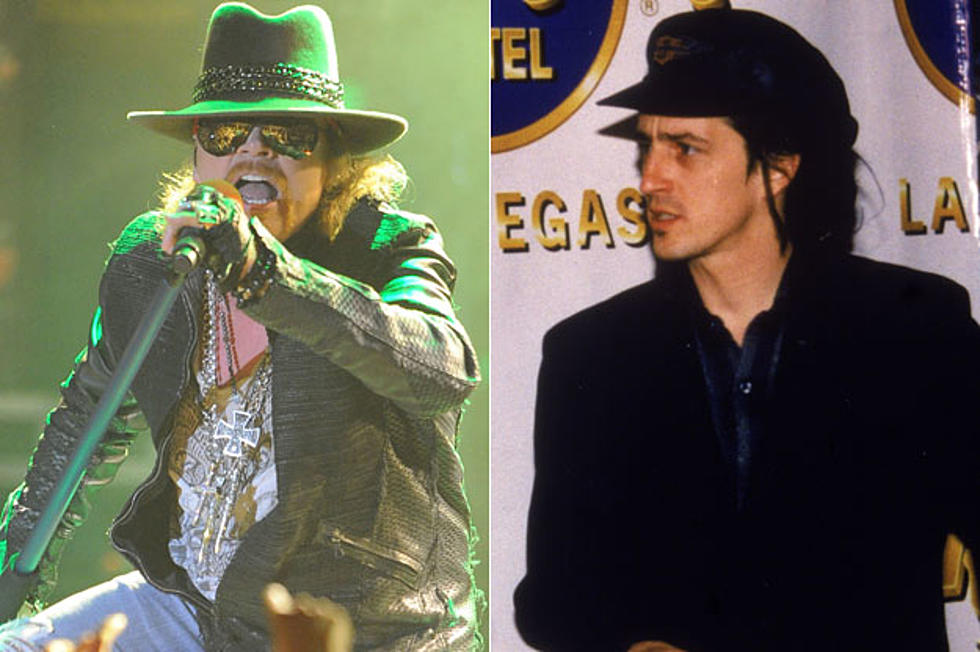 Izzy Stradlin Calls 'Bulls–t' on Guns N' Roses: 'They Didn't Want to Split the Loot Equally'
Jason Merritt / Scott Harrison, Getty Images
Former Guns N' Roses guitarist Izzy Stradlin has opened up on his absence from GN'R's now-legendary reunion. In response to a recent Brazilian interview Axl Rose took part in, Stradlin called "bulls—t" and claimed Guns N' Roses didn't want to split their earnings equally with him.
Since Stradlin's departure from Guns N' Roses in 1991, the musician has remained rather quiet, though he's managed to release a total of 11 solo albums. Izzy suddenly appeared on social media this year, activating a Twitter account in February. Izzy has posted and deleted a lot of tweets, but the announcement that he wouldn't be a part of GN'R's reunion remains on the guitarist's feed:
During an interview with Globo TV's Fantastico program, Axl Rose offered a rare quote on Izzy. "That's just something that... I can't really describe to say... I don't really know what to say about Izzy," Rose said. "It's, like, you could have a conversation and think it's one way and the next day it's another way. And I'm not trying to take any shots at Izzy. It's just his thing is kind of his thing, whatever that is."
Stradlin didn't seem to appreciate Axl's words, leading to what could be the earth-shattering truth behind Izzy's absence:
We've reached out to Izzy Stradlin for comment but have yet to hear back as of this posting.
Guns' current lineup has booked 2017 dates in Japan and Australia, while GN'R's production manager has claimed touring will continue "far into" 2017. Stay tuned to Loudwire for all your Guns N' Roses updates.
See the Guns N' Roses Reunion + More of the Biggest Rock + Metal Stories of 2016 (So Far)
Duff McKagan Plays 'Wikipedia: Fact or Fiction?'