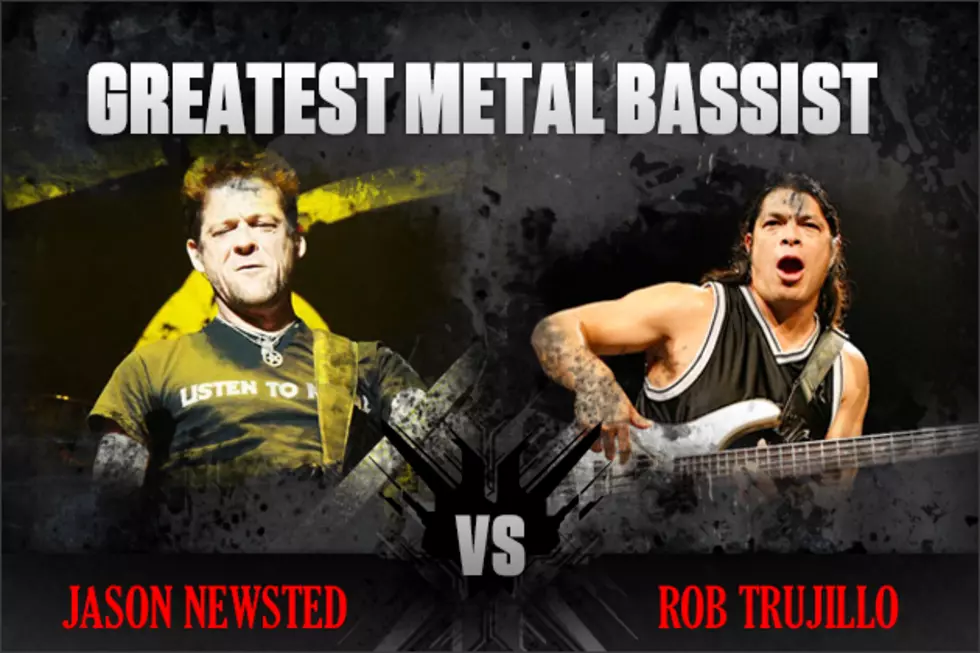 Jason Newsted vs. Rob Trujillo – Greatest Metal Bassist, Round 1
Liz Ramanand, Loudwire / Cory Schwartz, Getty Images
Aww snap! We've got a Metallica vs. Metallica battle to present to you in our very first round. The late Cliff Burton is currently taking on Napalm Death's Shane Embury, but Jason Newsted and Rob Trujillo stand face to face ready for combat.
Jason Newsted is all about power. The dude has technical skills as well, but his domineering bass presence has provided some serious muscle for Flotsam and Jetsam, Voivod and Metallica during his 15-year stint with metal's most successful band. Jason's new eponymous project still focuses heavily on impact, taking a simple approach to blast the teeth out of your head.
The skill possessed by Rob Trujillo goes far past what he currently plays in Metallica. The man's resume is among the most impressive in rock bar-none and includes names such as Suicidal Tendencies, Infectious Groove, Black Label Society, Jerry Cantrell, Glenn Tipton and Ozzy Osbourne. Trujillo's relentless fingering technique blew Metallica away in the 'Some Kind of Monster' documentary cementing his reputation further as a true musician's musician.
Jason Newsted vs. Rob Trujillo? Vote for your favorite bassist in the poll below! Voting for this round closes on Sunday, Sept. 29 at 11:59PM ET. Fans can vote once per hour, so keep coming back to make sure that your favorite metal musician wins!