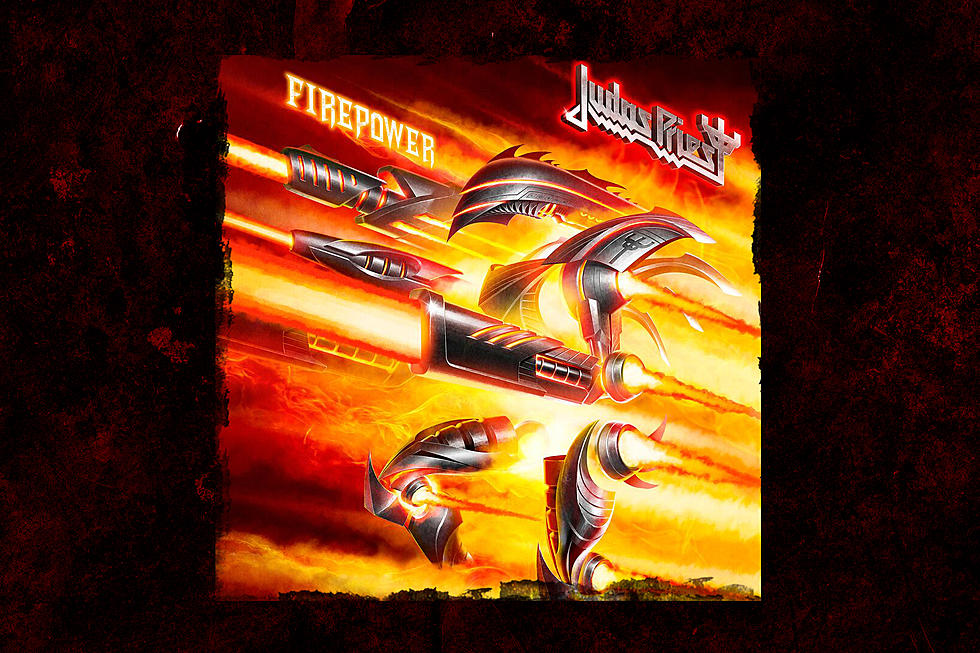 Judas Priest's 'Firepower' Finds Metal Gods Hitting Another Creative Peak – Album Review
Epic / Sony
Forty-eight years and eighteen albums into Judas Priest's career, and -- against all odds -- the Metal Gods are still in powerful form.
Four years after Redeemer of Souls, Priest re-enlisted the classic production duo of Tom Allom and Mike Exeter, adding modern whiz Andy Sneap to the fold, to ensure Firepower blazes with a slick, modern and punchy production without sacrificing their classic metal sound. The result is a diverse album, ranging from Painkiller-esque hard chargers to sweeping, majestic epics that harken back to iconic tracks like "Beyond the Realms of Death" and "Blood Red Skies." The arrangements are sometimes anthemic and to the point, adventurous and exploratory at others, demonstrating that the band's drive to challenge themselves as writers has not waned over the years. Clearly, they are striving to add to their legacy rather than coast on it, remaining a potent force among the modern heavy metal landscape.
Firepower, and its fourteen tracks which span fifty-eight minutes, is Judas Priest's finest work since reclaiming their sound on the sonic wrecking ball that was Painkiller. It establishes a familiar riffing ethos immediately with the title track opener, working in leads to accent the rhythmic barrage. The twin guitar attack that defined the band -- and early heavy metal -- aren't as present here as they've been in the past, but Richie Faulkner truly establishes himself beyond any doubt as a worthy replacement for K.K. Downing. He's reignited the band onstage over the years; here, he makes his greatest studio contributions yet with simple but daringly effective leads (and plenty of divebombs!) to add flourishes to moments on "Lightning Strike" (a song deserving of a spot on any greatest hits comp) and the grandiose "Traitors Gate," to name a few highlights.
The album has a modern feel; it won't feel out of place on your "Best Metal of 2018" Spotify mix. The choruses often utilize rhythm-intensive, lunging riffs to spike the adrenaline in favor of sustained chords and gleaming twin melodies of the classic years. When used properly ("Firepower," "Evil Never Dies," "Traitors Gate"), they add a newfound heaviness to Priest's sound, aligning them with today's scene. The rock-steady, grinning opening of "Evil Never Dies," where Rob Halford declares "The Devil's moved from Georgia, his mission's still the same," (a cheeky nod to the Charlie Daniels Band classic "The Devil Went Down to Georgia") nearly gives way to arena territory, but it's quickly cut down by the musclebound, sliding rhythms of the chorus, keeping the intensity of the album in the red just three tracks in. Meanwhile on the heroic, galloping "Traitors Gate," the singer discharges his best performance of the album and the bottom-heavy refrain packs the might needed to counter the more traditional riffing aesthetic.
These choral elements also work against some otherwise standout songs. "Children of the Sun," with its slugging, Black Sabbath, Dehumanizer-esque tectonic riffing thunder and brilliantly composed back half, is hampered by an all too simple, underwhelming rhythm. "Necromancer" suffers the same fate, but Halford's affinity for horror fantasy redeems the lackluster refrain.
The frontman has discussed being pushed to do multiple takes, multiple times, by the production team, during the making of Firepower. But the endless vocal takes seem to have brought the best to the surface. This is his best work since the 2002 Halford album Crucible. The Metal God's enunciation is pristine (you can almost hear the spit spray out of his mouth and onto the mic) and there's a raging confidence behind his delivery with more gusto than the competent but fairly safe Redeemer of Souls. He doesn't tee off with his famed falsetto shrieks nearly as often as he used to, but in the rare instances where he does, it demolishes any doubts that Rob Halford can still deliver. Emotion runs high in every line from the spotlight vocal on the reflective closing ballad "Sea of Red" to the eerie shriek of "You are the reason I feel dead" on "Children of the Sun."
Perhaps it's the lyrics that have provided that extra gusto that was missing on previous albums. Thematically, Firepower is rooted in the current day as connections can be made to ongoing political and social strife around the globe whether it's looking at a world in turmoil on "Lightning Strike" or the insatiable force of wickedness on "Evil Never Dies." There's nothing mentioned outright in the lyrics, but there's dots to be connected if you dig around enough, and that's a defining quality of timeless music.
Firepower really finds all of Priest's members committing career performances. Never a flashy player, Ian Hill remains the anchor of the band's thunder-forged sound, his bass forever fused to his hip as if it was a bodily extension. His rhythmic counterpart, Scott Travis, elevates his game here with subtle brilliance. The China cymbal smashes in the chorus of "Lightning Strike" make a great song even greater with just that small touch. Elsewhere, he leads with clever kick patterns and even on songs like "Spectre," just one extra kick beat brings out a whole dynamic behind the line "With the blade held tight." During "Rising From Ruins," a cinematic and empowering song that surges with an anthemic refrain and layers of vocal harmonies, his surgical, rolling fill following the climactic solo buildup brings the song back home to the refrain to close out the track. It doesn't sound like much, but it showcases Priest's ethos of paying attention to every sonic detail.
After nearly five decades of delivering the goods, Judas Priest could have coasted on their reputation on a new album, but they still have their ear to the ground of modern metal. They've crafted a record that can confidently stand alongside their most esteemed works without sounding dated or like self-parody. We'll all have our favorite songs, and, in turn, some gripes, but for now let's enjoy the fact that Priest are still with us, still committed to making seminal new music. With the news of Glenn Tipton's decision to step away from touring as he continues to battle Parkinson's Disease, who knows if we'll ever get another chance to hit "play" on a fresh batch of Priest tunes ever again? We can spend the next five decades debating Firepower. But for now, the Hell Patrol still rides, sworn defenders of the faith and guardians of heavy metal.
Judas Priest Albums Ranked
Judas Priest Talk Firepower