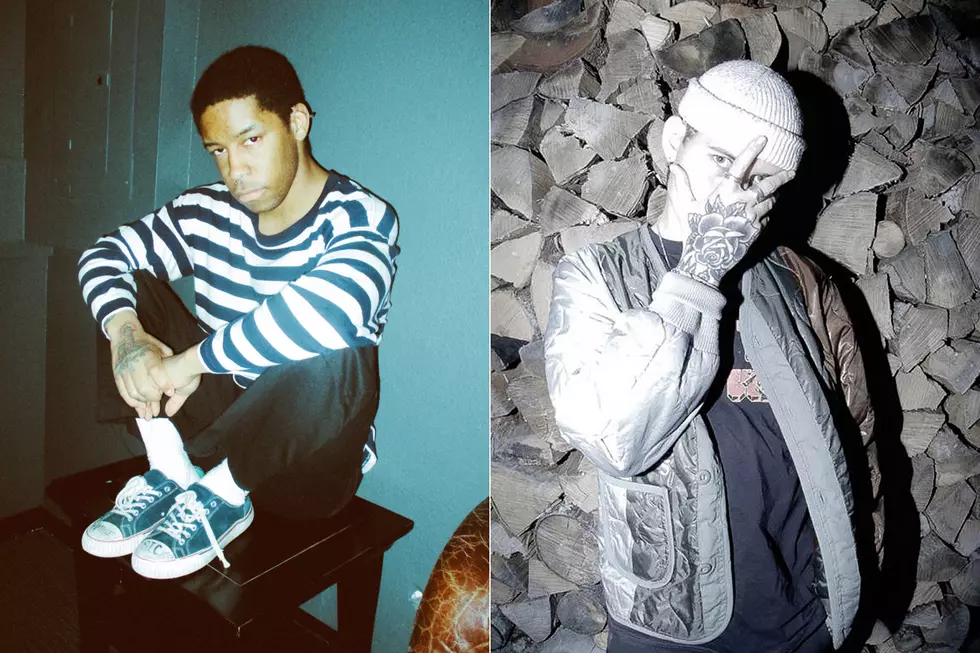 Kennyhoopla Cancels 2022 Monster Energy Outbreak Tour With nothing.nowhere Citing Mental Health
The Press House PR / Fueled By Ramen / Photo by Kate Fitzgerald
UPDATE: Kennyhoopla has revealed that he's cancelling his fall tour plans. In a statement via social media, the musician explained, "It breaks my heart to have to do this and it's with my most sincere apology that I must cancel the fall tour. I need to take this time to focus on myself and my mental health. I will be back soon - a stronger human and artists for myself and all of you. Shoutout to NN and groupthink. Make sure you go see them live when you can. Refunds will be available for everyone who bought a ticket. I love you all so much and I am forever grateful for all the love and support you give me. I wouldn't be here without it. Once again, I apologize.
nothing.nowhere also issued a statement that reads, "Mental health comes first. My friend Kenny needs to take some time off to heal. As a result of Kenny cancelling tour, I unfortunately have to cancel the headlining filler dates that were booked around that run. Refunds available at point of purchase. Go send my friend some love.
The Monster Energy Outbreak Tour has been putting some of the buzziest new musical acts in the spotlight for years, giving them a platform to hopefully take that next step toward breakout stardom. And this year's edition is giving pop-punk artist Kennyhoopla his chance to shine, headlining a fall tour run that also features fellow rising star nothing.nowhere and opening act Groupthink.
Kennyhoopla started to garner attention last year, releasing an EP with Travis Barker and playing sold out shows across the country. Keeping up the momentum, the musician steps into a headliner role with the Monster Energy Outbreak Tour that launches Sept. 10 in Denver, Colorado.
The musician's most recent effort is 2021's Survivors Guilt: The Mixtape, though he did release the non-album single "Dirty White Vans" earlier this year.
"I'm excited to headline the Monster Energy Outbreak Tour with my brothers nothing,nowhere & Groupthink," says Kenny. "So many cities that I haven't played in yet & I can't wait to meet you all!"
Singer-rapper nothing.nowhere has been making inroads with his emo-leaning stylings in recent years. As supporting act on this run, he'll be promoting his 2021 Trauma Factory release.
The general public on-sale starts today at 10AM local time in each market. Check out the cities, dates and venues listed below, and get your tickets at this location.
Monster Energy Outbreak Tour Presents Kennyhoopla / nothing.nowhere / GroupThink
Sept. 10 – Denver, Colo. @ Westword Music Showcase
Sept. 15 – Los Angeles, Calif. @ The Novo
Sept. 16 – San Diego, Calif. @ House of Blues
Sept. 17 – Las Vegas, Nev. @ Life is Beautiful
Sept. 19 – Phoenix, Ariz. @ The Nile Theater
Sept. 20 – Albuquerque, N.M. @ Sunshine Theater
Sept. 22 – Oklahoma City, Okla. @ Tower Theatre
Sept. 23 – Kansas City, Mo. @ The Truman
Sept. 24 – St. Louis, Mo. @ The Pageant
Sept. 27 – Minneapolis, Minn. @ First Avenue
Sept. 29 – Milwaukee, Wis. @ The Rave
Oct. 2 – Indianapolis, Ind. @ Deluxe at Old National Centre
Oct. 4 – Columbus, Ohio @ Newport Music Hall
Oct. 6 – Cleveland, Ohio @ The Agora
Oct. 7 – Detroit, Mich. @ Majestic Theatre
Oct. 8 – Pittsburgh, Pa. @ Roxian Theatre
Oct. 11 – Boston, Mass. @ Paradise Rock Club
Oct. 14 – New York, N.Y. @ Webster Hall
Oct. 15 – Philadelphia, Pa. @ The Fillmore Philadelphia
Oct. 16 – Harrisburg, Pa. @ XL Live
Oct. 18 – Baltimore, Md. @ Ram's Head Live!
Oct. 19 – Norfolk, Va. @ The NorVa
Oct. 21 – Charlotte, N.C. @ The Underground
Oct. 22 – Atlanta, Ga. @ Variety Playhouse
Oct. 25 – Orlando, Fla. @ The Plaza Live
Oct. 26 – St. Petersburg, Fla. @ Jannus Live
Oct. 28 – New Orleans, La. @ Toulouse Theatre
Oct. 29 – Austin, Texas @ Scoot Inn
Your Guide To Rock + Metal Bands Touring in 2022
Rock + Metal Bands Touring Schedules for 2022