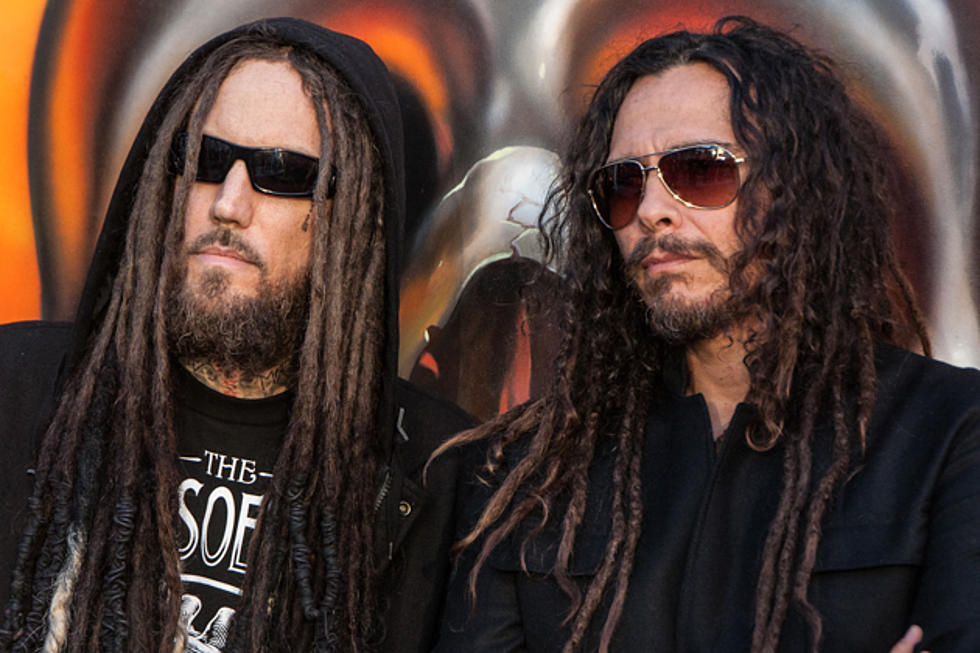 Korn's Brian 'Head' Welch + James 'Munky' Shaffer Discuss Head's 'Effortless' Return + New Album
Kathy Flynn, WickedGoddessPhotography.com
These are the best of times for Korn, who have reunited with guitarist Brian "Head" Welch both onstage and in the studio. Loudwire met up with Head and fellow Korn guitarist James "Munky" Shaffer on the Revolver Golden Gods Black Carpet and discussed reviving the onetime dynamic and how it feels to renew the personal and professional relationship. Check out out interview with the Korn guitarists below:
The big news in Korn these days is Head's return to the band, not only onstage but in the studio. Can you tell us how that came about?
Munky: It came together from one show we did at the Carolina Rebellion and from there we just stayed in contact. And our manager said, "How do you feel about 'Head' coming back to the studio and seeing how it goes?" I said, "Absolutely." After that one show it was like, "Wow!" You just don't realize how much you miss somebody until you see them again and you experience the chemistry for one song in front of a giant crowd. That's how it started and from there we just started writing songs. Song after song, idea after idea and we recorded 20 songs.
He talked about the chemistry, but Head, what was it like for you getting back onstage and getting a chance to perform with your brothers again?
Head: It was unreal. Words can't express it. I felt emotional in a good way even before it happened. And we didn't even know we were doing it that day until five minutes before the set. And then just seeing the reaction, so many people were just in tears cause there's a lot of people involved and our band got really big. So after I thought about it and he asked me, it was like this is the time. This is meant to be.
It was effortless, too. Once you get in the studio with them and start writing with them, it was cool. It was effortless. It just kind of fell into place and it was better than before.
It was at least several months back, you were just getting the seeds of ideas for the new album. Munky, can you talk about how much involvement Head has had in the creative process so far?
Munky: He had a huge role in everything. This guy is the melody-chorus master. He's the best. He can come up with melodies and choruses all day long and that was a huge help for me, cause for a long time I was trying to come up with choruses and verses and wrangle the whole thing. It's been so much work and for him to come in and have these fresh ideas, It's just been so refreshing.
Head: And it goes both ways, because I came in and then we started, but it was like, my favorite song on the album is one that he came up with. I'm a fan of his writing, he's a fan of my writing and it all just works great.
Head, I know this year there's a lot of festivals with both Love and Death and Korn on the bill, which keeps you very busy. How are you handling the balancing act of both groups?
Head: Well when I talked to them I was like, "Hey guys, I just signed a record contract. What do I do with that? Do you mind if we go on the road?" And [Korn] were like, "Sure, why not?" Fieldy did it. So I'm doing some shows with Love and Death and Korn, not all of them, and [Munky's] got his band too, Fear and the Nervous System and Fieldy has his. I think we can juggle everything. There's time for everything so we're just going to juggle it and see how it goes.
And with this being the Golden Gods, you've got Metallica, Tony Iommi and Rob Zombie being honored. Can you talk about the influence they've had on you?
Munky: It's Tony Iommi for me. Those Black Sabbath records are still some of my favorite recordings. They really inspired me. They introduced me to heavy metal and their whole catalog … And I'm so excited to hear the new record. There's a whole lot [of ties]. He cut his finger off, I cut my finger off, and he's a guitar player and there's a lot of respect.
Head: To me, I give honor to all these guys that are getting honored. Really, I'm feeling it inside. These guys have just inspired me so much you know. And you look up to them and it's just really cool to honor them. It's just going to be such a great night for rock and roll.