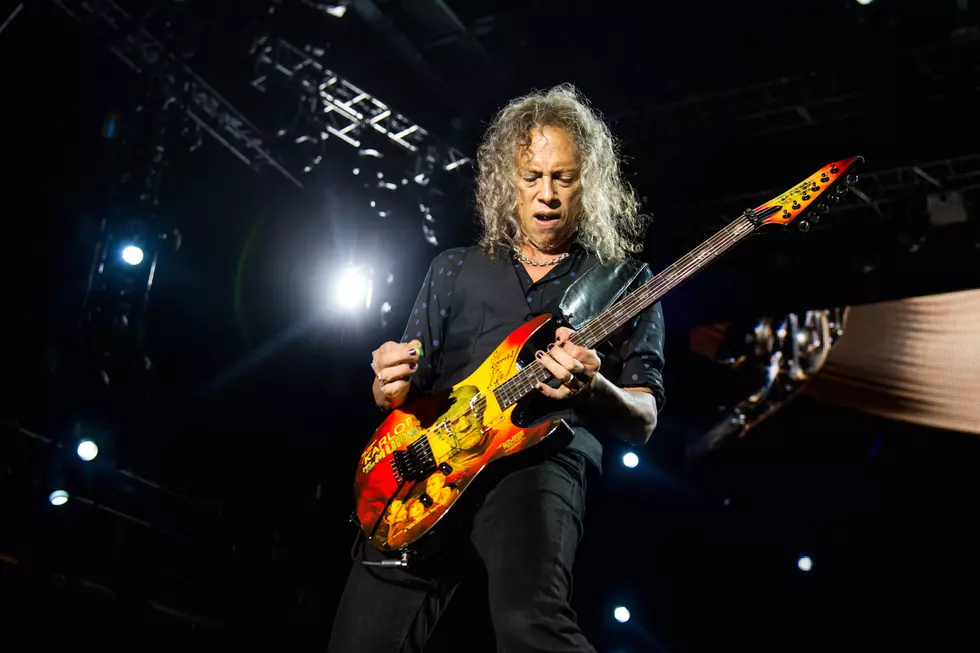 Kirk Hammett: Soundgarden Inspired the Riff Behind Metallica's 'Enter Sandman'
Amy Harris for Loudwire
Getting through life without hearing the riff to Metallica's "Enter Sandman" seems almost impossible. The song is a household hit and has dominated airwaves, sports stadiums and has been featured countless times in other forms of entertainment. So where did Kirk Hammett get the inspiration for that iconic guitar lick?
The Metallica axeman was a guest on 98.5 The Sports Hub's Toucher and Rich yesterday (Sept. 13) and clued listeners in on how the riff from "Enter Sandman" came to be. "It was very specific. I have a very specific memory. It was about two or three o'clock in the morning," he began. "I had just been listening to Louder Than Love, the Soundgarden album. It was when Soundgarden [were] still somewhat underground and [were] on an independent label. I just love that album; it's a great Soundgarden album. And I heard that album, I was inspired, I picked up my guitar and out came that riff."
When asked if Hammett knew he had "something special" on his hands, the guitarist explained, "Well, I knew it was a cool riff for sure. You kind of get an idea that a riff is cool because when you play it, if it's a cool riff, you can just instantly groove on it." Continuing, he said, "So, yeah, [I went], 'This is pretty cool. It's a good feel, it's a good sound, it's a good combination of notes.'" Hammett added that drummer Lars Ulrich told him to repeat the riff four times after first hearing it and "there you go."
"It doesn't sound like a Soundgarden riff, it doesn't sound like a Soungarden song. I was inspired by Soundgarden for sure — without a doubt — but I moved on to create something completely different," Hammett said when asked if he ever told the members of Soundgarden that they were the inspiration behind the feature riff of "Enter Sandman."
Where Does Kirk Hammett Rank Among the Top 66 Hard Rock + Metal Guitarists of All Time?
See Metallica's "Enter Sandman" in the 10 Greatest Metal Riffs of the 1990s