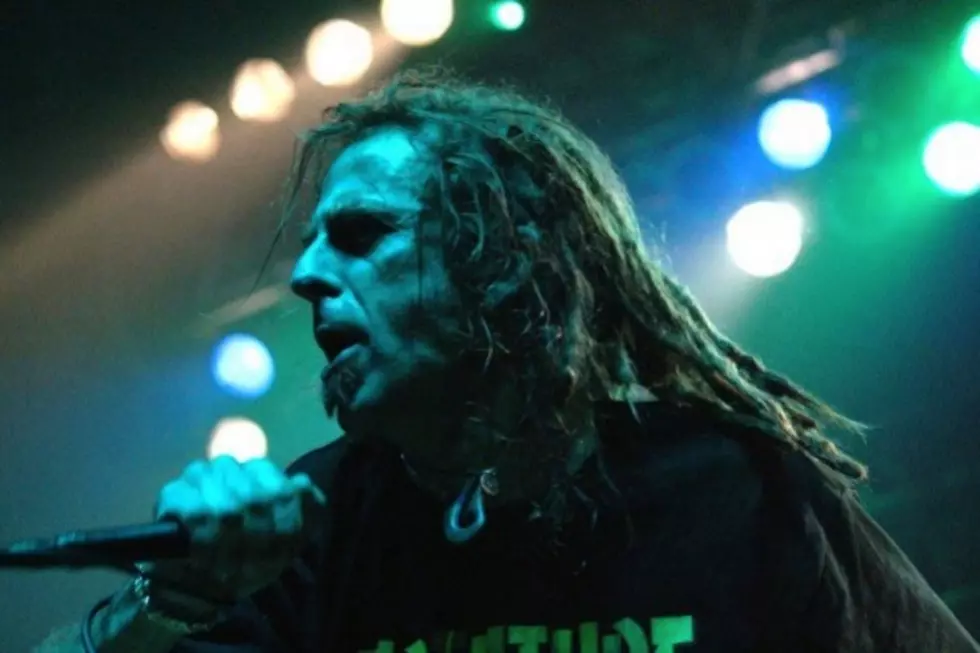 Lamb of God's Randy Blythe Completes First Draft of 'Dark Days' Book
Liz Ramanand, Loudwire
Lamb of God's Randy Blythe is all but assured of having one of the most anticipated new books of 2015, as the frontman tells the tale of his incarceration and eventual acquittal on manslaughter charges in Prague. Blythe has spent time over the past year revisiting the concert-related incident as well as his wild life prior for the upcoming book 'Dark Days.'
In a new Instagram posting, Blythe shows off the first draft of his manuscript for 'Dark Days' along with a Merriam Webster dictionary. The Lamb of God frontman concluded his writing on Oct. 1.
The vocalist states, "This is what a completed 1st draft of a book manuscript looks like. I wrote this myself, mostly over the last eight months, and I finished it today at precisely 2:09PM. Next to it is an abridged dictionary I got for a quarter at a thrift store, placed there for perspective (in real life, I use a massive 3,000 pound unabridged dictionary, of course). The single space typed manuscript stands thicker than the 600+ page dictionary -- now it's time to trim the fat. I have to do a quick edit of the last three chapters and the epilogue over the next few days, then send them to my editors, then the ball is in their court for a while -- it's time to let them kill some of my darlings, to paraphrase a saying often erroneously attributed to Faulkner."
He added, "There is still work to be done, but the worst is over. I did it. I saw it through. I fulfilled a lifelong dream of mine: I wrote a book, I can hold it in my hands, and I am damn proud of it. The work is good. And right about now, I must admit I am feeling pretty damn MAJESTIC. I can't wait to do it again."
Check out the photo posted below:
In a description of the page-turner, Blythe states, "Most substance abuse books end with the author getting sober. My book starts there." The 'Dark Days' book is slated to arrive on Feb. 3 and fans can get their pre-orders in at this location.
Blythe also recently revealed that he and his band are eyeing an early 2015 album release. During a visit with 'The Jasta Show' he commented, "I have been writing my book for a while but the majority of my book has been written since January. It will be released early part of next year along with the new Lamb of God record … I started writing lyrics for the next record in prison."
However, Blythe later cautioned that it might take a little longer to complete, explaining, "Despite what all the metal blogs are blaring " RANDY SAYS NEW LAMB OF GOD ALBUM EARLY 2015!!!!"- take that with a grain if salt, ok, because they also ignore the fact that during the interview I also say "The new album isn't written yet" – It will come out when it comes out, after it's done & we are happy with it. When that will be, we shall see- we kinda gotta write the thing first, ya know? I don't have a crystal ball, & I got no other answers than it will come out when it's done."