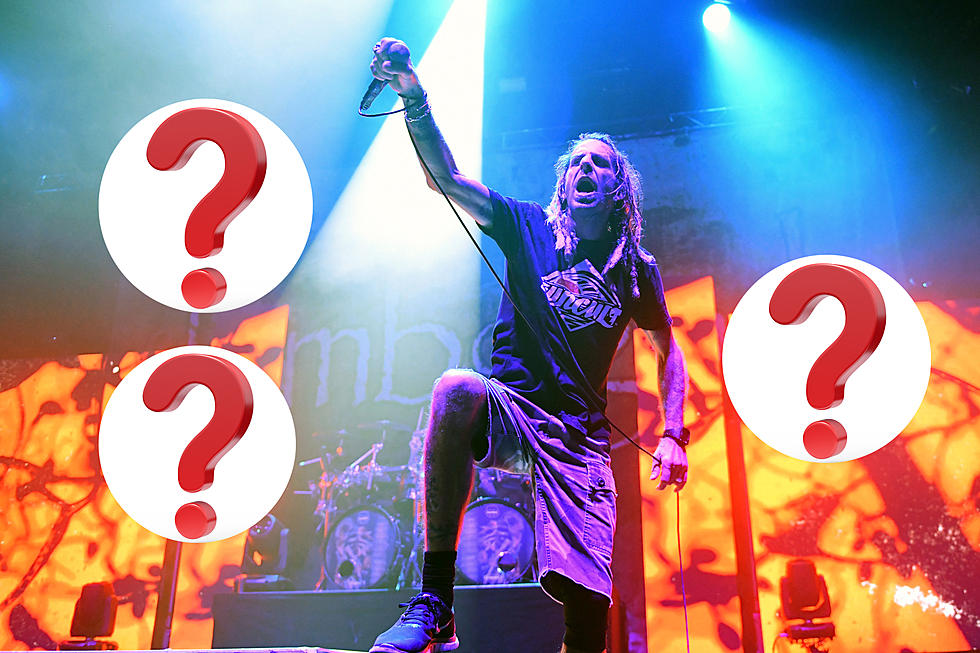 Lamb of God's Randy Blythe Names His Three Favorite Albums
Ethan Miller, Getty Images
Everybody's got their favorites, and during a recent appearance on Impericon's video series Top 3s (seen below), Lamb of God frontman Randy Blythe revealed his favorites items in a number of categories, including his Top 3 records and the Top 3 of his own songs that he likes the most.
When it comes to the albums, it really shouldn't come as too much of a surprise that one of those records would be a Bad Brains album. The vocalist has been quite effusive in his praise of Bad Brains over the years, so they have an album that makes the cut, but what else did Randy choose?
"Bad Brains' self-titled, the ROIR cassette, Sex Pistols' Never Mind the Bollocks and Samhain The Unholy Passion EP," the singer casually listed off. "I've been listening to them since I was 13 years old probably. They are formative records, very important records in my life."
Later on, Blythe shared his three favorite songs from his own catalog, listing off "King Me," "Resurrection Man" and "Omerta," while noting that they are all slower songs in the band's catalog. But let's take a closer look at the albums of Blythe's choice.
Bad Brains, Bad Brains
The band's 1982 self-titled debut album put the band on the map as one of the bright and rising stars of the '80s hardcore scene. While a self-titled release, it's often also referred to as The Yellow Tape or Attitude: The ROIR Sessions. It features the standout tracks "Sailin'" and "Banned in D.C." and it hooked a young Randy Blythe into being a fan for life.
Blythe once told us that Bad Brains was "my personal favorite band of all-time," while complimenting vocalist H.R., stating, "When I heard the first Bad Brains record, I was like, 'It sounds like a space alien or something."
The singer's love for Bad Brains carried over to an impromptu 2017 performance with Blythe joining the band at a New York art gallery. "This was one of the best nights of my life," proclaimed the Lamb of God singer, later adding, "People have asked me before, 'What band would you sing for?' Oh, Bad Brains, yeah right, like that's going to happen. So for us to just come out and play and nobody know and there be like 75 people in this art gallery, it was a spiritual experience for me, man. It was so cool and the vibe was so positive. Everyone was so freaking happy."
A year later, recording under their original name Burn the Priest, Lamb of God covered Bad Brains "I Against I."
Sex Pistols, Never Mind the Bollocks, Here's the Sex Pistols
Given his love of punk, Sex Pistols' Never Mind the Bollocks seems like a slam dunk. It's one of the most brash and beloved punk albums of all-time, enough so that the Sex Pistols were eventually recognized by the Rock and Roll Hall of Fame for a career that largely consisted of the one album. (Granted, in true Sex Pistols fashion, they turned down the nod and refused to show up).
This iconic 1977 album featured "God Save the Queen," "Pretty Vacant," "E.M.I.," "Anarchy in the U.K." and a key song for a young Randy Blythe, "Holidays in the Sun."
Speaking with EW.com back in 2014, the musician was asked what made him want to become a musician. His response?  "The singer was Johnny Rotten, the band was the Sex Pistols and the song was 'Holidays in the Sun,'" revealed Blythe. "It meant something. Most music is garbage (laughs), meaningless garbage."
READ MORE: Why the Sex Pistols Still Matter After All These Years
Samhain, Unholy Passion EP
The third choice for Blythe is actually an EP rather than a full album, but that didn't deter young Randy's interest in the collection. The initial 5-song set included the title track, "Moribund," "The Hungry End" and "I Am Misery" alongside "All Hell," a re-recorded version of a song from Glenn Danzig's former band the Misfits.
Though there's not much on record with Blythe commenting on Samhain, he has shown his appreciation over the years. In 2014, he joined a resurrected version of Samhain onstage at Chicago's Riot Fest. And in 2008, he started up a project with Samhain member Steve Zing.
Lamb of God's Randy Blythe Counts Down His "Top 3s" With Impericon
Where 20 Rock + Metal Band Names Come From
Solving the mysteries behind the monikers.