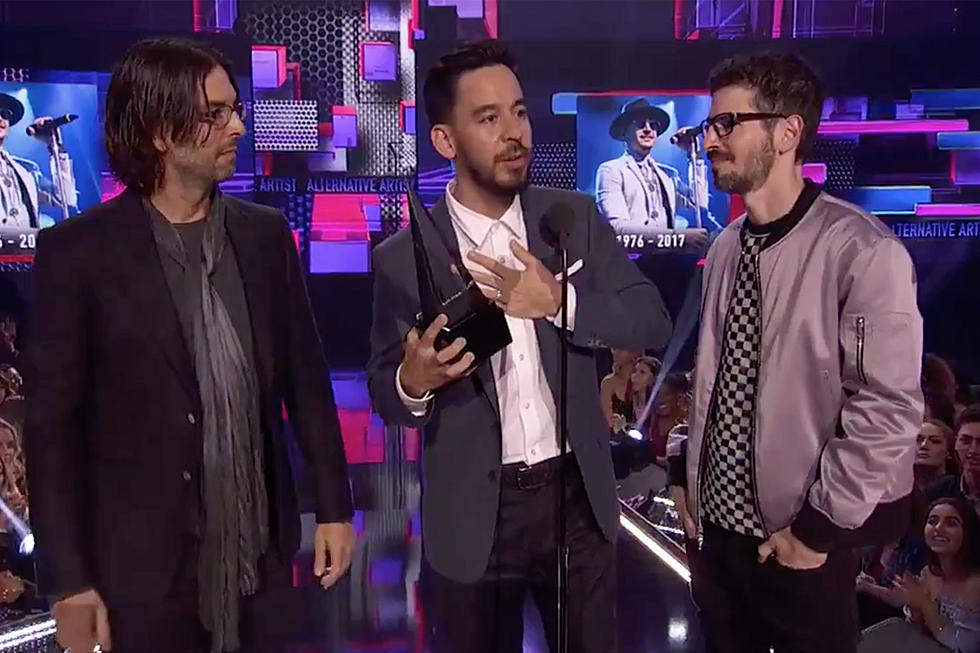 Linkin Park Dedicate American Music Awards Favorite Artist: Alternative Rock Trophy to Chester Bennington
American Music Awards
The American Music Awards took place Sunday night (Nov. 19) in Los Angeles, and while there wasn't much to catch for hard rock and metal fans, there was a nice moment where Linkin Park were honored, winning the Favorite Artist: Alternative Rock trophy at the ceremony.
Linkin Park's Mike Shinoda, Rob Bourdon and Brad Delson were on hand to accept the trophy, with Shinoda speaking on behalf of the group and using the platform to thank the fans and dedicate their win to the late Chester Bennington. The band bested fellow nominees Imagine Dragons and Twenty One Pilots in the category.
"First of all, thank you so much to the fans here and around the world who voted for the band and supported the band through thick and thin," stated Shinoda. "Also, thank you to the amazing Imagine Dragons and Twenty One Pilots guys. I got a chance to talk to those guys, to Tyler, to Dan, who said really great things about Chester and they were similar to what the fans said all around the world about him. We want to dedicate this award to him, to his memory, to his talent, to his sense of humor, to his joy, and remember, all of you guys, tonight, whether you're a fan or an artist, I want you guys to take a moment to appreciate what you've got and to make Chester proud."
Linkin Park spent the early part of the year promoting their new album One More Light, but tragedy struck for the group in July when Bennington took his own life. Just last month, Linkin Park returned to the concert stage at the Hollywood Bowl, playing a tribute to Bennington with a wealth of special guests. The band has yet to decide if or how they will continue after Bennington's death, but they will release the One More Light: Live album next month.
10 Unforgettable Chester Bennington Moments
Rockers We've Lost in 2017