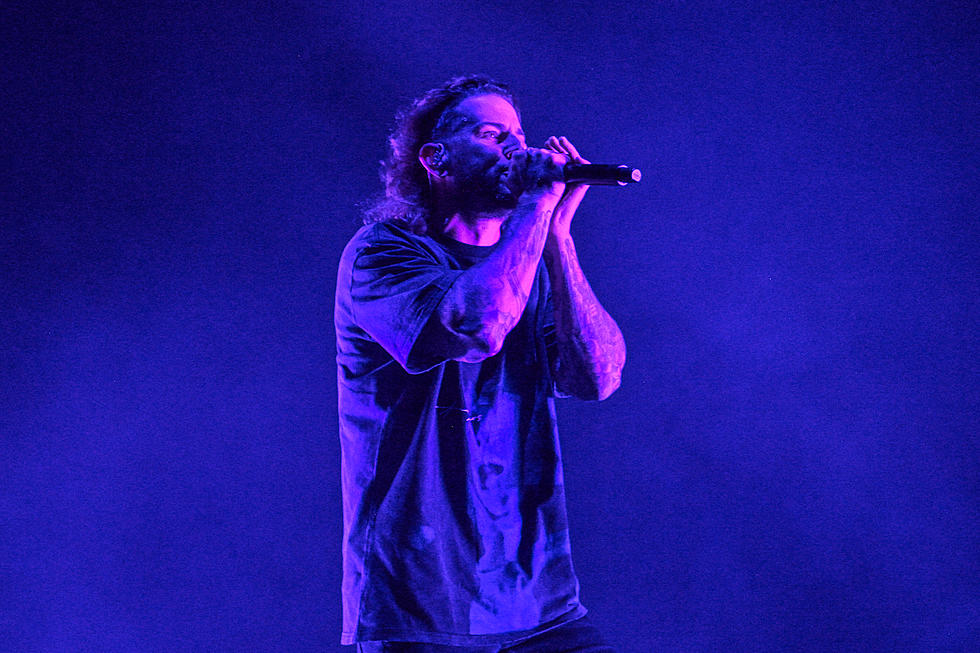 M. Shadows Addresses Avenged Sevenfold's Last Minute Show Postponement
Prince Williams, Getty Images
Avenged Sevenfold postponed their show in the Chula Vista area of San Diego, Calif. at the last minute this past Saturday (Oct. 7) due to illness. Though a lot of fans were enraged over the situation, M. Shadows took to social media to address it, as he was the band member who fell ill prior to the performance.
It appears that many fans were actually at the venue waiting for the show to start when they received notice that Avenged Sevenfold were not going to play. Someone uploaded a photo of one of the venue's monitors on Reddit, which read, "Attention: Due to illness, the band will not be able to perform tonight. The show has been postponed (not canceled). Hold on to your tickets. Please stay tuned to the venue's social networks for rescheduling information."
"It can happen and it's too bad. Not as big of a deal for local people, but some people plan for it try to get time scheduled of from work, and use vacation time, drive from out of town, pay for hotel rooms and gas etc. Last minute cancellations really can suck," someone commented on the thread, as others expressed their frustrations.
Shadows has since taken to X (formerly Twitter) to discuss his predicament and explain why the band waited so long to pull the plug.
"So sorry San Diego: the reason we wait til last min to cancel is because 99 percent of the time we can sing through a sickness or get through the show without injury. The morning of Aftershock I woke up with a virus… we played through what I felt was a great show… after the show the vocal chords were in tact and felt great," he wrote in a series of posts.
The singer added that he sat in a steam room for several hours, took various vitamin supplements and took other measures to try and work through the sickness. He woke up the morning of the show feeling alright, but noticed that his vocal cords were suffering.
"As the day went on and I did my warm ups it was clear that it was sitting in there and fighting to let me even speak. As a last ditch effort I had a doctor administer a steroid to help me get through the show… At around 8:30 it was obvious that that was not going to work for tonight and that it was better to live to fight another day. Again, there is no vocal cord damage.. I simply am sick and can't make the noises I need to make. We will come back… so sorry for those who traveled."
READ MORE: Are These Bands Dad Rock Now?
The frontman replied to responses from quite a few fans, assuring that his vocal cords weren't damaged, and as long as the sickness passed, their others scheduled shows wouldn't be affected. Thus, the band was able to play their Oct. 8 show in Phoenix, Ariz. without any issues.
See the full thread and some of his replies to fans below. Avenged's next performance will be tomorrow night in Albuquerque, N.M. See the rest of the dates on their website.
Top 66 Hard Rock + Metal Frontmen of All Time
See Loudwire's picks for the Top 66 Hard Rock + Metal Frontmen of All Time
Gallery Credit: Various