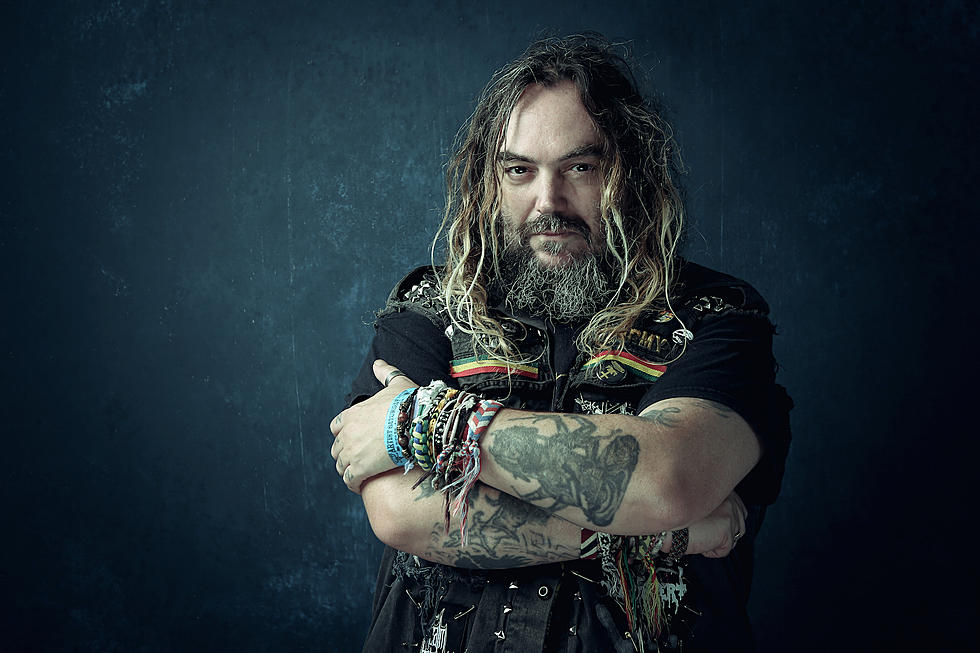 Max Cavalera Supports Universal Healthcare, Talks Diabetes Fund: 'You Should Take Care of Your Own'
Napalm Records
After Max Cavalera's son Igor was diagnosed with Type 1 diabetes at the age of two, something he called "a shock to our whole family," he and his wife Gloria knew something had to be done to help others afflicted with the disease. In 1998, the Iggy Fund was established in conjunction with the Phoenix Children's Hospital in Arizona, providing families in need with an "Iggy Kit" that offers a month's worth of much-needed supplies, including two-to-four vials of insulin, glucometers, lancets, test strips, syringes, ketone test strips and glucagon rescue kits. After seeing how far these resources go, Max feels that universal healthcare would further aid diabetics and others with medical needs.
"I think it should be like a lot of countries. A lot of that stuff is paid for by the government like in England and Argentina — worldwide," Max told Loudwire in a recent interview. "We visit many of these countries. It should be like that – you should take care of your own. It starts with that and there's a lot of different diseases out there that need help and a lot of people can't afford it. I think we need to look at other countries like that that help people and try to model that into what we're doing to help more people."
The Sepultura legend, Soulfly mainman and Cavalera Conspiracy frontman went on to mention that aid shouldn't be limited to those with diseases, speaking for the desire to help combat service veterans as well. "A lot of war veterans get a bad end of the stick – they go out and serve their country and get their legs blown off and come back and are treated bad. It sucks, it's horrible," commented Max.
In the meantime, Max has used his music as a means of healing and catharsis. "We did some shows — Soulfly played for the Marines twice and it was great meeting those guys. A lot of them are heavy metal fans and go to war areas like Iraq and Afghanistan and listen to their metal. I'm glad that my music has somehow helped them get through that at least a little bit," he said, returning to the topic of discussion when adding, "But I think universal healthcare should be good for everybody."
Discussing the Iggy Fund and what he's done for the greater good, Max humbly told us, "I don't take much credit for it. I give all the credit to my wife Gloria – she's the one who really thought of it and came up with the whole thing and got together with the hospital." He noted, "It has helped a lot of poor families and it's great." He also expressed the self-nourishment that comes with the work, declaring, "It feels good to do stuff like that. It's good for your soul."
Throughout the years, the Cavalera family has become aware of just how much their efforts are appreciated. "We get a lot of feedback from the hospital like how much the families are thankful for for what the fund has done for them, especially with the maintenance of buying the medicine and stuff that's expensive that a lot of people can't afford," stated the Sepultura legend.
Those afflicted with Type 1 diabetes are unable to produce insulin on their own and must monitor their blood sugar levels throughout the day. Insulin and testing supplies are both required to maintain the proper balance and the cost of this can quickly add up. "We're fortunate enough that we can afford it for Igor, but a lot of families don't have the same luck as us," Max lamented. "So that's why the fund was created to help those people who can't afford medicine. It's a legit fund – the money goes right to where it needs to go."
While he's appreciative that his family can properly help his son, there's still a rage that burns inside. "I fucking hate that disease," Max said, seething over the phone. "I've dealt with it for 20 years and I'm still kind of angry that he has that and that it kind of came out of nowhere. Nobody in my family has that, nobody in Gloria's family has that, so it kind of came out of nowhere," he continued.
With a sigh, Max shrugged off his vexation, acknowledging, "It is what it is. Something good came out of it, which is the fund." He made sure to inform us that Igor, who plays bass and fronts Lody Kong along with his brother Zyon (drums), is "doing great, by the way" and said that his son "deals with the disease as well as he can." He reiterated his wife is the champion, telling us, "I can't take too much credit – that's all Gloria. She loves doing stuff like that. She's a very caring person. She really loves to take care of people. That's why she comes on tour and takes care of all of us. Without her this boat will sink. It's good to have her around and she loves doing stuff like that and I think it will continue for many, many more years."
For more information on the Iggy Fund and to make a donation, head to the fund's website.
Thanks to Max Cavalera for the interview. His newest album, Cavalera Conspiracy's 'Psychosis,' will be out Nov. 17 through Napalm Records. To get your copy, go here and to order the album digitally, head to this location.
Max Cavalera Plays 'Wikipedia: Fact or Fiction?'
Best Thrash Album of Each Year Since 1983