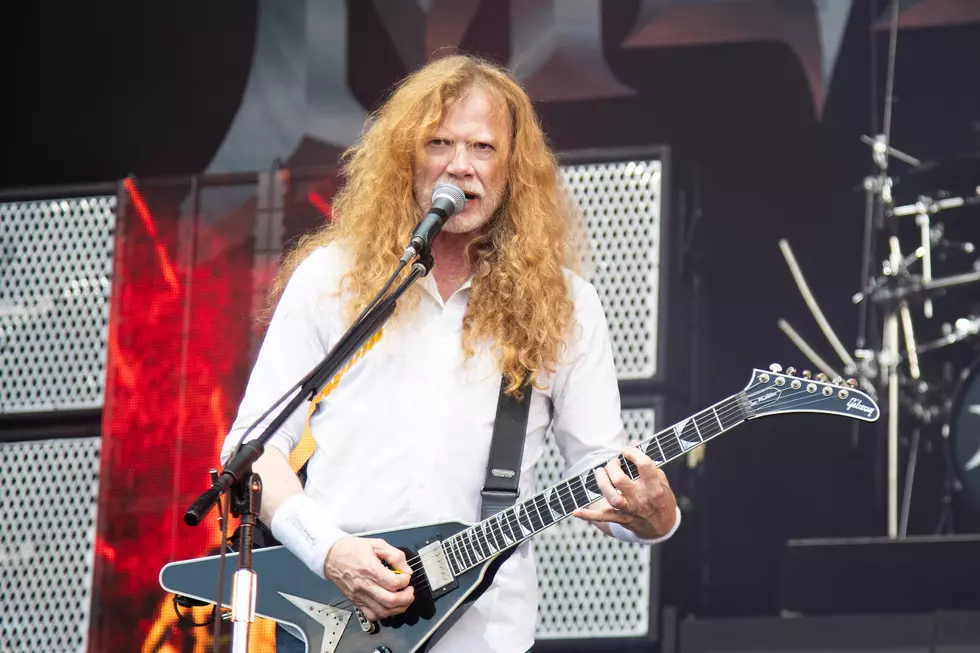 Have Dave Mustaine's 'Political Viewpoints' Given the Megadeth Bandleader a Bad Rap?
Joseph Okpako, WireImage/Getty Images
Former Megadeth drummer Shawn Drover recently proposed that Dave Mustaine's "political viewpoints" may be why the Megadeth bandleader seems to get such a bad rap at times.
However, some of Mustaine's infamy may come from other former Megadeth members apart from Drover. Over the last couple of years, former Megadeth bassist David Ellefson has frequently discussed his 2021 dismissal from the band, calling Mustaine's actions "fucking pathetic." And just this month, former Megadeth guitarist Jeff Young said Mustaine was a "douchebag."
Regardless, in a new interview, Drover, now the drummer of Withering Scorn, offered his suggestion for why Mustaine appears to be frequently portrayed in such a negative light. Watch a video from Drover's interview down toward the bottom of this post.
Asked about Mustaine's apparently bad reputation by The Metal Voice this week, as Blabbermouth reported, Drover said, "I think some of it may be from his political viewpoints at any given time. You know how that goes — politics and religion can definitely rub people the wrong way. That's certainly, I would say, maybe part of it. Which I never had any comment of any sort on any of that stuff."
READ MORE: Where Did Megadeth's Mascot Vic Rattlehead Come From?
The former Megadeth member and current Withering Scorn drummer continued, "Who knows? There's always Monday morning quarterbacks that talk shit about something. And a lot of it gets thrown out of context. Something I'll say on here I'm sure will be on a website, saying, Shawn said this. It's just to create a headline. It's clickbait, they call it. It's just music, man."
Shawn Drover on Mustaine
Drover holds no ill will toward Mustaine himself. "I have nothing but good memories and good things to say about [my time in Megadeth]," he added. "If it wasn't for that band, we wouldn't be talking today, I guarantee it. … I have nothing but good things to say about that. So I'm very thankful."
Mustaine's political views, which the Megadeth singer-guitarist has expressed in the past, include his advocacy for the Second Amendment and his support for the right to bear arms.
Mustaine has also been vocal about conspiracy theories such as questioning the official narrative of the 9/11 attacks. And as a Christian, the Megadeth bandleader has spoken out on topics such as abortion and same-sex marriage.
Megadeth are currently touring behind The Sick, the Dying… and the Dead!, their 2022 album. Withering Scorn released their debut LP, Prophets of Demise, earlier this month.
Get the Loudwire newsletter and Loudwire app for more.
Shawn Drover on The Metal Voice - July 18, 2023
Legendary Artists With 20 or More Studio Albums
Some of the biggest discographies in the business!
IMPORTANT: We did our best to exclude covers albums and live albums from the total counts. The focus here is on original studio material. There are some exceptions because some of these catalogs are a little unorthodox.