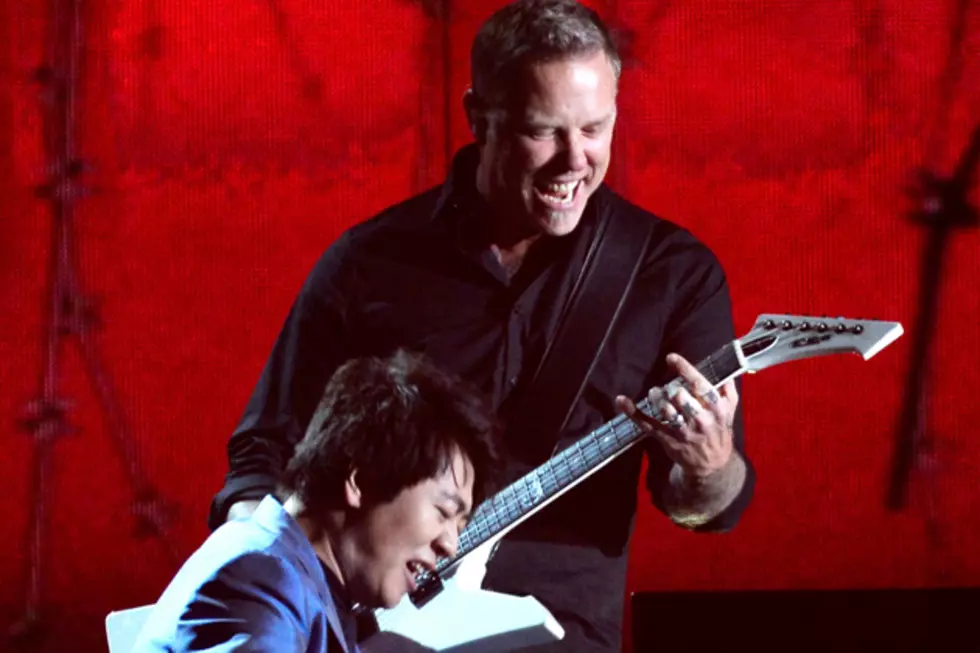 Metallica + Lang Lang Perform Rocking Rendition of 'One' at 2014 Grammy Awards
Kevork Djansezian, Getty Images
Metallica made it back to the Grammys on Sunday (Jan. 26) to perform a familiar favorite, but with a twist. The group rocked their previous Grammy-winning single 'One' with the aid of classical pianist Lang Lang.
The band was introduced by Thirty Seconds to Mars frontman Jared Leto, who first took a moment to lead a salute to late rocker and Metallica collaborator Lou Reed. Tying it all together, guitarist Kirk Hammett appeared onstage during the performance wearing a Lou Reed t-shirt.
The performance opened with the the members of the band in the dark with only a spotlight on Lang Lang as he delivered a stirring beginning to the track while flames of pyro shot up in the background. The Metallica members remained silhouetted as images of soldiers and barbed wire played on the screen behind them. Then, eventually, Metallica took the spotlight as James Hetfield stepped up to the mic to begin singing the opening notes of 'One.'
This was a different rendition of 'One' than fans were used to hearing. But the song hit its high point as Kirk Hammett's wicked guitar solo played off of Lang Lang's chaotic arrangement. Click the button below to watch the performance.