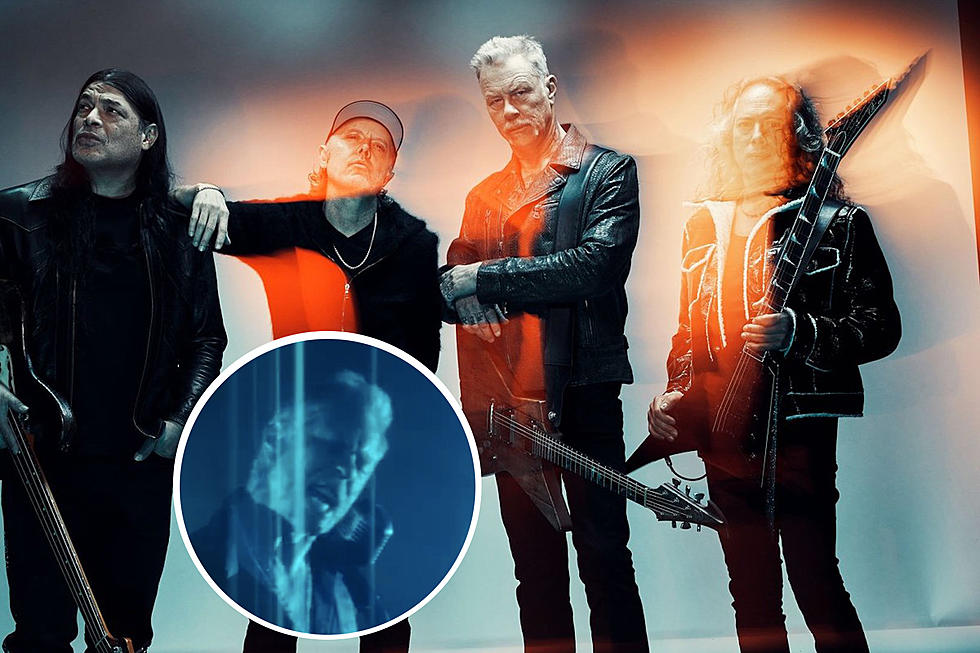 Metallica Drop New Song 'If Darkness Had a Son'
Tim Saccenti / YouTube - Metallica
Metallica have dropped a new track called "If Darkness Had a Son," which is the third song they've released from their upcoming 11th studio album 72 Seasons.
The band teased the song on TikTok for several days leading up to its release. The initial clip they posted featured Lars Ulrich playing the song by himself, then the next day they uploaded a "duet" video featuring Robert Trujillo, the next day they added James Hetfield and finally, yesterday, Kirk Hammett chimed in as well. They each played their parts from separate locations, which is ironically how much of 72 Seasons was written during the COVID-19 lockdown.
Despite the galloping rhythm of the song, it's sonically more similar to the melodic "Screaming Suicide" than the thrashy feel of "Lux Aeterna," which was the lead single. "If Darkness Had a Son" is the ninth track on 72 Seasons. There's an accompanying new video for the song too, which you can check out below. You can also read the lyrics to the song at this location.
Metallica have been working on the follow-up to 2016's Hardwired... to Self-Destruct for quite a few years now, with the bulk of it being done over Zoom during the COVID-19 lockdown. They debuted "Lux Aeterna" and announced the new album in late November, as well as a massive tour in support of it. "Screaming Suicide" was the second song they unveiled from the new set, which came out in mid-January.
72 Seasons will be out everywhere April 14. Pre-order your copy here, and get tickets to Metallica's upcoming tour at this location.
Metallica - 'If Darkness Had a Son'
Everything We Know About Metallica's '72 Seasons' So Far
What all do we know about 72 Seasons, Metallica's latest studio album that arrives on April 14, 2023? Here are all the details we can gather right now. Check them out below.