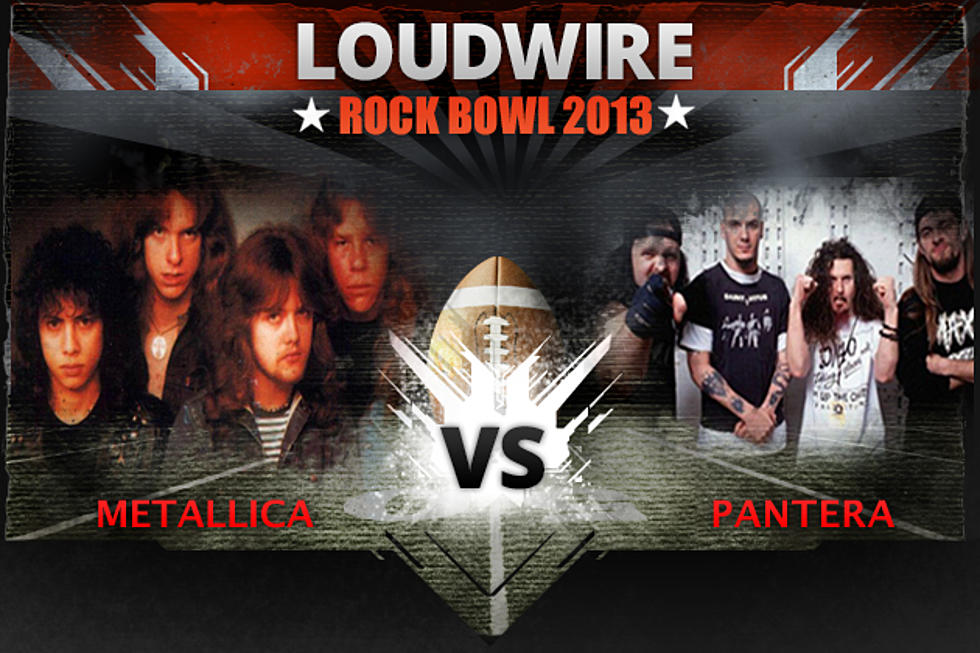 Metallica vs. Pantera – 2013 Loudwire Rock Bowl, Championship Round
2013 Loudwire Rock Bowl Championship
Talk about your clash of the titans! The 2013 Loudwire Rock Bowl championship is one for the ages with two heavy metal legends -- Metallica and Pantera -- sending their powerful, hard-hitting tracks against each other to determine which is the best football anthem.
On one side, you've got Metallica. The metal mavens have made mincemeat out of the competition, besting Volbeat's 'A Warrior's Call' with 71 percent of the vote, cutting up Papa Roach's 'Last Resort' into pieces with 64 percent of the final tally and then finally staving off some fierce competition from Avenged Sevenfold's 'Seize the Day,' but emerging victorious with 67 percent of the vote. And it's no wonder Metallica are still around because 'Seek and Destroy' is as intense as they come. This amped up rocker about looking for a fight is just the kind of competitive song that you would expect to be a stadium rocker. But this may be Metallica's toughest battle yet as Pantera's 'F---ing Hostile' is ready to throw down.
Pantera narrowly edged Drowning Pool's 'Bodies" with 53 percent of the vote in the first round, but this moshpit banger is just getting stronger with each round. 'F---ing Hostile' took out Korn's 'Freak on a Leash' with 72 percent of the final tally and the song demolished Slipknot's 'Wait and Bleed' in the semifinals with just shy of 64 percent of the vote. With Phil Anselmo's brutal pent-up aggression oozing all over this track, it's no wonder the song has advanced and survived. 'F---ing Hostile' is just the type of track you need to get amped up for some hard-hitting gridiron action.
So there you have it, our final two. Which is the better football anthem -- Metallica's 'Seek and Destroy' or Pantera's 'F---ing Hostile'? Your votes will decide the 2013 Loudwire Rock Bowl Champion. Listen to both tracks below and then vote for your favorite. You can vote once per hour from now through Monday, Feb. 4 at 10AM ET, at which point a champion will be crowned.
Listen to Metallica's 'Seek and Destroy'
Listen to Pantera's 'F---ing Hostile'
2013 Loudwire Rock Bowl Bracket