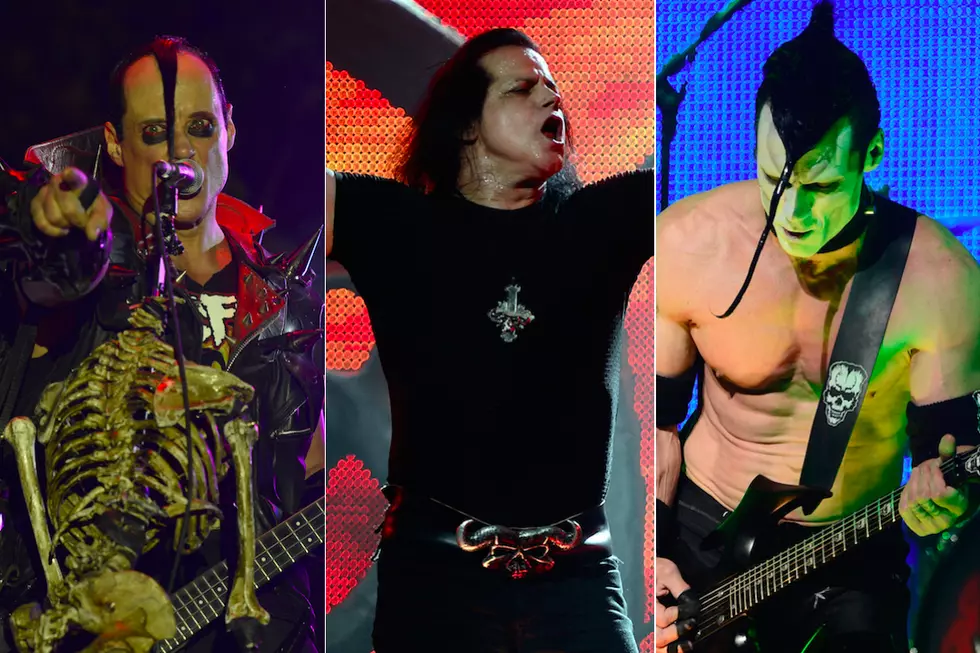 Classic Misfits Lineup Confirms Los Angeles Concert as 'Only 2017 Performance'
Duane Prokop / Frazer Harrison (2), Getty Images
"OK Los Angeles, you've waited almost 35 years for this, here's your chance to see the "Original Misfits" in this Exclusive L.A. only performance," said Glenn Danzig in a statement. "No Tour, No BS, just one night of dark metal-punk hardcore brutality that will go down in the history books. See you there."
Jerry Only added, "The Misfits were so far ahead of their time when we began back in 1977, that it took the world 40 years to catch up. That time has come, and that time is NOW... We intend to take you on a ride back in time, and into the future to experience 100% authentic punk rock at its essence, and the origin of thrash in its purist form. History will be made—again. Prepare to be devastated..."
The show had been teased thanks to posts on the Hollywood Palladium Instagram and elsewhere. Right after their Riot Fest performances last year, Jerry Only Jstated, "I want it to continue. I know Doyle wants it to continue. I know Glenn wants it to continue. We just have to be big enough people to make it continue. And that's where we're at."
Back in May, Glenn Danzig kept the door open for more shows in an interview. "It is what it is," said Danzig. "But everyone seemed to have a great time. I think it exceeded expectations, which is always good, and the write-ups were just insane."
He went on to state, "We'll see. I'm open to possibly doing some more shows. I don't want to tour, but if it happens and everything lines up properly, I would imagine there'd probably be a couple more shows. I don't know when, but I'll keep an open mind."
Tickets go on sale this Friday (Aug. 25) at 12:30pm PT at Ticketmaster.
Original Misfits Los Angeles Show Admat
10 Unforgettable Misfits Moments
See Where the Misfits Landed on the Top 25 Punk Albums of All Time