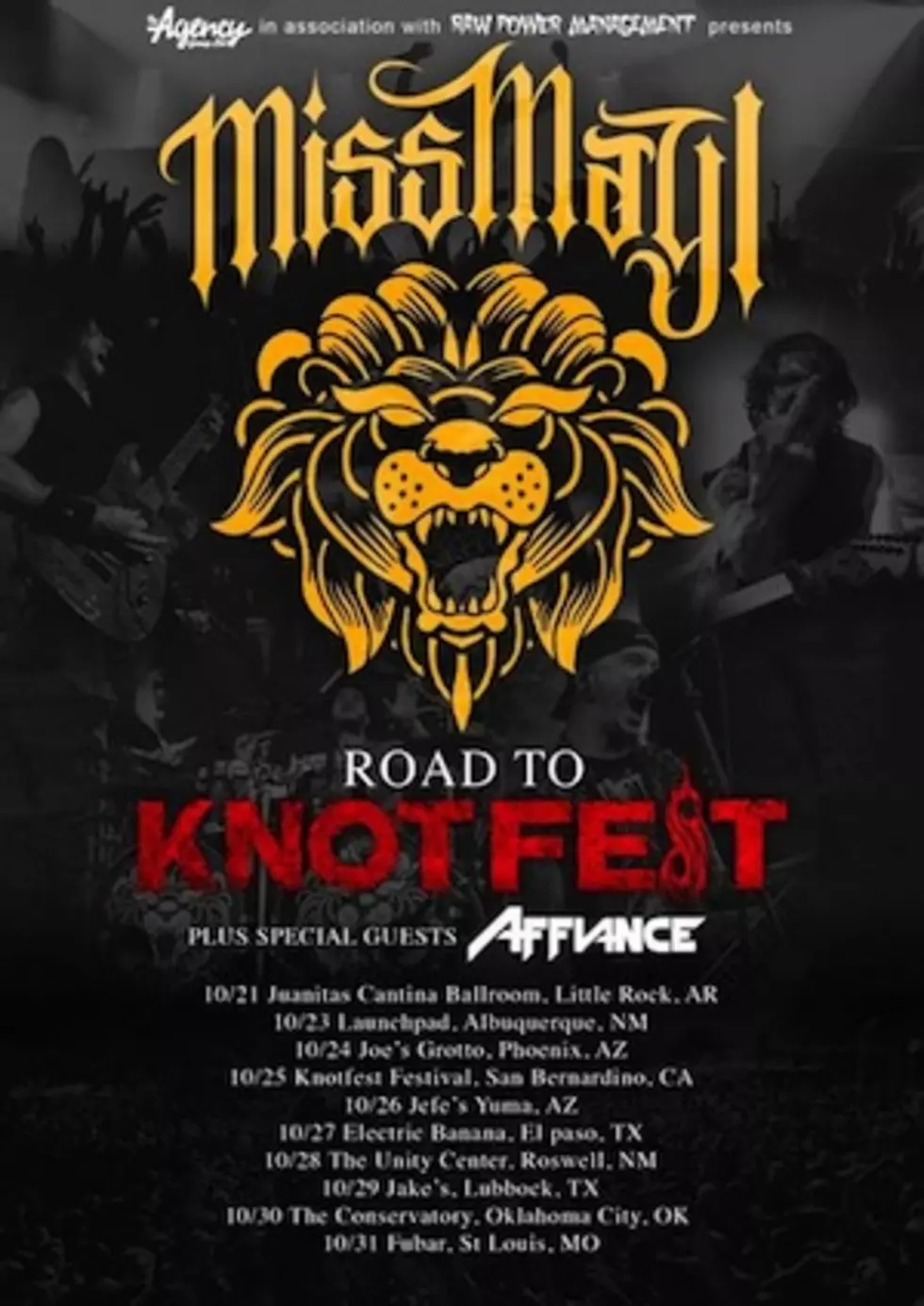 Miss May I Launch 'Road to Knotfest' Trek With Affiance
Adrenaline PR
There's no doubt that San Bernardino, Calif. is one of the premiere destinations for rock and metal fans this fall as Slipknot will stage the Knotfest there next month. It's such a destination however that Miss May I have built an entire tour around that date.
'The Road to Knotfest' trek will start for the band on Oct. 21 in Little Rock, with dates on both sides of their Oct. 25 appearance at Knotfest. Joining them on this run will be upstart rockers Affiance. The mini-tour will wrap on Oct. 31 in St. Louis.
Miss May I's Levi Benton told us this summer that he's a big fan of metal festivals in general. He recalled, "I remember going to see Ozzfest and it was crazy. I saw Black Sabbath, Judas Priest, Black Label Society — I mean Slipknot was planning on the small stage! This was in Columbus, Ohio, and I think I was in the fourth grade and it was my birthday present from my mom. My mom went out and got me a VIP pass so I got to meet all of the bands and to this day I still have all of the pictures posing with those guys. It was a wild day."
The band will be promoting their 'Rise of the Lion' album during the run, while Affiance are hyping up their new disc, 'Blackout.' See the tour dates for the 'Road to Knotfest' run below.
Miss May I / Affiance 'Road to Knotfest' Tour
10/21 -- Little Rock, Ark. -- Juanitas Cantina Room
10/23 -- Albuquerque, N.M. -- Launchpad
10/24 -- Phoenix, Ariz. -- Joe's Grotto
10/25 -- San Bernardino, Calif. -- San Manuel Amphitheatre - KNOTFEST
10/26 -- Yuma, Ariz. -- Jefe's
10/27 -- El Paso, Texas -- Electric Banana
10/28 -- Roswell, N.M. -- The Unity Center
10/29 -- Lubbock, Texas -- Jake's
10/30 -- Oklahoma City, Okla. -- The Conservatory
10/31 -- St. Louis, Mo. -- Fubar