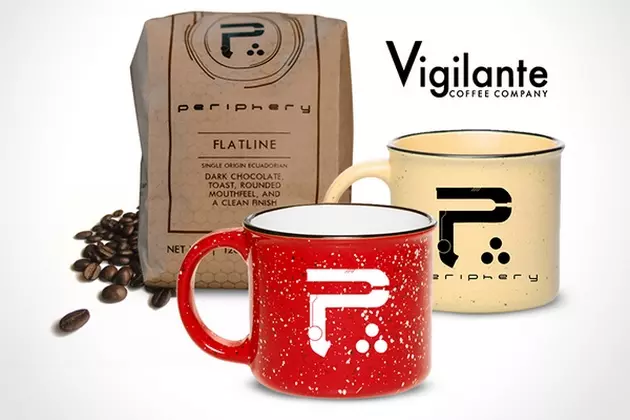 Periphery Introduce Limited Edition 'Flatline' Coffee
Vigilante Coffee Company
Numerous bands have branched out into selling their own branded beverages, whether it be beer, wine, coffee or all of the above. Periphery have teamed up with Vigilante Coffee Company to release a special, limited-edition coffee dubbed "Flatline" after the song on their latest album Periphery III: Select Difficulty.
"Being the coffee junkies that we are, the band and I jumped at the opportunity to develop and release our own branded coffee with Vigilante, who kept us over-caffeinated for the Periphery III recording sessions," says guitarist Mark Holcomb. "When we saw what Vigilante founder Chris Vigilante was doing and tasted the coffee they were brewing, we were floored; it was easily the best coffee I had tried in my years of living in D.C., and the band made it our go-to coffee spot."
Holcomb continues, "This past winter, Chris invited us into the shop for a lengthy tasting where we sampled over a dozen coffees and picked what would become 'Flatline' coffee. Aside from being excited to release such a great coffee, we're also proud to say that a portion of the proceeds from sales of this coffee are going directly to Ecuador's earthquake emergency relief for the 7.8 magnitude earthquake that struck Ecuador in April 2016. "
The coffee, which is available to order at this location, is described as featuring chocolate notes and a lasting mouthfeel. The beans come from Ecuador's Rio Intag valley.
When it comes to touring in support of their latest album, Periphery are taking the rest of the year off. They'll get back on the road next February with shows in Australia and Asia.