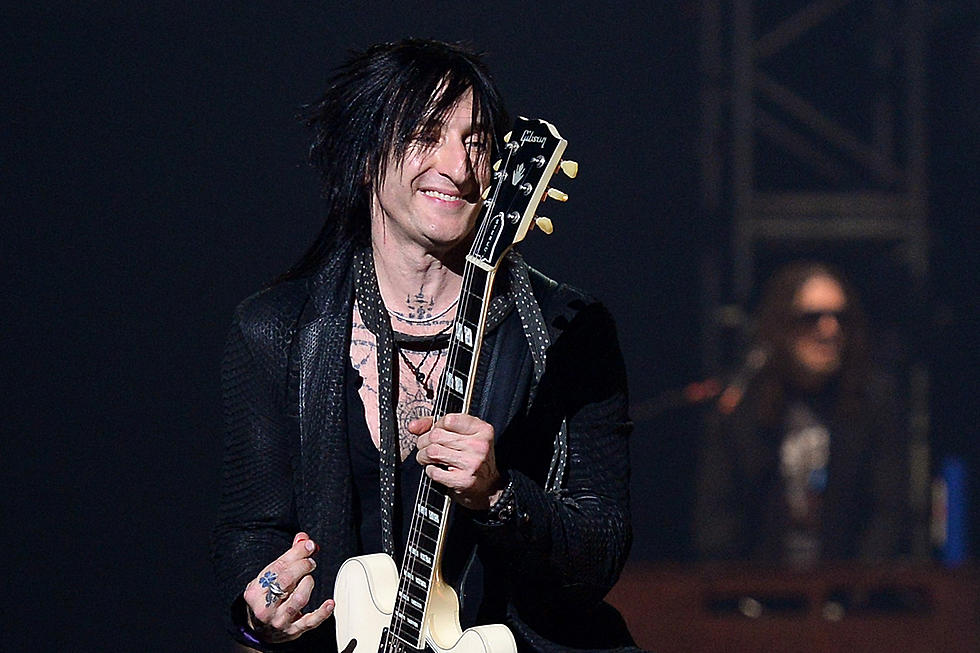 Richard Fortus: Guns N' Roses Have 'Amazing' Work Ethic, Rehearsing More Than Last 14 Years Combined
Ethan Miller, Getty Images
With Slash and Duff McKagan back in the band, Guns N' Roses embarked on a highly-anticipated summer tour that received unanimous praise for the impressive display of rock 'n' roll power. The band was incredibly tight, which can likely be attributed to their rehearsal schedule.
Sitting down for an interview with guitar manufacturer Gretsch (video below), GN'R axeman Richard Fortus went in-depth about what he likes about Gretsch guitars. When introducing himself, Fortus stated, "I've been playing with Guns N' Roses for, like, what, 15 years now, and it's been an incredible experience. And the work ethic that these guys have is amazing."
Going on, he revealed how Guns N' Roses have stepped up their rehearsal schedule, adding, "I think I've rehearsed more in this last year with that band than I have in the previous 14 years put together. It's been really intense and very focused and a great learning experience as well as a great honor to play with those guys."
Frontman Axl Rose has been known to stray from rehearsals, but after being tapped as the replacement for the estranged Brian Johnson in AC/DC, the singer put in a lot of work with the band before hitting the stage. Discussing the band's rehearsals, Rose said, "I mean they rehearse and the first day Chris [Slade] is like, 'See you at the end,' and then the song starts and it's a freight train. With these rehearsals, it's been really, really cool and now I know the benefits of rehearsals for the first time in my life."
Fortus then went on to discuss how his Gretsch guitar sound with lower gain complements Slash's tone, which features higher gain. He also described how the guitar shaped his playing style and he shared his biggest tonal influences like Billy Zoom from X and Billy Duffy from the Cult.
Guns N' Roses will continue their 'Not In This Lifetime' tour with a number of dates in South America which began on Oct. 27. More dates are booked into 2017 as the band will hit Japan, Australia and more. Head to the GN'R website for more details.
Guns N' Roses Guitarist Richard Fortus Speaks With Gretsch
See Where Guns N' Roses Rank Among the Top 50 Hard Rock + Metal Live Acts
10 Most Destructive Guns N' Roses Moments