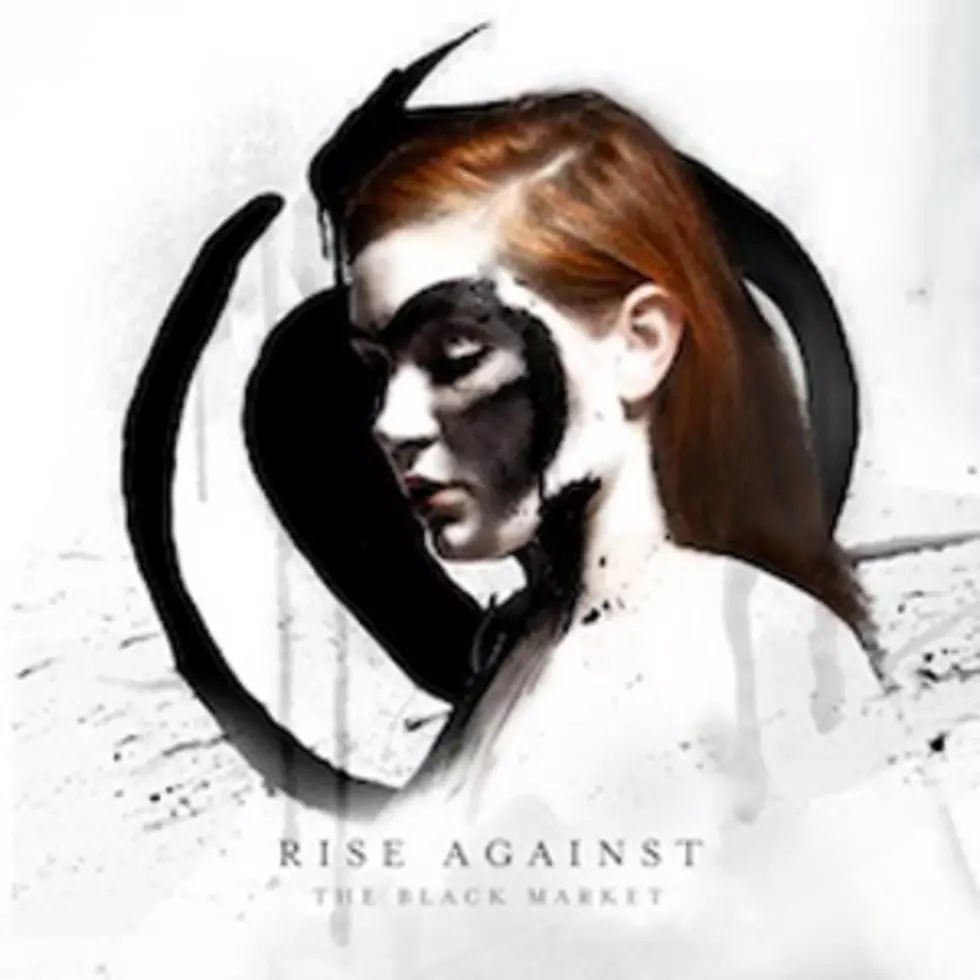 Rise Against Reveal 2014 World Tour Plans and 'The Black Market' Track List + Artwork
Interscope
Rise Against are getting their ducks in a row as they prepare to support a new album. 'The Black Market' arrives July 15 and the group has just announced a major North American trek to support the album. In addition, they've also booked a November European trek and revealed the track listing and cover art (pictured) for 'The Black Market' album.
The North American tour launches Sept. 9 in St. Paul, Minn., with Touche Amore and Radkey providing support. These dates come after a handful of late summer festival shows. The North American run concludes with an appearance at New Orleans' Voodoo Experience over Halloween weekend.
After the run, the band will immediately pack their bags and fly off to Europe where they'll headline a month of shows with Pennywise and Emily's Army providing support. Dates for both the North American and European runs can be seen below.
In other Rise Against news, 'The Black Market is now available for pre-order via iTunes and the track listing (seen below) for the disc has surfaced. Those who pre-order via iTunes will immediately receive the current single 'I Don't Want to Be Here Anymore' as well as a new song titled 'The Eco-Terrorist in Me.' Both tracks are also currently available on iTunes as single releases as well.
Frontman Tim McIlrath says of the current single, 'I Don't Want to Be Here Anymore,' "It's a pretty simple and visceral escapist sentiment. It's about not wanting to be in a place, physically or mentally. It's something most of us have said to ourselves, if not aloud, at some point in our lives. Whether you feel you are being exploited or ignored or you can just imagine a better place, it's about longing for that place and finally admitting to yourself that you aren't content with your current situation. But it doesn't have the answer either. It's just the first step."
Stay tuned for more updates as Rise Against's 'The Black Market' approaches.
Rise Against 2014 North American Tour Dates:
6/27 -- Beauce, Quebec -- Woodstock en Beauce
7/3 -- Milwaukee, Wis. -- Summerfest
8/2 -- Kaleden, British Columbia -- Boonstock Music & Arts Festival
8/10 -- Werdchen, Germany -- Open Flair Festival
8/29 -- Edmonton, Alberta -- Sonic Boom Festival
8/31 -- Los Angeles, Calif. -- Made In America Festival
9/6 -- Toronto, Ontario -- Riot Fest
9/7 -- Sterling Heights, Mich. -- Chill On The Hill
9/9 -- St. Paul, Minn. -- Myth
9/12-14 -- Chicago, Ill. -- Riot Fest
9/14 -- Sacramento, Calif. -- Aftershock Festival
9/18 -- La Jolla, Calif. -- RIMAC Arena
9/19 -- Oakland, Calif. -- Fox Theater
9/21 -- Denver, Colo. -- Riot Fest
9/22 -- Kansas City, Mo. -- Uptown Theater
9/23 -- St. Louis, Mo. -- The Pageant
9/25 -- Cleveland, Ohio -- Jacobs Pavilion
9/26 -- New York, N.Y. -- Best Buy Theater
9/27 -- Baltimore, Md. -- Carroll Park
9/29 -- Boston, Mass. -- House Of Blues
9/30 -- Montclair, N.J. -- Wellmont Theatre
10/1 -- Upper Darby, Pa. -- Tower Theatre
10/3 -- Atlanta, Ga. -- Tabernacle
10/4 -- Orlando, Fla. -- House Of Blues
10/5 -- St. Petersburg, Fla. -- Jannus Live
10/31-11/2 -- New Orleans, La. -- Voodoo Music Festival
Rise Against 2014 European Tour Dates:
11/3 -- Sheffield, UK -- Sheffield Academy
11/4 -- Glasgow, Scotland -- Glasgow Academy
11/6 -- Birmingham, UK -- Birmingham Academy
11/8 -- Manchester, UK -- Manchester AC Apollo
11/9 -- Southampton, UK -- Southampton Guildhall
11/10 -- London, UK -- Brixton Academy
11/11 -- Brussels, Belgium -- Ancienne Belgique
11/13 -- Amsterdam, Netherlands -- Heinekein Music Hall
11/14 -- Paris, France -- Bataclan
11/16 -- Frankfurt, Germany -- Festhalie
11/17 -- Dusseldorf, Germany -- Mitsubishi Electric Halle
11/19 -- Hamburg, Germany -- O2
11/20 -- Berlin, Germany -- Velodrom
11/22 -- Copenhagen, Denmark -- Amager Bio
11/23 -- Stockholm, Sweden -- Arenan
11/25 -- Oslo, Norway -- Sentrum Scene
Rise Against, 'The Black Market' Track Listing
1. 'The Great Die-Off'
2. 'I Don't Want to Be Here Anymore'
3. 'Tragedy - Time'
4. 'The Black Market'
5. 'The Eco-Terrorist in Me'
6. 'Sudden Life'
7. 'A Beautiful Indifference'
8. 'Methadone'
9. 'Zero Visibility'
10. 'Awake Too Long'
11. 'People Live Here'
12. 'Bridges'