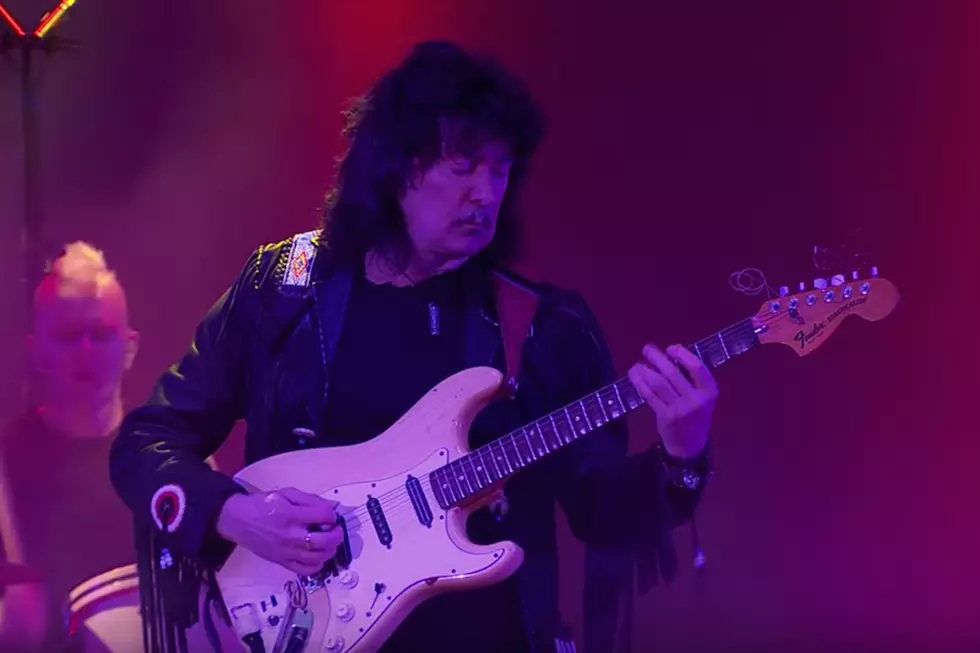 Ritchie Blackmore Open to Returning to Deep Purple if Asked, Doesn't Think Music Is Fun
YouTube: RainbowVEVO
With all the unexpected reunions taking place over the last handful of years, one of the most long-awaited of them all is the return of Ritchie Blackmore to Deep Purple. Bad blood between the two sides have made headlines for decades and many fans thought the band's 2016 induction into the Rock and Roll Hall of Fame would put an end to it, but the sides remained estranged. Now, Blackmore has stated he is open to linking up with Purple once more.
Blackmore and famed Deep Purple singer Ian Gillan have a notorious past, having traded barbs in the press and elsewhere. Their spats led to internal issues within the group during their prime, but the guitar legend "bears no malice" these days, as he told The Guardian in a new interview. He expressed a willingness to play with Deep Purple again if asked, commenting, "It's probably not probable, though."
Drummer Ian Paice recently said there was "no point" in reuniting with Blackmore, lending credence to the six-stringer's dim hopes.
If fans believe Blackmore's motives are to have fun with this reunion, that is certainly not the aim. "I try not to have fun. I work very hard at not having fun," he said. Elaborating on how music and fun are exclusive to him, Blackmore continued, "I just don't fit into the 'fun' area. A lot of musicians go: 'Oh, that was fun.' Well, I like to think that music is very serious, and it's not fun. I'm not one of these guys that likes jamming with people and having fun; music is too serious, and I don't feel like I can relate if I'm having fun. It's hard work and it's really gratifying to do, but fun? Fun is something where someone tells a joke and they laugh for 10 seconds. Music's much deeper than that."
When the details were being sorted for Deep Purple's Rock Hall induction, Paice famously said the night would end in a "punch-up" if certain people were in the same room together, not so discreetly referring to Blackmore and Gillan without mentioning their names. Blackmore's intent was to attend the ceremony, but Deep Purple's management advised him otherwise.
After retiring from rock music in 1997 to concentrate on Blackmore's Night, his renaissance project, Ritchie had ardently said he would never play rock 'n' roll again. This changed in 2015 when he reactivated Rainbow with a new lineup, performing a series of festival shows to mark his return to the rock stage last year. Since these events, the group has begun to work on new material, indicating Blackmore's rekindled relationship with the music he helped pioneer and evolve is still thriving.
Deep Purple will be on tour in North America this summer with legendary shock rocker Alice Cooper as well as the Edgar Winter Group. For more information and a list of dates, click here.
See Ritchie Blackmore + More of the Musicians Fans Most Want Back in Their Old Bands
10 Unforgettable Onstage Reunions