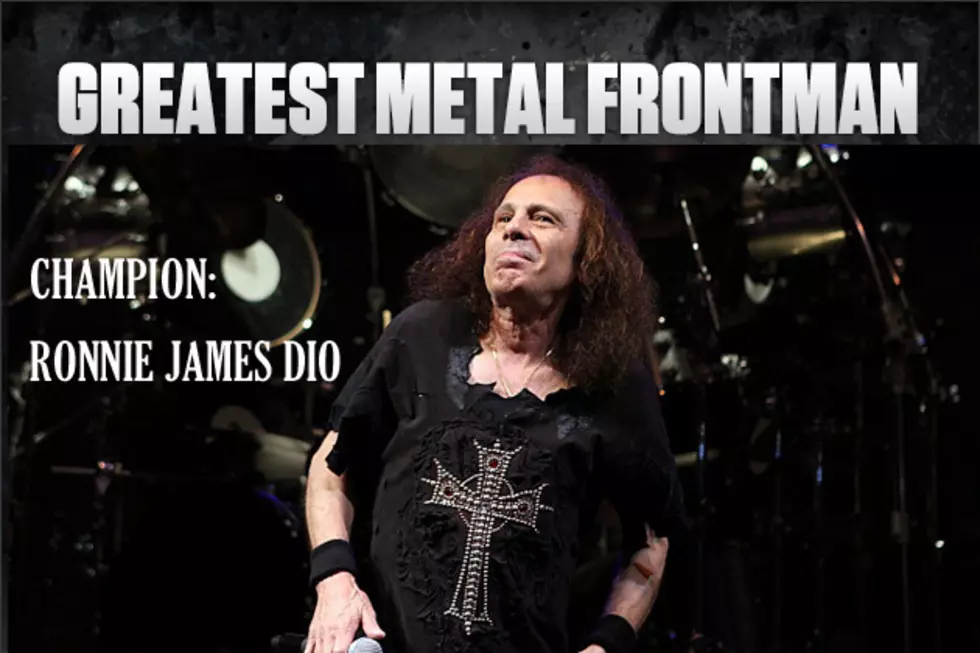 Ronnie James Dio Wins Loudwire's Greatest Metal Frontman Tournament
Mary Ouellette, SheWillShootYou.com
Following a month of hard-fought battles, our fan-voted Greatest Metal Frontman tournament has come to a conclusion. The late Ronnie James Dio has been named the Greatest Metal Frontman after his victory over Judas Priest's Rob Halford in the championship round!
The first round saw Dio defeat King Diamond. His fans then propelled him to victories over Marilyn Manson and Slipknot's Corey Taylor, proving that Dio was going to be one of the toughest frontmen to beat in this competition.
Dio's closest battle came in the semifinals against Bruce Dickinson of Iron Maiden. Voting came down to the wire, as Dio prevailed to move on to the finals. This saw him matched up against the Metal God himself, Rob Halford, with many fans commenting that they simply could not choose between the two! When it all was said in done, Ronnie James Dio emerged victorious!
Congratulations to the late Ronnie James Dio, whose music is alive and well in the hearts of metal fans everywhere. His legacy continues, as he is now crowned the Greatest Metal Frontman!
Ronnie James Dio, who fronted Rainbow, Black Sabbath, Dio and Heaven & Hell, emerges victorious in the last of our four competitions to find the greatest metal musicians of all time. The singer joins late Pantera guitarist Dimebag Darrell, Slipknot drummer Joey Jordison, and Iron Maiden bassist Steve Harris to round out the Greatest Metal Supergroup, as voted on by you, the fans.
Thanks to all the fans who voted over the last four months!
Heaven & Hell, 'Children of the Sea' (Live)