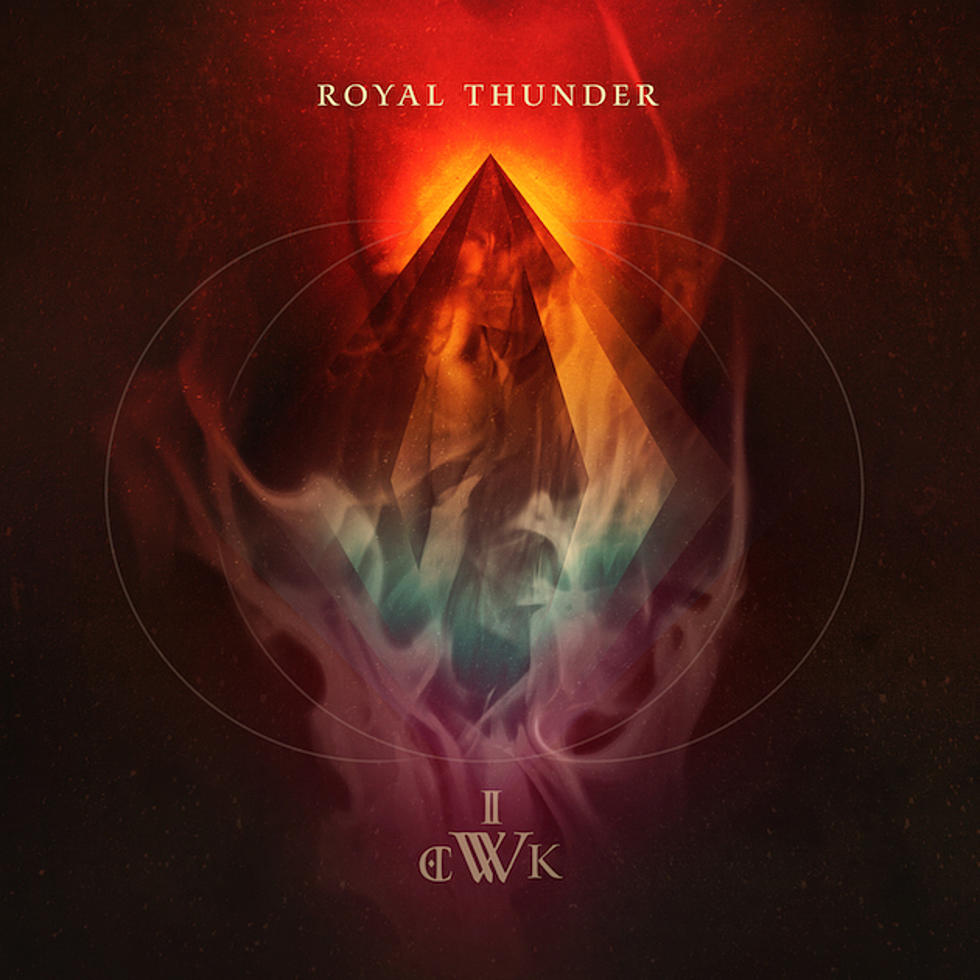 Royal Thunder, 'WICK' – Album Review
Spinefarm
Royal Thunder have a sound that's difficult to pin down. In one aspect, it's because they continued to change on their third album, WICK, and in another it's because all four members play with a fluid nature. Snaking around each other's parts as well as the parameters of the genres they straddle so well, there's a delicate balance at work that requires the quartet to leave an uncertain air of anticipation at all times.
The 12 tracks on WICK are mapped out in an episodic nature, starting the journey with the hypnotizing "Burning Tree," marked by hard downbeats that ring out with the jangling guitar strums that drive subconscious head bobs. Rather than opening with the typical punchy opening two track combination, Royal Thunder pour on the sorrow in "April Showers." Drying it out with dawning brightness, they move into "Tied," which is loaded with subtleties amongst the choral and post-choral hooks, like the delicate four note piano melody and distant vocal in the middle of the second verse.
After picking up the energy on the back half of "Tied," the track returns to those repetitive, jangling rhythms that prove to be spellbinding throughout the record. "We Slipped" wrests the listener from this transfixed state, finally delivering a more full-fledged rocker than anything so far, centered around a cheery guitar lick.
All along, singer Mlny Parsonz, who also plays bass and piano, has been laying her heart bare with emotionally raw lyrics delivered through an explosive, impassioned and gritty wail, but it isn't until "Sinking Chair" that she finally gets to showcase the edge to her sonorous pipes. With a speedy tempo change, she boils over with a primal scream that sends that track further upward as a wah-saturated lead break and solo take the baton to the summit.
It's with this song that the dam breaks and all the tension built so far comes flooding out, demonstrating that "We Slipped" was just a tease at the charging, red-blooded cut that WICK had been begging for. Be careful what you wish for, however, as "Plans" is an emotional depth charge, plunging that radiant high straight into abject despondency.
Ensnaring the listener once more with another dreary, gentle strumming of the guitar, light percussion and the occasional piano set the stage for Parsonz to step under the spotlight, delivering a heart-rending ballad that would have the most earnest of Janis Joplin fans claiming their idol walks among us once again.
With the most harrowing part of the journey behind, it gets a little less intense with more uplifting "Anchor," but back into uncertain territory, with the watery, bobbing title track. At times, this song is akin to sitting in a boat alone, stranded at sea with nothing but the light of single candle to fend off the night as Parsonz' words drift in and out with a perfectly placed echo, like a siren calling from the watery beyond.
There's a feeling of redemption in "Push" and "Turnaround," with their take-the-reins approach, but the mood flips yet again as "The Well" offers a more contemplative look. This general indecisiveness between moods can be wearing at times, never settling into one zone for too long, but the message is wrapped up on "We Never Fell Asleep." This noisy, slightly chaotic track is the epitome of this sort of identity crisis (we're not saying they haven't found their style, this definitely feels deliberate), entertaining both facets of the Royal Thunder sound as the track drops to a choir and fades out, ending the record.
As mentioned, the group has a sound that is just impossible to peg or corner. It's due to this refusal to go all-in on just their grunge-caked southern rock, folk-inflected moments or lingering psychedelia that ensures no door is ever shut on which direction a song can go during the creative process. And as demonstrated here, it makes for one engaging and rewarding listen. Keep moving, keep changing and keep on burning that WICK, Royal Thunder.
Royal Thunder, "April Showers"
Royal Thunder Discuss WICK Album