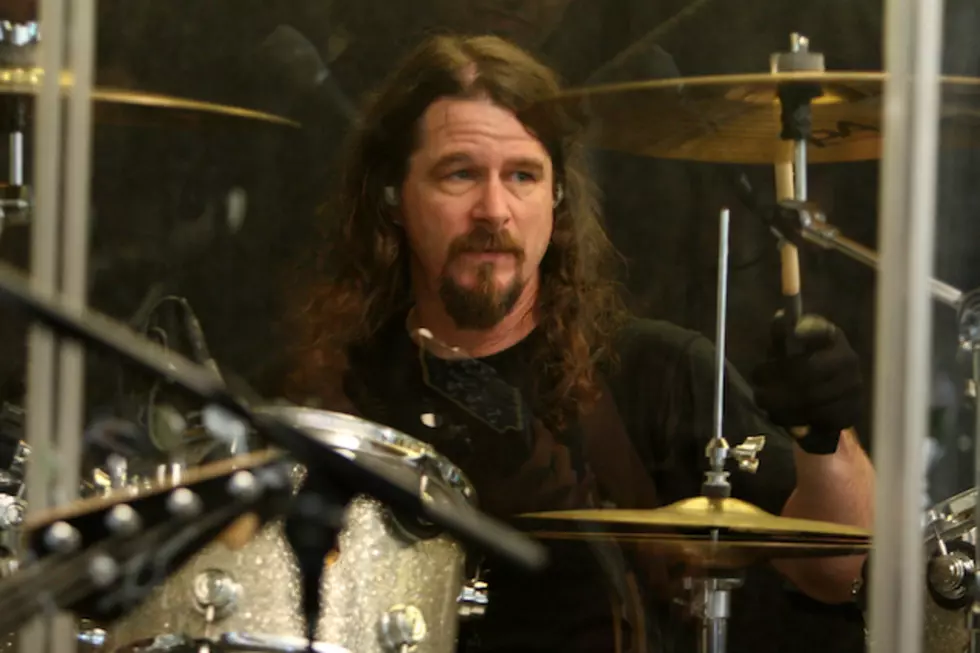 Slayer Announce That Drummer Paul Bostaph Has Rejoined Band on Full-Time Basis
Bryan Bedder, Getty Images
The past few months have been a tumultuous time for Slayer, as the band went their separate ways with drummer Dave Lombardo and mourned the loss of late guitarist Jeff Hanneman. Now, the thrash metal veterans have announced that drummer Paul Bostaph has replaced Lombardo on a full-time basis.
The band apparently had a falling out with founding drummer Dave Lombardo earlier this year over a contractual dispute and replaced him temporarily with one of the band's other former drummers, Jon Dette. However, now they've chosen to move forward in their career with Bostaph reclaiming the drum spot in the band. Bostaph's first show back with the band will come June 4 in Warsaw, Poland as the group begins their international tour. The group is expected to play 35 dates including a number of major summer festivals in Europe and South America in the coming months.
Slayer frontman Tom Araya, speaking about the return of Bostaph, stated, "Paul's a great drummer and a good friend, and we're very happy that he's decided to rejoin the band. We're still pretty numb from the loss of Jeff [Hanneman], but we don't want to disappoint our European and South American fans, and we need to begin moving forward ... having Paul back in the band makes that a whole lot easier."
Bostaph added, "I'm very excited to be rejoining Slayer. We spent a very intense ten years of our lives together, had a lot of fun, made a lot of great music, so for me, this feels like coming home."
During his previous stint with the band, Bostaph played on the 'Divine Intervention,' 'Undisputed Attitude,' 'Diabolus in Musica' and 'God Hates Us All' albums. He also appeared on the band's successful 'War at the Warfield' DVD. Bostaph has also played in Testament, Exodus and other metal outfits.
Guitarist Gary Holt, who had been filling in for an ailing Hanneman for the past two years, will continue his role as the band's touring guitarist. Hanneman passed away at the age of 49 on May 2 of this year.
Slayer 2013 International Tour:
6/4 -- Warsaw, Poland -- Impact Festival 2013
6/6 -- Enschede, Holland -- Muziek Theatre
6/7 -- Kerkrade, Holland -- Rodahal
6/8 -- Amneville, France -- Sonisphere France
6/10-11 -- Dublin, Ireland -- The Academy
6/12 -- Belfast, Ireland -- Limelight
6/14 -- Interlaken, Switzerland -- Greenfield Festival
6/15 -- Padova, Italy -- Geox Theatre
6/17 -- Rome, Italy -- Antlantico
6/18 -- Florence, Italy -- Obihall
6/19 -- Milan, Italy -- Alcatraz
6/21 -- St. Goarshausen, Germany -- Metalfest Germany
6/22 -- Graz, Austria -- See-Rock Festival 2013
6/23 -- Zagreb, Croatia -- Culture Factory/Tvornica Kulture
6/25 -- Belgrade, Serbiz -- Kombank Arena
6/26 -- Tokaj, Hungary -- Hegyalja Festival
6/27 -- Leipzig, Germany -- With Full Force
6/29 -- Istanbul, Turkey -- Hi Voltage
7/1 -- Athens, Greece -- Heavy By The Sea
8/2 -- Viviero, Spain -- Resurrection Festival
8/6 -- Copenhagen, Denmark -- Vega Main Hall
8/7 -- Stockholm, Sweden -- Grona Lund Tivoli Outdoor
8/9 -- Oulu, Finland -- Jalomethallifestival 2013
8/10 -- Oslo, Norway -- Oya Festival
8/11 -- Derby, UK -- Bloodstock Open Air 2013
8/15 -- Kiweit Hasselt, Belgium -- Pukkelpop Festival
8/16 -- Biddinghuizen, Holland -- Low Lands Festival
8/17 -- Hamburg, Germany -- Elb-Riot Open Air Festival
8/18 -- Herford, Germany -- X Rockfest
9/17 -- Mexico City, Mexico -- Foro Sol
9/20 -- Sao Paulo, Brazil -- Jockey Club
9/22 -- Rio De Janeiro, Brazil -- Rock In Rio 2013
9/24 -- Curitiba, Brazil -- Pedreira Paulo Leminski
9/27 -- Buenos Aires, Argentina -- River Plate Stadium
9/29 -- Asuncion, Paraguay -- Jockey Club
10/2 -- Santiago, Chile -- Estadio Nacional