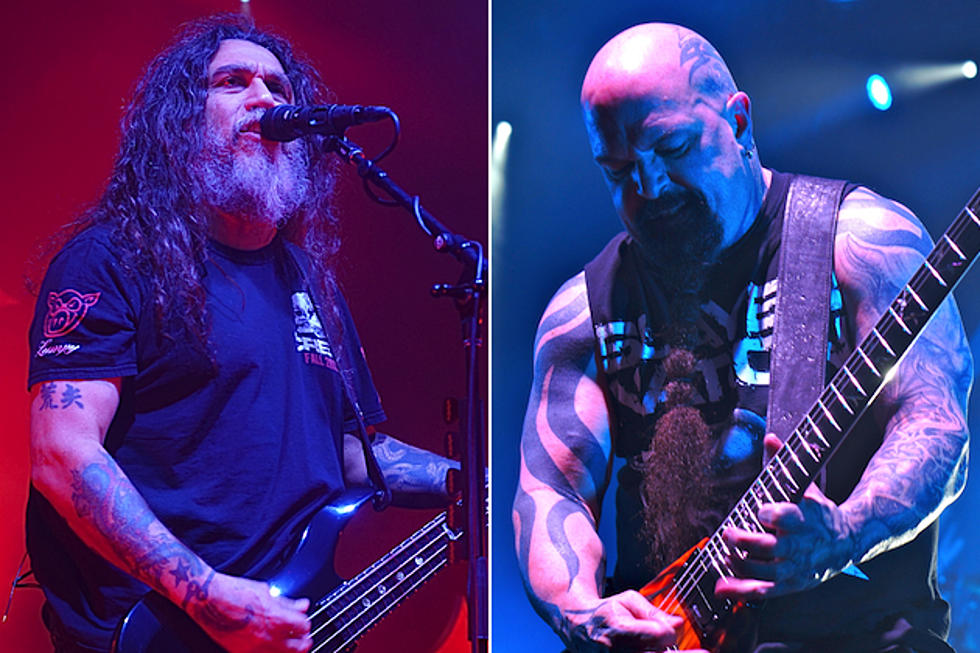 Slayer Reign Supreme in New York City With Support From Gojira and 4ARM
Spencer Kaufman, Loudwire
Slayer returned to New York's Theater at Madison Square Garden for the first time in 25 years on Thanksgiving Eve, and metal fans certainly had a lot to be grateful for after witnessing the legendary band deliver a set of 'old-school' classics.
The veteran act headlined a night of metal mastery, kicking off their set with the title track off 1985's 'Hell Awaits,' and moving right into 'The Antichrist' off their 1983 debut 'Show No Mercy.' The audience, which erupted at the first sight of the band, maintained an incredible energy throughout the entire gig.
Following the tragic loss of guitarist Jeff Hanneman and the parting of ways with drummer Dave Lombardo earlier this year, Slayer are not made up of the same lineup as they were 25 years ago, but their collective DNA is still made up of pure metal. Singer-bassist Tom Araya and guitarist Kerry King continue to carry the metal torch that the band ignited more than 30 years ago. Meanwhile, guitarist Gary Holt and drummer Paul Bostaph are respected metal veterans in their own right, and round out the lineup with both skill and force.
Aside from Tom Araya lecturing a few fans and the security team on proper etiquette at a metal show, Slayer's set was a no-nonsense affair, as the band ripped through one song after another. One of the bigger highlights came toward the end of the show, when the band rocked 'Dead Skin Mask' and 'Raining Blood' back to back. But the night's epic moment came during the encore when the band swapped their Slayer logo backdrop with a Heineken-inspired banner saluting their fallen brother, Jeff Hanneman (see the photo below) as they closed out the night with 'South of Heaven' and 'Angel of Death.'
While Slayer's set alone was worth the price of admission, fans also had the opportunity to witness one of metal's current shining stars, as Gojira provided direct support with an incendiary set. The French metallers started out with 'Explosia,' a proper beginning to an explosive nine-song set that got the crowd's blood curdling for the headliners to come.
Opening the night were modern Australian thrashers 4ARM, who warmed the crowd up with a brief yet impressive set of aggressive metal.
Only a couple of dates remain on this trek, with Slayer and Co. playing Camden, N.J., tonight (Nov. 29) and Boston tomorrow (Nov. 30). If you have an opportunity to catch either show, don't hesitate in picking up tickets, as this has been one of the can't-miss tours of 2013. Check out our exclusive photos of Slayer, Gojira and 4ARM below.