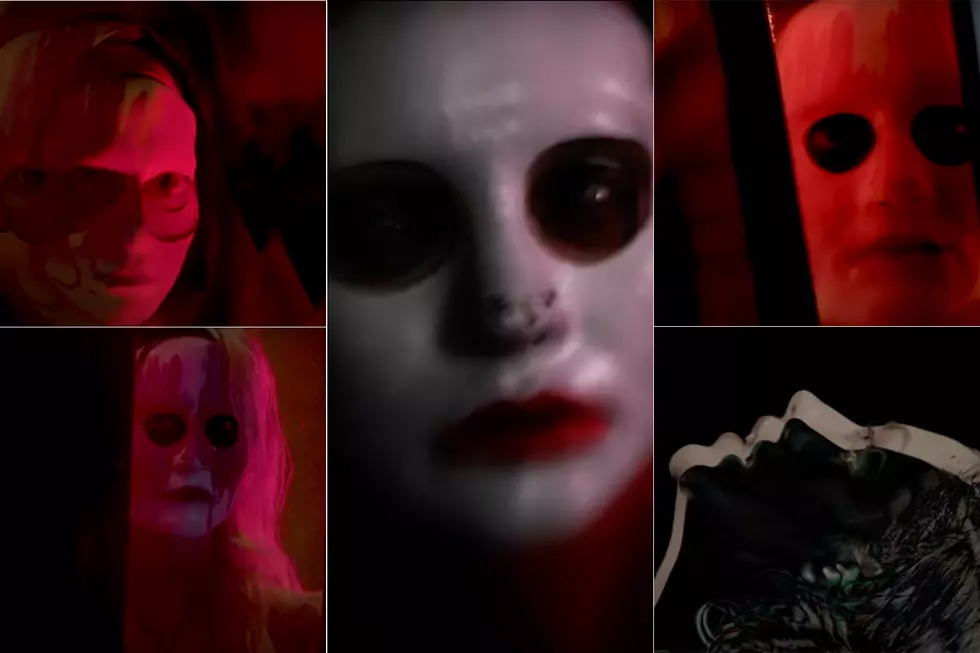 Slipknot Debut Creepy AF Video for New Song 'Bone Church'
YouTube: Slipknot
The artistic vision of Slipknot's Shawn "Clown" Crahan never stops, with fans now being given a video that's a director's cut from the "Yen" video universe featuring the song "Bone Church."
Fans may remember the already spooky visual attached to "Yen" upon its release last August, and while some of the visual themes transfer over (such as the unmasked bespectacled Corey Taylor and the warring black silhouette figures), Clown has definitely upped the creepy factor on this video.
The idea of identity seems to play into Clown's director's cut, with a majority of the characters appearing to have multiple faces through either masks, makeup or visual editing. As with the prior clip, Taylor appears to be keeping a watchful eye over all of the activity, while the silhouette figures seem to be battling for dominance.
Unlike the original "Yen" video, which featured other members of the band, Taylor appears to be the only Slipknot member in the clip, and even then he is often shown primarily in a close-up of his glasses-covered eye.
As for "Bone Church," Clown states, "On the road, we have a 'jam room' set up backstage at every show, where we play, practice, warm up and sometimes try out new ideas. Bone Church started life in a jam room on the .5: The Gray Chapter tour. We've been bringing it closer and closer to life ever since, and finally, here it is. This one is for the fans - a further vision deeper into Slipknot's history, which is still being written. Enjoy."
Get a closer look at the video for "Bone Church" and revisit the original band video for 'Yen" to catch the changes and see how the artist's vision has evolved.
Slipknot, "Yen: Director's Cut (Bone Church)"
Slipknot, "Bone Church" Lyrics (via A-Z Lyrics)
Burned my hands, wrapped around the sun
Raise my walls, but the damage is done
I see bugs from the corner of my eyes
Just a shadow, a figment, another empty lie

We kill what we love
We love what we kill
Nothing ever changes
Oh, nothing ever will
[Instrumental Break]

And my heart is a memory of the pain
I don't need a miracle
Prayers will not save me again

Again
Prayers will not save me again
Prayers will not save me again
Prayers will not save me again

Wе kill what we love
Oh, we lovе what we kill

Do no harm, reminders of the flesh
Blinded storms, the ignorance of rush
One man's jewel is another's moistened knife
Another coward, another cripple, another savior in the light

Don't take the place of my sins
Prayers will not save me again
Prayers will not save me again
Slipknot, "Yen"
The Evolution of Slipknot's Terrifying Masks