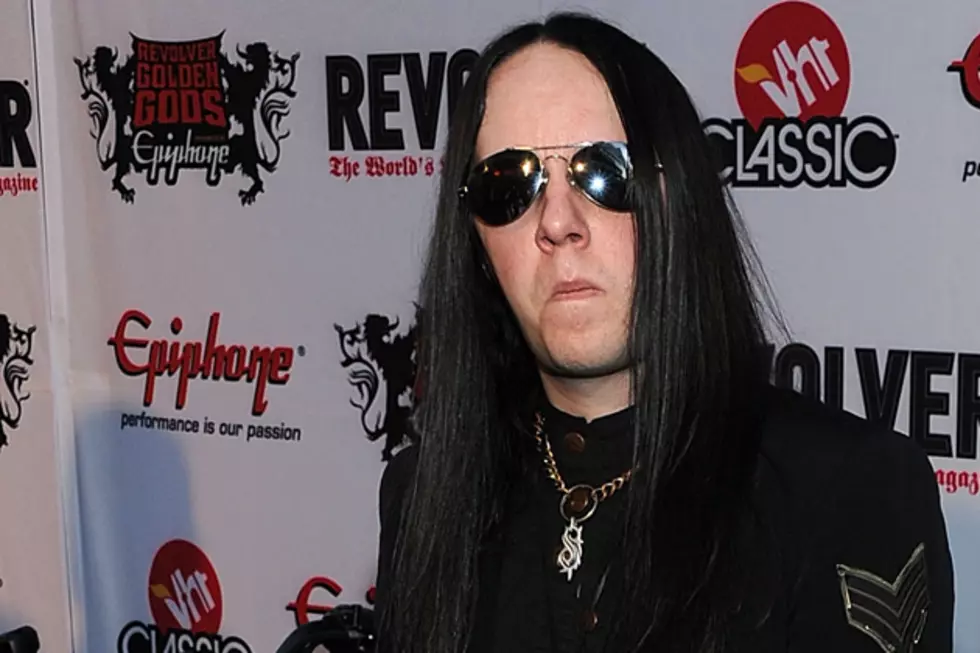 Slipknot Percussionist Joey Jordison Confirms Lineup for New Project
Frazer Harrison, Getty Images
The members of Slipknot are off doing other things at the moment, with plans to focus on a new record next year. Among those using the time to find other creative outlets is percussionist Joey Jordison, who earlier this spring revealed that he was working on a new project. Jordison has now revealed the identity of his bandmates in this venture in a new interview with Metal Hammer.
Jordison confirmed, "I've done the bulk of the work in the studio but now I've got Jed [Simon, Strapping Young Lad] and Kris [Norris, Darkest Hour] to play lead guitar on everything … Chris [Vrenna, Nine Inch Nails] is doing the keyboards and synths and all that stuff and I have an unknown guy on vocals. His name's Henry and he's super talented and a great vocalist. I didn't want someone from a known band singing in this band, because then it just becomes some supergroup thing and that's not what this is."
The percussionist says that the project evolved after realizing he had too much material for the next Slipknot album. He explained, "I'd been working on new Slipknot material since the end of the 'All Hope Is Gone' tour cycle but I ended up with so much stuff I had to take a step back and stop working on it."
He adds, "The time wasn't right. But I came up with a bunch of material that was really killer and heavy and started taking some of it in a different direction. I started focusing on a lot of the post-punk and industrial stuff that I've always loved and started putting super heavy and brutal guitars over the top of it. That's how it started. It's taken me a couple of years to get to this point, but I can honestly say this is the most satisfied I've ever been in the studio. I can't wait for everyone to hear this s---."
Taking on work outside of Slipknot is nothing new for Jordison. He previously founded the band Murderdolls, and has spent time behind the drum kit sitting in for Rob Zombie, Ministry, Korn, Otep and others. He's also spent time producing other acts.
Jordison posted some photos from the studio with his new bandmates via his Facebook site. The shots can be seen below.
Check Out Photos of Joey Jordison's New Project