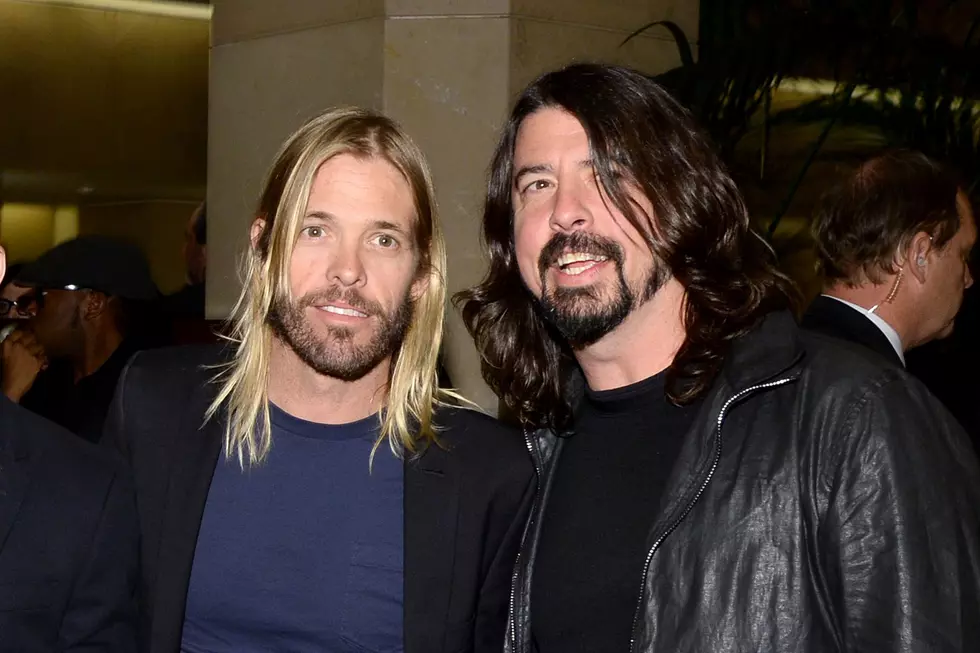 Taylor Hawkins: 'Creative God' Dave Grohl Has a 'Lot of Ideas' for Foo Fighters Album
Larry Busacca, Getty Images
"We're in such the fetal stages at this point, it's hard to say what the direction of that thing would be, but we're definitely chugging along and Dave [Grohl]'s certainly got a lot of fucking ideas, that's all I can say," reveals the drummer about the new album.
Hawkins has high praise for Grohl, adding, "The guy is a fucking creative god. He really is. He never stops, and he's just got such conviction and faith in whatever he is working on. There's never any second guessing with Dave, and I really respect that about him. I've learned so much from that fucker, and I just continue to."
The praise goes both ways, as Grohl recently guested on Hawkins' Coattail Riders album. Grohl told us at the recent Bowl for Ronnie he really enjoyed the process and the looser vibe of the experience. "It's such a great record. It's so weird because I never know what I'm going to do," said Grohl. "I just show up at Taylor's house where he recorded most of this stuff. Taylor will just ask if I'll do a guitar track, and he'll hand me a guitar and I'll just do something and then he makes the track great."
He continued, "It's so fun recording with Taylor that way because I'm used to recording with him behind the drum set, so when I do a record with Taylor, he just tells me what to do. I just sit there and say, 'What do you want? What do you need?'"
With the decade coming to a close, Hawkins also pointed to the Wasting Light cycle as his favorite time for the band within the 2010s. "I feel like Wasting Light as a whole, just the way that record was made and the sound of that record was great," said Hawkins. "I think when we got back together to do Wasting Light, that record was really such a moment. It's one of my favorite times being a member of the Foo Fighters. That was really a cool one. It still remains one of my favorites and I think it's one of the best records we've ever made."
Foo Fighters were just announced as a headliner for the 2020 Boston Calling festival, and with a new album in the works, you can expect plenty more touring coming in the new year. Stay tuned to see what 2020 brings, and in the interim, be sure to check out Taylor Hawkins and the Coattail Riders star-studded new album, Get the Money, which arrived last week.
Foo Fighters Albums Ranked