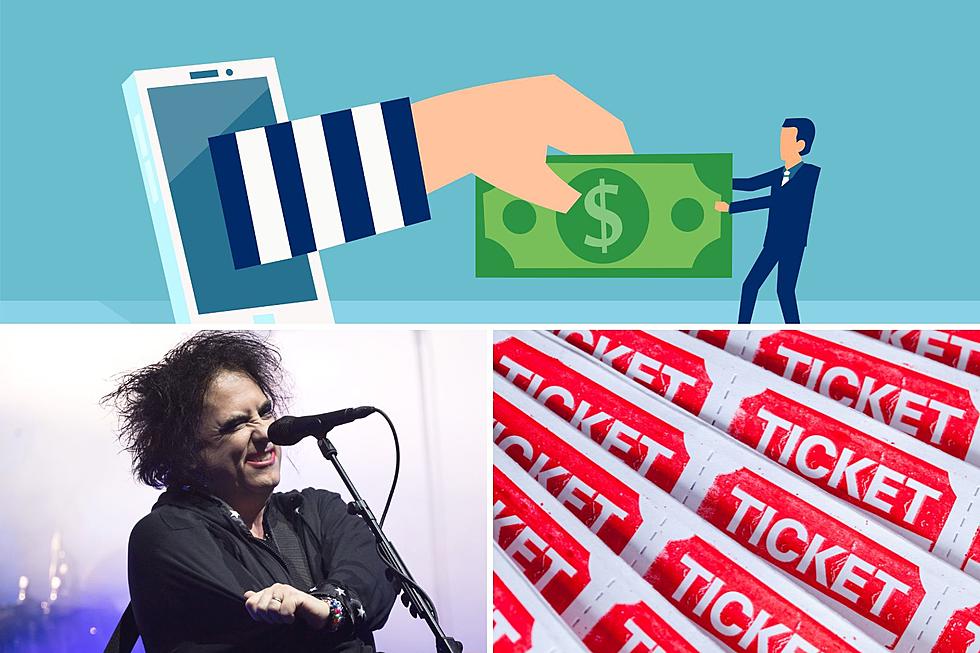 Some The Cure Fans Are Paying More in Fees Than the Original Ticket Price + They're Mad
Feodora Chiosea, iStock/Getty Images / Ian Gavan, Stringer/Getty Images / Michael Burrell, iStock/Getty Images
UPDATE (March 17): After speaking with Ticketmaster, Robert Smith has informed fans that the company has agreed to issue ticket holders a partial refund due to the "unduly high" fees. Read more here.
The Cure fans, despite the new wave icons' best effort to control ticket prices, have expressed anger over being charged more in fees than the original cost of each individual ticket.
Earlier this week, The Cure announced a North American tour, their first full run in the territory since 2016. The announcement came with a bit of a twist, however. The band worked directly with Ticketmaster (owned by Live Nation) to corral prices, which have skyrocketed in tandem with the return of live music in the wake of the pandemic, leading to a huge leap in year-over-year revenue gains for Live Nation.
"We want the tour to be affordable for all fans," began a statement from The Cure that was released last week, also revealing that fans who wish to purchase tickets to the upcoming trek that they must do so through Ticketmaster's Verified Fan program.
Their intent was to reduce access to scalpers, hoping the non-transferrable tickets would provide a significant hurdle to the typical trend of significant portions of concert tickets populating on resale sights almost instantly after the original purchase is completed.
Some fans who have bought — or tried to buy — tickets encountered other obstacles and general points of frustration in the process.
Aside from a myriad of errors during this checkout process, one area of focus is that the fees associated with each ticket are, in total, greater in number than the original cost of the ticket. In other words, fans are paying more in fees than for the ticket itself and it has some feeling exploited and enraged that their checkout totals are double or more than what it would have cost if there were no fees whatsoever.
What fans are saying
We've all grown accustomed to having fee charges stacked onto our bill when it comes to purchasing tickets. Even so, there's people out there who feel that fees exceeding the cost of the ticket are Ticketmaster's way of sticking it to the fans because The Cure put a cap on pricing.
One of the most widely circulated tweets, seen below, shows the cost of four tickets at $80 ($20 per ticket). There's two fees associated with each ticket — Service Fee ($11.65 per ticket) and Facility Charge ($10 per ticket) — as well as one flat Order Processing Fee of $5.50.
The checkout total was $172.10 — $92.10 higher than the cost of the tickets and, when removing the $5.50 Order Processing Fee not directly associated with each ticket, but rather the one order on the whole, that's still $87.10 more than the original $80 for four tickets.
Another Twitter user commented on the thread with a screenshot of their digital receipt, showing that the fees associated with each ticket purchase was a bit less than the original cost of each ticket.
Another digital receipt shows a similar instance of nearly doubling the total of four combined ticket prices while approaching checkout.
"Shoutout to Ticketmaster for charging me more in fees than the actual face value of my ticket to The Cure in July," writes another fans who says they're happy to be attending the upcoming concert "but Ticketmaster sucks."
Here, another person vents shared frustration over the fees.
READ MORE: Ticketmaster Plan to Salvage Reputation by Educating Customers, Lawmakers About Fees
Other issues - checkout errors, Verified Fan problems, secondary market/resale tickets
Another quite common complaint is the functionality of Ticketmaster's own website the moment a big tour goes on sale. Fall Out Boy fans had a rough go trying to get tickets and, of course, there was that whole thing where the veteran ticketing agent flat out canceled a Taylor Swift on-sale launch, citing issues with demand and ticket inventory.
As described in tweets below, several experienced common issues with error pages frequently popping up, blank screens and even complications with the Verified Fan aspect of the sale.
And, yes, tickets have already started to appear on resale sites, which The Cure stated would only be sold at the original face value. At least one fan claims that this is not true in regards to the face value resale.
What Robert Smith said before tickets went on sale
Before The Cure tickets went on sale, frontman Robert Smith sent out a flurry of tweets, doing his best to explain his band's efforts to mitigate the common problems fans encounter when simply attempting to purchase a ticket for a concert.
He acknowledged that their plan is not perfect, but was transparent about the whole ordeal. Smith, who will turn 64 in April, even went so far as to call Ticketmaster's surge/dynamic pricing model (which The Cure rebuffed when organizing the tour) a "scam." It was also stressed that the practices The Cure have engaged in will hopefully reduce scalping by 80 percent and that only about five percent of the original tickets sold can be expected to appear on resale sites.
READ MORE: President Joe Biden Issues Call to 'Crack Down' on 'Hidden Junk' Fees for Concerts + More
What does Ticketmaster say about the fees they charge?
Less than a week ago (March 9), it was first reported by Billboard that Ticketmaster, who came under the U.S. government's scrutiny following the Swift fiasco, are now engaging in a plan to better educate customers and lawmakers about all of those fees that stack on to purchases.
Live Nation president/CEO Michael Rapino told investors, "We've got to now go out and do a much better job so policymakers and consumers understand how the business operates. We've historically not had a big incentive to shout out loud that venues are charging high service fees or artist costs are expensive. But I think now [that] education is paramount."
It's worth noting, again, that Ticketmaster is owned by Live Nation, owner and operator of over 100 venues in the United States alone.
Meanwhile, late last year, President Biden announced an initiative to help spare the public from so-called "junk fees," calling them "unfair" and "deceptive."
Artists Who Tried Their Best to Combat Scummy Concert Ticket Practices
PLAYLIST: Ultimate Goth Metal
Listen/follow here and view the first 100 songs on the playlist below.
20 Best Selling Hard Rock + Metal Albums in the United States
These are the 20 best selling hard rock + metal albums in the United States